Zucchini Banana Bread Recipe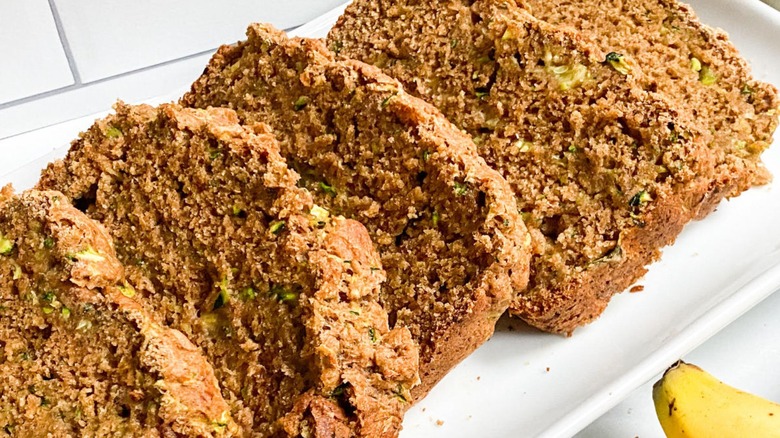 Miriam Hahn/Mashed
Summertime brings warm weather, beach trips, backyard barbecues, and bountiful crops of fresh summer produce. One of the most prolific of these seasonal crops is the humble zucchini, a vegetable that grows in abundance whether or not you want it to. Even if you don't garden yourself, there's always a chance you'll be "gifted" a bag of zucchini from a neighbor. If you're a huge veggie fan and/or in love with your spiralizer, you might have no trouble putting those zukes to good use, but if you're not so wild about zucchinis, you might find yourself searching for ways to prepare them that aren't quite so ... zucchini-ish.
Well, you've come to the right place! Recipe developer Miriam Hahn used zucchini to add some extra body as well as healthy green-veggie goodness to last year's quarantine cooking favorite: banana bread. She describes the results as "super moist with a light texture," adding that this bread "taste[s] sweet but not overly sugary-sweet," a bit like a tasty banana muffin.
Gather the ingredients to make this zucchini banana bread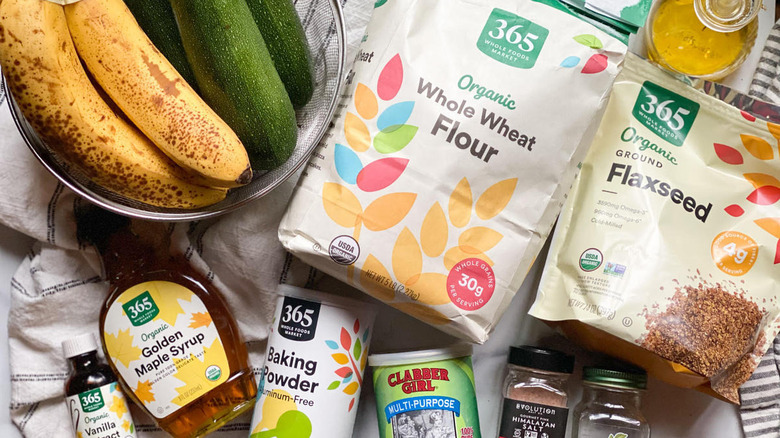 Miriam Hahn/Mashed
This zucchini banana bread makes use of some pretty healthy ingredients. There's the zucchini, of course, and also the bananas (you'll need about two or three), but Hahn makes use of flaxseeds to bind the bread rather than eggs because, as she tells us, "They have so many cancer-fighting properties, minerals, and fiber, plus I feel they make everything more moist." Using flaxseeds also keeps the recipe vegan (but you can use an egg if you prefer.)
She also uses a healthy oil (she suggests olive, avocado, or coconut oil) in lieu of butter, and sweetens with maple syrup instead of sugar since, as she tells us, "it still retains quite a few minerals and is very natural."
In addition to these healthy ingredients, you'll also be using vanilla extract, ground cinnamon, baking powder, baking soda, salt, and flour -– whole wheat, if you want to be extra-healthy here, too. (If you don't have whole wheat on hand, you could always use all-purpose instead.)
Grate the zucchini and gel the flaxseeds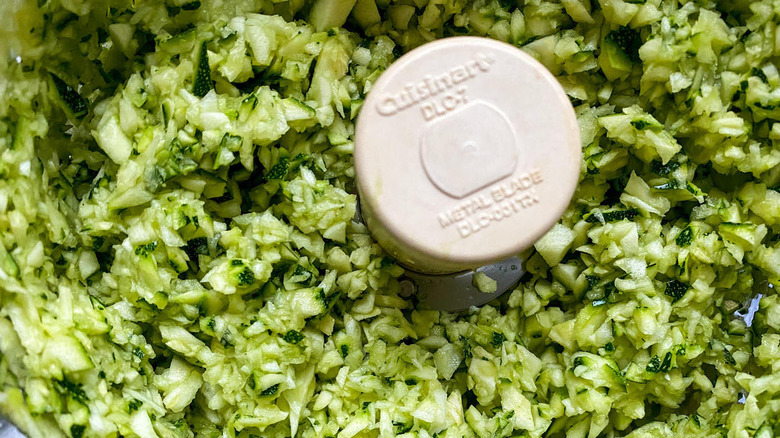 Miriam Hahn/Mashed
Before you get started with the prep work, you might want to go ahead and preheat the oven to 350 F to avoid any delay later. Now grate the zucchini — with the peel onl. Hahn says to use the "S" blade or grating blade of a food processor, but a box grater works just as well. In order to get the necessary amount of zucchini for this recipe, you might need up to three small zucchinis, but Hahn says that if you've got larger zucchinis, one-and-a-half zucchinis might do the trick. 
Once you've grated enough zucchini for your purposes, put it in a colander and let it drain. While it's draining, mix the flaxseeds with three tablespoons of water and let the mixture sit for 10 minutes. Once the 10 minutes are up, the seeds and water should have formed a gel.
Peel and mash the bananas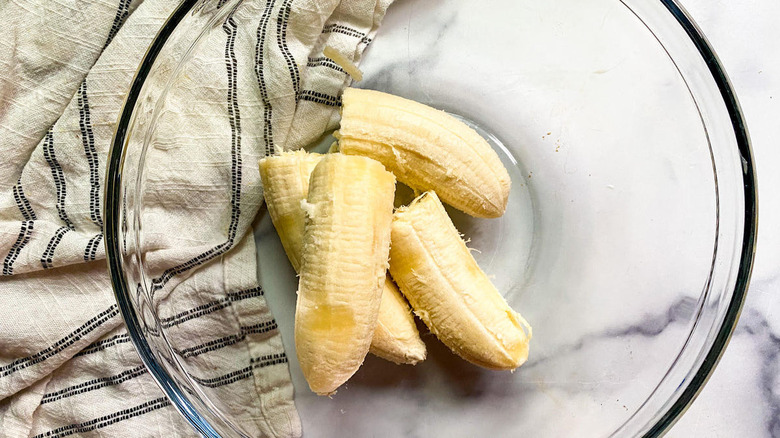 Miriam Hahn/Mashed
Okay, it's time to prep those bananas. As with any type of banana bread, slightly overripe bananas will work best since these tend to be more mashable. You don't want a banana that's so far gone it's starting to turn brown inside, though, since this might spoil the flavor of the bread. 
Peel the bananas, for starters, then mash as many and as much as you need in order to obtain the necessary two cups for this recipe. If you accidentally mash more banana than you need, you can just pop the excess in the freezer and save it to make a smoothie.
Mix the zucchini banana bread batter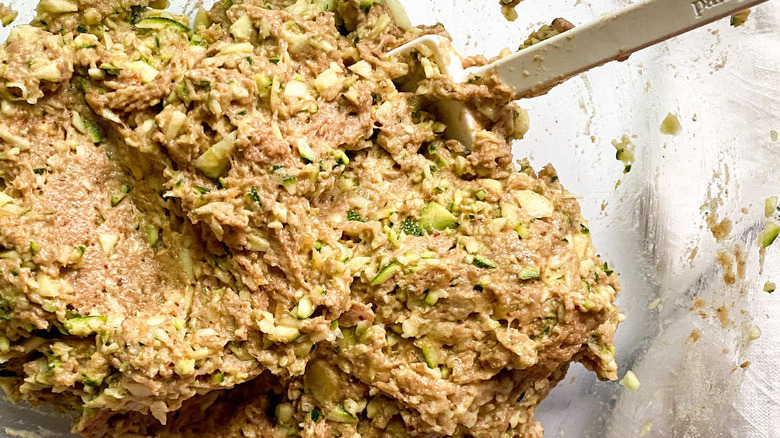 Miriam Hahn/Mashed
Has it been 10 minutes since you've mixed the flaxseeds with water? (If you'll be using an egg instead, you can ignore this question.) What about the grated zucchini? Is that pretty well drained? If the answer to both questions is yes, take your mashed bananas and mix in the oil, maple syrup, vanilla, cinnamon, baking power, baking soda, salt, and gelled-up flaxseeds (or egg). Stir until these ingredients are well-combined, then mix in the flour and stir some more. As a last step, stir in the zucchini. If you feel like gilding the lily, Hahn says, "You can definitely add nuts or even cacao nibs or chocolate chips ... after you have incorporated the zucchini." Her favorite nut choice is walnuts, but go with your gut.
Bake the zucchini banana bread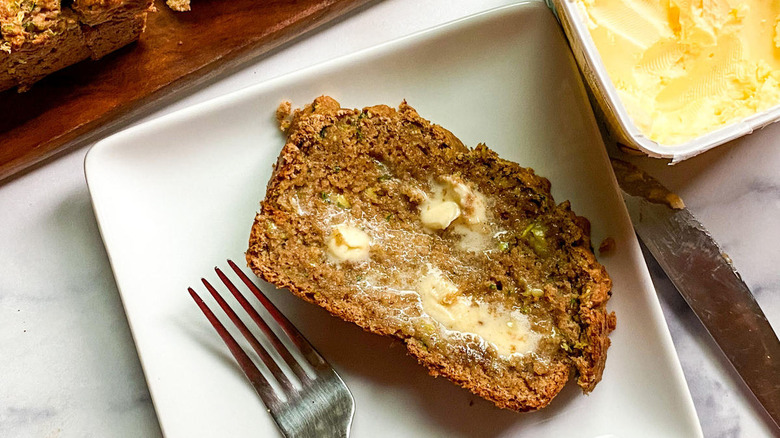 Miriam Hahn/Mashed
Grease or spray a standard size loaf pan. If you're a parchment paper fan, you can use that stuff, instead. Pour the batter into the prepared pan, then slide it into the now-hot oven and bake it for 50 minutes to an hour. Once the bread starts to look done, test it with a toothpick or skewer. When that comes out clean, remove the bread from the oven and let it cool for at least half an hour before slicing. 
This bread should keep in the fridge for five days if you store it in an airtight container. If you'd rather freeze it, it can stay fresh for at least a month.
"I tend to want this sort of [quick bread] for breakfast," Hahn tells us, "however, my husband likes to have it for dessert." She says she enjoys it with fruit, but suggests that it can be topped with butter or even peanut butter to make it more filling. As for a beverage pairing, she says this zucchini banana bread is "great with coffee or tea!"
Zucchini Banana Bread Recipe
Zucchini adds body and healthy green-veggie goodness to this banana bread. Super moist, light, and not overly sweet, it's the best zucchini banana bread recipe.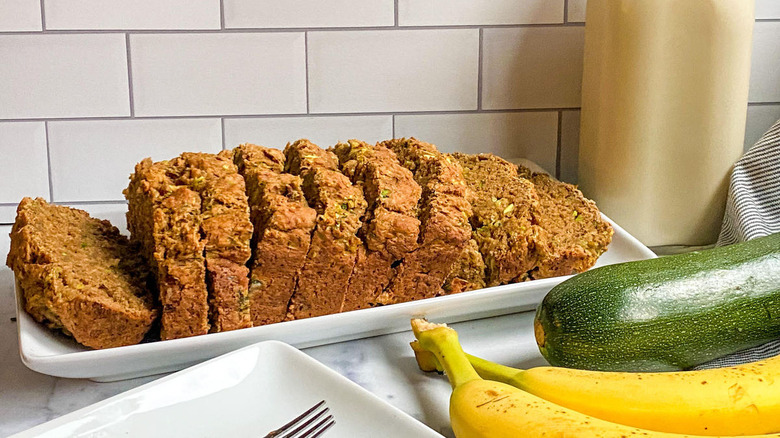 Ingredients
2 cups grated zucchini
2 cups mashed bananas
1 tablespoon ground flaxseeds, or 1 beaten egg
2 tablespoons oil
½ cup maple syrup
1 teaspoon vanilla extract
1 teaspoon ground cinnamon
2 teaspoons baking powder
1 teaspoon baking soda
¼ teaspoon salt
2 ¼ cups whole wheat flour
Optional Ingredients
Chopped nuts
Cacao nibs
Chocolate chips
Directions
Preheat the oven to 350 F.
Line a loaf pan with parchment paper or spray with cooking spray.
Grate the zucchini, then put the grated zucchini in a colander and let it drain in the sink.
Mix the ground flaxseeds and water in a small bowl and set aside for 10 minutes.
In a large bowl, mash the bananas and measure out 2 cups.
Add the oil, syrup, vanilla, cinnamon, baking powder, baking soda, salt, and flaxseeds or egg to the mashed bananas.
Stir well, then add the flour and stir again.
Add the zucchini to the banana batter and stir to combine.
Pour the batter into the prepared loaf pan and bake for 50 to 60 minutes or until a toothpick comes out clean.
Let the zucchini banana bread cool for at least 30 minutes before slicing.
Nutrition
| | |
| --- | --- |
| Calories per Serving | 207 |
| Total Fat | 3.9 g |
| Saturated Fat | 0.4 g |
| Trans Fat | 0.0 g |
| Cholesterol | 0.0 mg |
| | |
| --- | --- |
| Total Carbohydrates | 41.7 g |
| Dietary Fiber | 4.6 g |
| Total Sugars | 15.8 g |
| Sodium | 261.5 mg |
| Protein | 4.5 g |