Aldi Shoppers Are So Impressed By This Patio Table, They're Bringing It Inside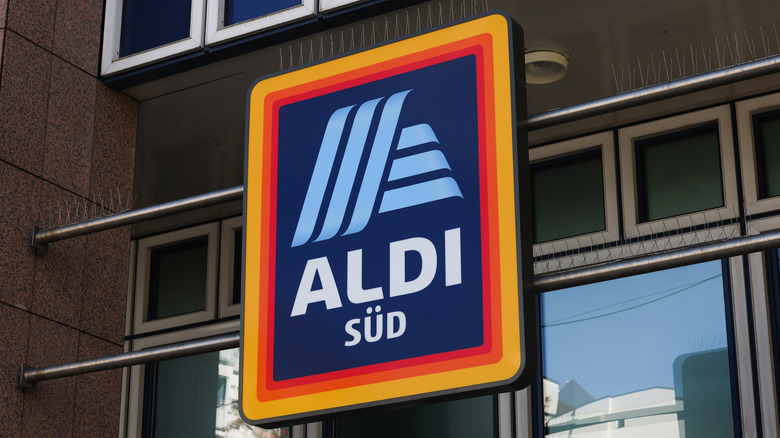 Jeremy Moeller/Getty Images
"I'm home in the middle of the day, and I got patio furniture in my living room," Chandler Bing once said in a memorable episode of "Friends." Though the scene may technically be fictional, it's generally understood that patio furniture doesn't exactly scream "fine dining" — and if your kitchen happens to be furnished with it, function may be more of a necessity than décor anyway.
However, a certain outdoor table from Aldi apparently appears to be the exception. The surprisingly fancy furniture, shared by user @Vinnie_Pasetta on an Aldi Reddit thread, at first glance doesn't appear to be a patio table at all. Most of that type of furniture very obviously belongs outdoors and features standard metal grate material and simplistic designs that can withstand all sorts of weather. 
But the one from Aldi looks nothing like nothing of the sort. Instead it's a beautifully constructed Acacia hardwood table with modern block-style legs. Because it's durable enough to withstand outdoor weathering, you can be sure it'll outperform any old dining table — and many Aldi shoppers are using it for exactly that purpose.
This patio table from Aldi is quite the bargain
Dining tables aren't exactly cheap, and finding one within budget might mean sacrificing quality, style, or size. This table, priced at $169.99 online and in store, fortunately checks off all the boxes without breaking the bank. "That's a lot nicer than my current kitchen table. And much cheaper," one user wrote on the Reddit thread. Another added, "We feel so adult right now having a proper dining table where we all fit."
The table can comfortably accommodate two people on the long sides, and comes with an optional cross bar that can be installed if you plan to add chairs on the ends in order to seat six. If, however, you don't have that many guests over all the time, the legs are hinged to fold up into the table and can also detach for easy storage. Whether you're using this patio table for every day uses, or for occasional family dinners, either indoor or outdoor, clearly you can't go wrong with such a versatile piece of furniture.