Duff Goldman Wears This On Every Episode Of Buddy Vs Duff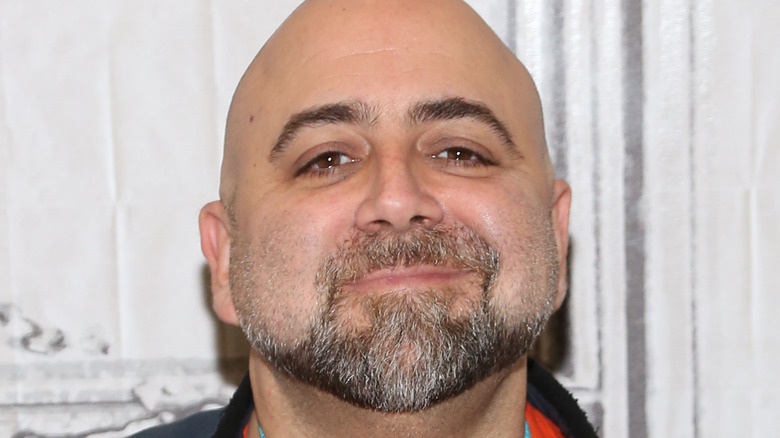 Manny Carabel/Getty Images
There are very few things as entertaining as watching two master bakers face off in weekly challenges. Now in its third season, the Buddy Valastro and Duff Goldman weekly showdown, "Buddy vs. Duff," is a constant reminder that baking is art, and very few people do it better than these two. Who else could create cakes that look like Betty White (per Food Network) or a life-size gator (per The Recipe) – scales and all?
But besides being known as maestros of fondant and piping, fans have started to pick up on some other identifiers of the two bakers, particularly an item that the "Ace of Cakes" himself seems to have on during every episode.
When the show cuts to the creation portion of "Buddy vs. Duff," Goldman always seems to be adorning the same accessory. Maybe half good luck charm, half necessity, this item has become just as much a staple element of the show as the final pastries.
Goldman always wears the same beanie
In almost every episode, there's at least one shot where fans will be able to see the same black-and-white pom pom beanie on Duff Goldman's head. On Twitter, Goldman shared the hat, writing, "If you've been watching #BuddyvsDuff you probably know that I've worn this beanie every episode ... It's my favorite!"
He then shared an image of the infamous hat with a link where fans can get their own. If you couldn't tell before, the hat isn't just any old beanie off the shelf, it's actually from Goldman's own merch line. The front of the knit piece says "Team Duff" in large cursive letters.
If you find yourself constantly rooting for the same baker in each week's challenge, you can also pledge your allegiance to Goldman by sporting a matching beanie. Fans can order the hat on the Charm City Cakes website for $20. Better yet, the product ships in only 3-5 days, so you should be able to get your hat in time for the next week's episode of "Buddy vs. Duff."