The Real Reason One Wisconsin Waiter Was Surprised With A $4,500 Tip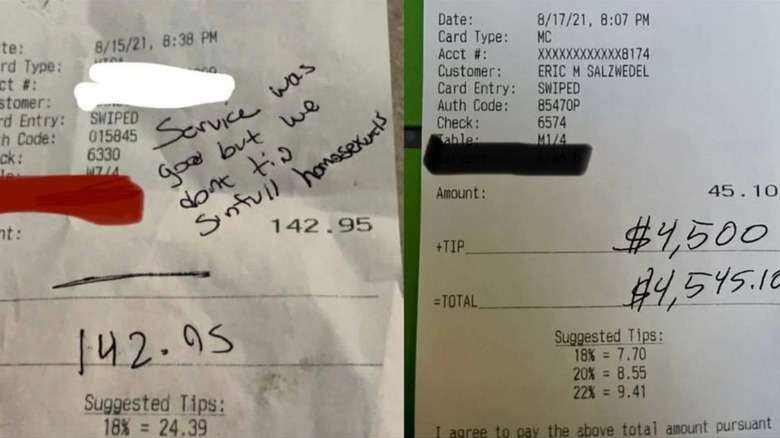 Drazen Zigic/Shutterstock
For workers in the restaurant industry, receiving tips is an important way to make money because many restaurant workers aren't paid adequately, resulting in some that are just floating above poverty. But that didn't stop one particular dining party in Wisconsin from refusing to tip their waiter because, "we don't tip sinfull homosexuals." This comment was actually written on the receipt, and even noted that the service was good. However, due to the customers' homophobic sentiments, they didn't leave a tip for their server.
Eric Salzwedel, the co-founder of the nonprofit Do Good Wisconsin, found out about this particular instance and was determined to "brighten that server's day," according to NBC15. He took to social media to spread attention about this hateful note. Salzwedel shared the image of the check to his Facebook account, causing 250 people to donate a total of $4,500 to give the waiter the tip they deserved.
How the waiter received the $4,500 tip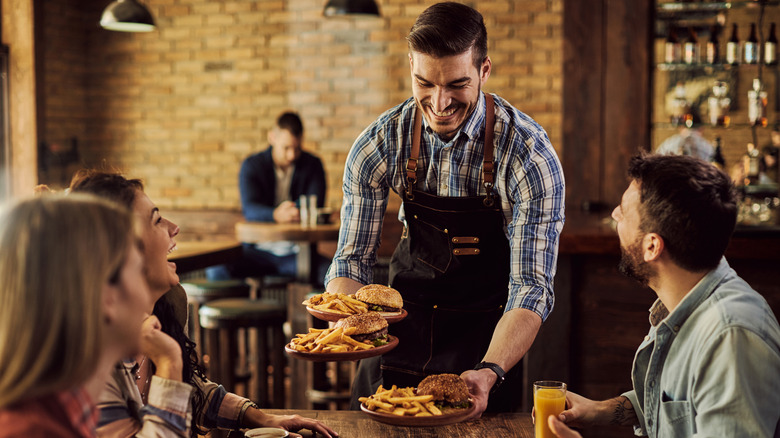 Drazen Zigic/Shutterstock
Salzwedel visited the restaurant, located in Madison, Wisconsin, to surprise the waiter with the money raised (via NBC15). He specifically requested the server that was wronged, who was very appreciative of the unexpected show of support and kindness. "There's a lot of opportunities every single day we wake up and we go out that we can either make a positive difference in the lives of people we run into or we can make a negative impact on people we run into every day," Salzwedel told the outlet. 
His company, Do Good Wisconsin, promotes making a difference in communities, and taking on this instance of injustice exemplifies this mission. Restaurant servers have extremely strenuous jobs on their own — the last thing they need are hateful comments and being left no tip in an industry that already heavily underpays them. So tip your server and be nice — it's the least you can do.