Burger King's New Plant-Based Whopper Is Only Available In Japan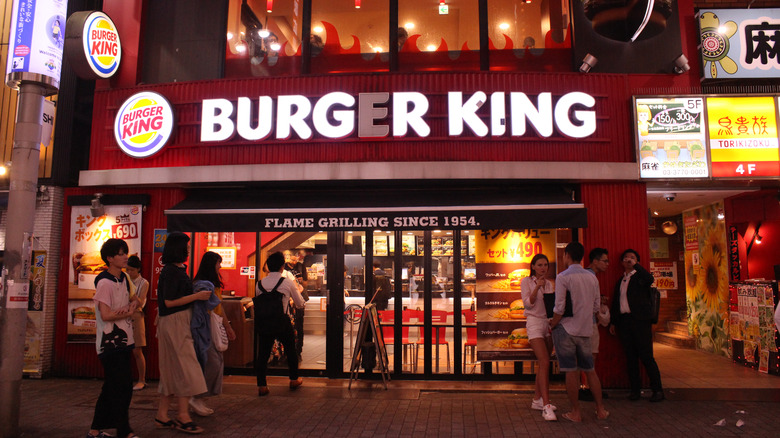 InfantryDavid/Shutterstock
Burger King is a popular fast food chain that has established itself globally as a brand that you can stick to when a fast food craving strikes. The company is definitely proud of what it has managed to achieve so far. Its website states that it's "the second largest fast food hamburger chain in the world," and it has been grilling up Whoppers and more since 1954.
Its international presence is pretty solid, too. Burger King's website lists locations not only in North America, but in Asia, Europe, the Middle East, Latin America, and more. Plus, the brand is constantly coming up with new and unique for its fans around the world. For example, if you're in Japan, you can get access to exclusive items such as a Teriyaki Burger, the Koru Burger (which is striking to look at because its totally black) the Avocado Whopper, and more (via The Travel).
Plus, there's now good news for people in Japan who like Burger King, but wish to avoid meat. According to Brand Eating, the chain has announced a new plant-based menu item.
This bunless burger is worth a try
Per Brand Eating, one of the most appealing and unique things about Burger King's new plant-based burger is that it has two patties instead of a bun. The patties are "flame-grilled" to perfection and the dish is called "Version 2 Whopper." This name apparently refers to the v2 brand, an Australian company that supplies vegetarian alternatives to meat for those who want to enjoy the taste of meat without actually eating animal-based dishes.
The new burger features all the usual suspects such as lettuce, onions, tomatoes, pickles, mustard, and ketchup. This is a limited menu item that customers can try until September 2 at several Burger King outlets throughout Japan. It is priced at 690 yen, which is approximately $6.28. According to Japan Today, the patty is made of soybean and vegetables and is a good choice for those who want to reduce the carb content in their meal.