Brittany Daniel's Wedding Cake Was Inspired By This Iconic Art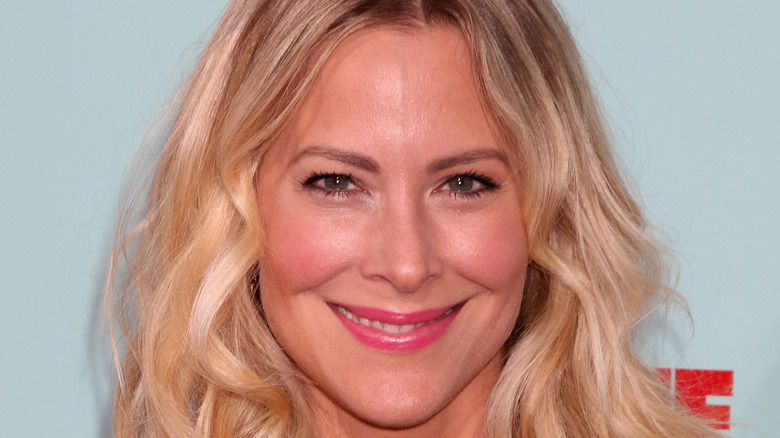 Kathy Hutchins/Shutterstock
The mysterious British artist known as Banksy has been making headlines yet again recently. According to The Independent, Banksy had recently installed a new work on the streets of Suffolk when it was defaced within a matter of days. Needless to say, it was a major disappointment to locals that admire his work. But that hasn't stopped people from showing their love and support for Banksy in other ways. 
In fact, actress Brittany Daniel and her now-husband, Adam Touni, admired Banksy's iconic piece of art, "Girl with Balloon" so much that it inspired their wedding cake design (via Inside Weddings). The couple had a dark grey cake with a copper-colored decoration of the girl holding the balloon string across the cakes' tiers. It was certainly a head-turning dessert for their big day given the unusual color choice to match their decor. The couple married in July of 2017, and hopefully their marriage will be more successful than the ominous message Banksy later made with "Girl with Balloon" at auction (via People).
The original artwork was shredded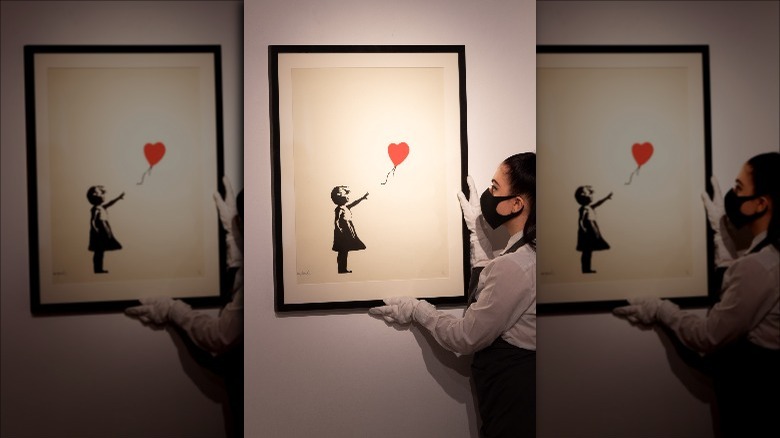 Ian Gavan/Getty Images
In 2018, a framed version of "Girl with Balloon" went to auction in London, where it fetched a whopping bid of $1.3 million (via DW). Just as the work sold, the piece of art was sucked through the bottom of the frame where a shredding machine was hidden. The artwork was instantly torn to pieces before everyone's eyes in a shocking stunt Banksy pulled. That's when the work was retitled "Love is in the Bin" (via My Art Broker). 
According to Vulture, that didn't deter the winning bidder, though. They were perfectly happy to keep the new work they had acquired at auction. Hopefully, the symbolic shredding of the iconic art that was used as inspiration for Daniel's wedding cake won't also be a symbol of their marriage. Perhaps the changed art could represent moving on from her previous partner to find contentment with her new husband. Only time will tell, though.