What Makes This London McDonald's Location So Unique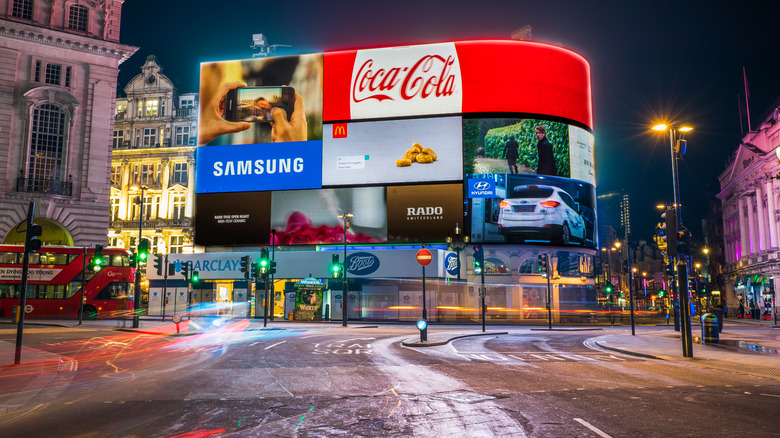 Pajor Pawel/Shutterstock
A new McDonald's located in London is unique in more ways than one. For one thing, this special location is a pop-up that was launched in July in London's South Bay neighborhood (via The Drum). While many McDonald's restaurants are meant to last, this temporary installation may leave a lasting impression because it's so different. In fact, this McDonald's isn't even a building but instead a billboard. The pop-up looks like a large, ground-level advertisement with off-white text that reads, "Fancy a moment to just enjoy?"
After the word "Fancy" there's a small opening where passersby can walk up and get handed a McDonald's McFlurry by staff. The icy treats are served at 11 AM and 6 PM daily for a limited time (via Ad Age). It appears that part of the idea is to connect consumers with products at a time when many people still don't feel comfortable entering a restaurant. In addition, McDonald's McFlurry has a birthday of sorts to celebrate, and the advertising minds behind this idea wanted to add a little laughter and fun to people's day as part of the "Fancy a McDonald's?" marketing campaign.
Mark Elwood, executive creative director at Leo Burnett, said of the campaign, "McDonald's has always been a generous brand and our 'Fancy a McDonald's?' brand platform allows that thinking to come to life in less traditional, more unexpected ways." 
Fancy a McFlurry?
The "Fancy a McDonald's?" campaign also includes a 60-second commercial that is refreshingly devoid of dialogue. Titled "Laughter," the ad simply features people across the U.K. laughing with a McDonald's meal. According to Mark Elwood, "When someone says 'Fancy a McDonald's?' it's rarely an invitation you turn down. In this beautifully simple film, we show what taking a moment to let go of life's pressures feels like through the simple joy of laughter. A McDonald's can nourish the soul as well as the body" (via The Drum).
We can't agree more that we all need a break to laugh, smile, and enjoy unique pleasures after the year that has been 2020. Steven Howells, director of marketing & media at McDonald's U.K. shared more on the brand idea in a statement: "We all need moments of light-hearted release — opportunities to let go and forget the pressures and expectations of life. As McFlurry celebrates 21 years on our menu, it seems only right to surprise and delight our customers by giving some away in a truly unique way."
Free ice cream, smiles, and an original delivery – we're lovin' it.