Instagram Is Loving This Photo Of Gordon Ramsay's Son 'Stepping Into' His Shoes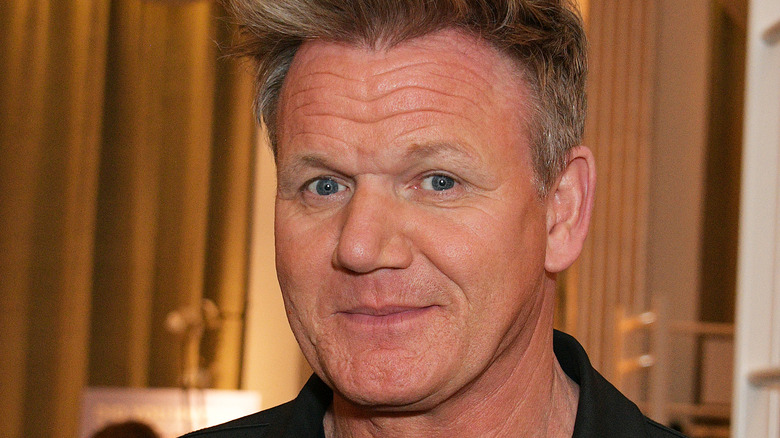 David M. Benett/Getty Images
Gordon Ramsay is best known for his tough guy facade. The culinary dynamo has been seen hosting on shows like "Hell's Kitchen" and "MasterChef," where he critiques and mentors successful chefs and home cooks alike to help them hone their craft and work their way into the culinary industry. His "idiot sandwich" clip on YouTube is lauded and laughed at by many a fan and his "savage" nature has been captured worldwide. 
But on the flip side, there is actually a really sweet side to the supposed hot head. ScoopWhoop actually rounded up his an entire list of moments during which Ramsay had a sweet touch, including several moments in "Masterchef Junior" where the chef takes time to stop and talk the children through difficult moments and help to stop their crying when things get too intense or they make a mistake. So naturally, a recent sweet moment with his son gained the attention of Ramsay's fans, too.
Filling dad's shoes
There is no shortage of proof online that Gordon Ramsay loves his kids, and bonds with them on a regular basis. But he seems to share a special bond with his youngest child, Oscar, who many claim might actually be his mini twin, complete with matching facial expressions and a social media following to rival good ol' dad. 
Ramsay's most recent baby Oscar update on Instagram features the tyke in nothing but a diaper donning a backwards cap and dad's Nike sneakers with the caption "Somebody's finally stepping into my shoes." One look, and you can't help but say "aww." There are a few more photos of Oscar to scroll through in the post as well, including one close up of Oscar and his flowing blonde hair and another two of him riding a little bicycle. Fans raved over it, with one commenting, "Cutest little man ever ....love his cheeky smiles! ❤️❤️❤️❤️" Surely he'll only continue to develop his old man's good looks as he grows, but for now, these pictures are certainly adorable enough to hold the public's attention.