Twitter Can't Stop Talking About This Picture Of Duff Goldman's Baby Girl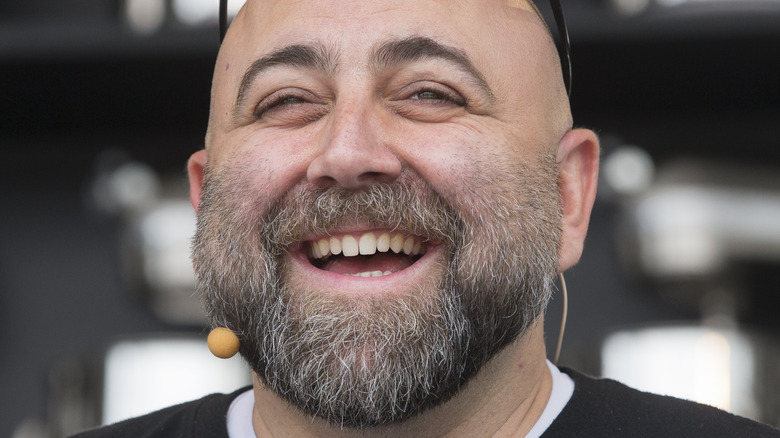 Sterling Munksgard/Shutterstock
Celebrity baker and popular TV personality Duff Goldman has a solid fan following. And Goldman sure knows how to keep his fans hooked with his regular updates on social media. For example, his most recent Instagram post was dedicated to his TV show, "Buddy vs Duff." Goldman posted a photo of a giant cake and wrote, "We decided to make a spooky-ghost pirate ship! I seem to mention this every week, but the details are insane on this cake ... I am so incredibly proud of this cake and team."
By the way, Goldman also posts snippets from his personal life whenever he can. His followers are particularly pleased whenever he adds photos and video clips of his baby girl, Josephine. In one of the clips, she is seen relaxing on a swing. Goldman wrote, "Josephine's first time ever on a swing. May we all strive for her level of chill." Word. 
As you can imagine, fans simply cannot stop talking about how cute the little one is. And this latest photo is no exception.
Fans are blown away by Duff Goldman's daughter
A recent Twitter post from Duff Goldman left many speechless. It was a close-up photo of Josephine that effortlessly melted many hearts. Goldman simply wrote, "This kid." Obviously, the photo has instantly become a crowd-favorite. A commenter couldn't get over Josephine's blue eyes. Meanwhile, someone else wrote, "she's got the most beautiful lashes I've ever seen!" There were several others who couldn't help but agree that Goldman's baby is beautiful. A witty fan wrote, "She takes the cake!" What a cutie pie. 
According to Yahoo! Life, Goldman is loving spending time with his kid and is a hands-on parent. He said that he is "Mr. Mom" and does the dishes and makes sure that everything is clean and tidy. "I keep the place running and my wife, is making sure that the baby eats every two hours, and I'm making sure she eats enough so she can feed [the baby]," he said. Goldman advised other dads to try helping out as much as possible by learning everything. Amazing!