Whole Foods Shoppers Are Psyched For These Chocolate Chip Matcha Waffles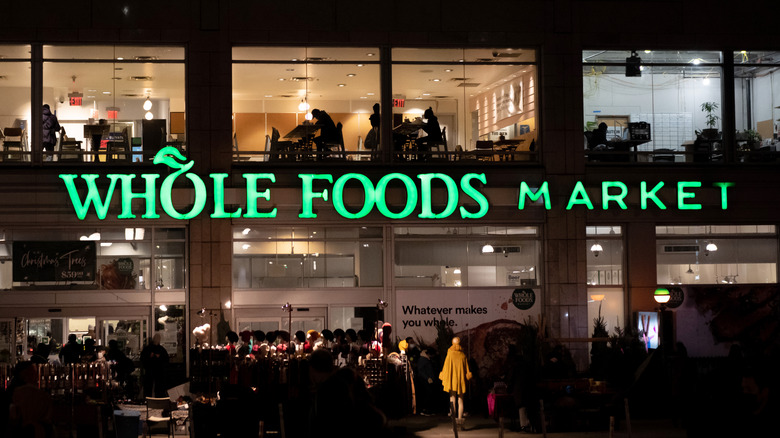 Alexi Rosenfeld/Getty Images
Waffles just may be the perfect breakfast food. Subtly sweet and expertly designed to hold tasty little pockets of syrup, jam, or whipped cream in each little square, they are a great way to make any morning a little extra special. But while it may seem like waffles can't get any better, Whole Foods has changed the game with their delicious new Evergreen Chocolate Chip & Matcha Frozen Mini Waffles.
Each one is crafted with only ten wholesome ingredients, among them whole wheat flour, honey, cacao nibs, almonds, and matcha green tea, according to the brand Evergreen. A single serving, which includes three pieces, boasts eight grams of protein, 18% of the recommended daily dose of fiber, and just 220 calories — and without any refined sugar or dairy. This convenient breakfast food simply has to be heated and served, making it a great option as a filling meal for busy mornings or even an easy snack to grab on-the-go. Even better, they're selling now for only $6.99 for a package of nine, per Instagram account @wholefoodshype.
Whole Foods shoppers are excited to try these healthier waffles
Whole Foods fans seem to be very excited to see these wholesome new waffles pop up on the popular Instagram account @wholefoodshype that shared the new arrival with their 45,000 followers. "These chocolate chip & matcha waffles seem to be new! I'm excited to give them a try," they said in the post. And their followers appeared equally excited to try out these sweet and satisfying new breakfast goods. 
Follower @carolinebethhealth replied, "These look so good!!" while fellow Whole Foods shopper @eatinvegan agreed, saying, "These sound amazing." User @maccheeseinit also celebrated the fact that the food is "super clean!" The lower calorie, lower sugar ingredients definitely make them a great choice for anyone trying to keep their diet clean. So if you have a hankering for waffles, but wish you could find a version that is a little healthier than the traditional frozen options, you'll definitely want to try these tasty high protein, whole grain waffles out for yourself the next time you shop at Whole Foods.