Spiced Apple Cake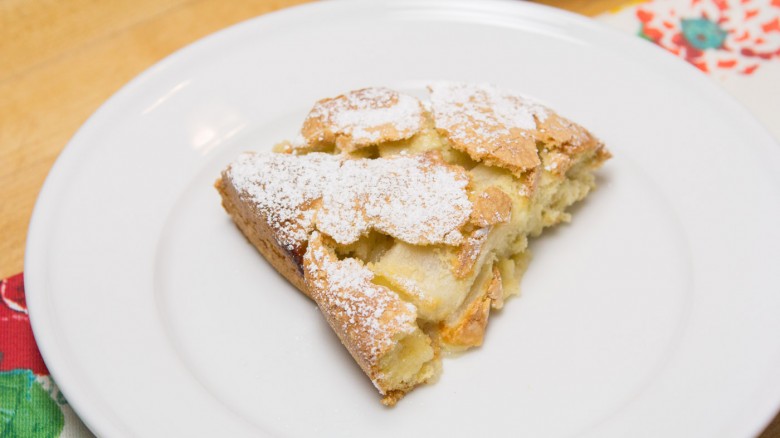 Prep time: 20 minutes. Cook time: 40 to 55 minutes. Servings: 6 to 8.
I love most desserts starring apples — pies, tarts, galettes, muffins, cakes, you name it. That said, apple cake has always held a special place in my heart, as a really good one brings together all the elements I appreciate so deeply about fruit-centric treats. It must satiate my need for something sweet, yet it must not be overly sugary. I need to be able to taste the fruit but not feel like I'm missing out on the carby crust or cake parts. And lastly, it ought to be well-seasoned with classic spices — think cinnamon, nutmeg, cloves, and the like. While all this might seem fussy, trust me. These requirements are key.
Inspired by sharlotka — a Russian dessert with the texture of cake and the fruit-forward sensibility of apple pie — this particularly warmly spiced apple confection is light, fluffy, and unabashedly charming. Made with more apple than cake batter, it's refreshingly sweet but not cloyingly so. Whipping eggs on high for nearly 10 minutes helps to incorporate tons of air bubbles, resulting in an airy texture that tastes almost cloud-like. Without using any baking powder or soda, this magical cake is leavened by these very same whipped eggs. Whether you enjoy a slice for breakfast, eat a piece after dinner, or take bites with a cup of afternoon tea, you will undoubtedly find this rustic cake to be deliciously satisfying.
When you remove this cake from the oven, be sure to let it cool in the pan for several minutes before attempting to unmold it. Doing so improves your chances of getting a clean break from the sides and bottom. If you want reassurance, grease the pan well with butter, then line the bottom with a round piece of parchment paper and grease said parchment. Dust generously with powdered sugar and share with people you truly like. Frenemies don't get apple cake.
Ingredients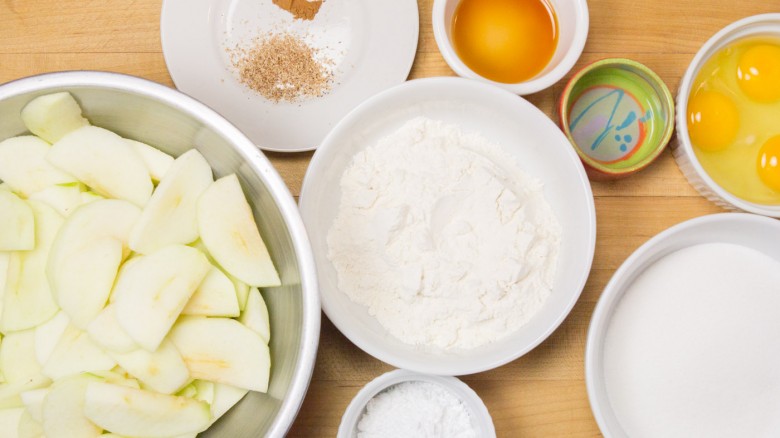 Shopping list


4 Granny Smith apples, peeled, cored, and thinly sliced


1 tablespoon lemon juice


1 cup granulated sugar, divided


¾ cup plus 2 tablespoons all-purpose flour


¼ teaspoon ground cinnamon


¼ teaspoon freshly grated nutmeg


kosher salt


3 large eggs


1 teaspoon vanilla extract


powdered sugar for dusting


Equipment


9- or 10-inch springform pan


Prepare apples
Preheat the oven to 350 degrees. In a large bowl, toss the apples with the lemon juice and 2 tablespoons of the sugar. Set aside for 10-15 minutes.
Mix dry ingredients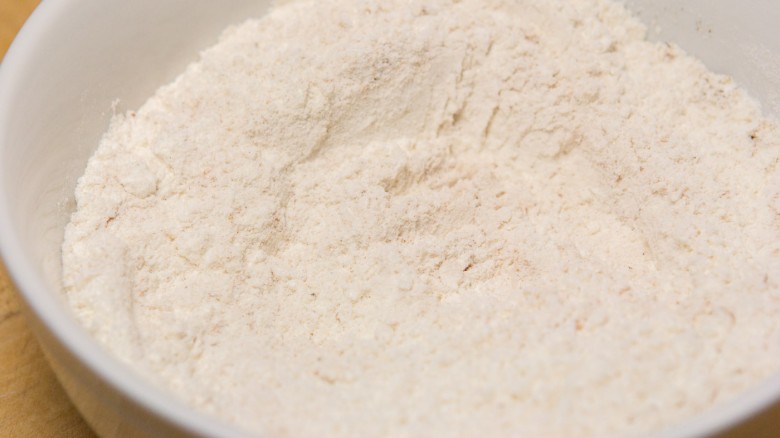 In a small bowl, whisk together the flour, cinnamon, nutmeg, and a pinch of salt.
Whip eggs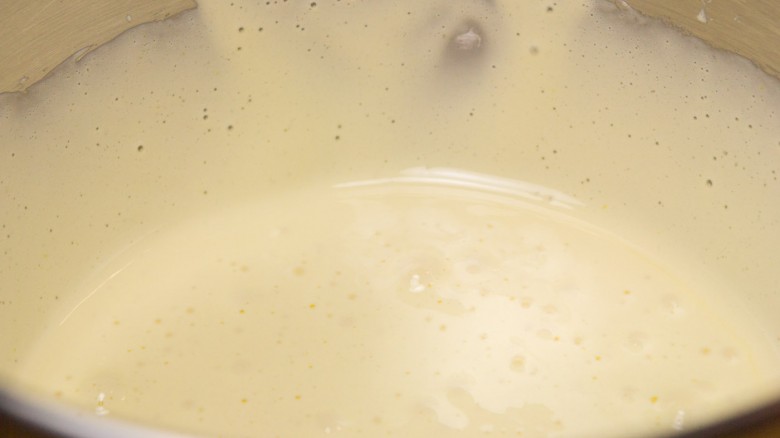 In a large bowl fitted to a stand mixer, using the paddle attachment, beat the eggs, vanilla extract, and remaining granulated sugar until thick and pale, about 8 minutes.
Make batter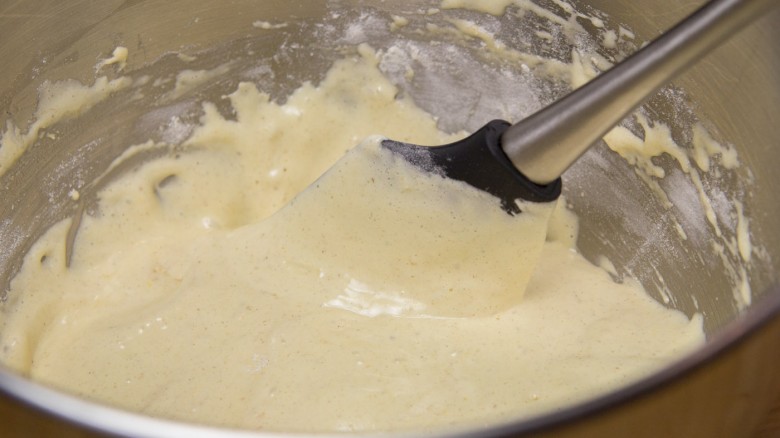 Add the dry ingredients to the bowl with the egg mixture and gently fold until fully incorporated.
Assemble cake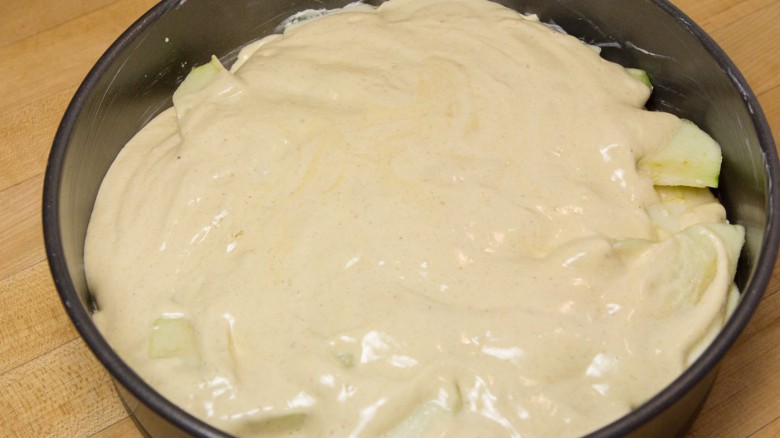 Transfer the apples to a greased 9- or 10-inch springform pan and spread the slices in an even layer. Pour the batter on top and using a spatula, gently smooth the top. Set aside for about 5 minutes.
Bake cake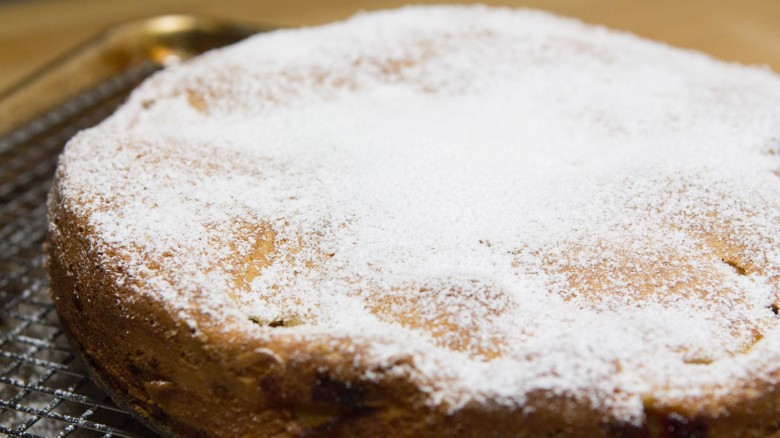 Transfer the cake to the middle rack of the oven and bake until a toothpick comes out clean, 40-55 minutes. Remove the cake from the oven and set aside to cool for at least 10 minutes before inverting onto a wire rack to cool completely.
Serve cake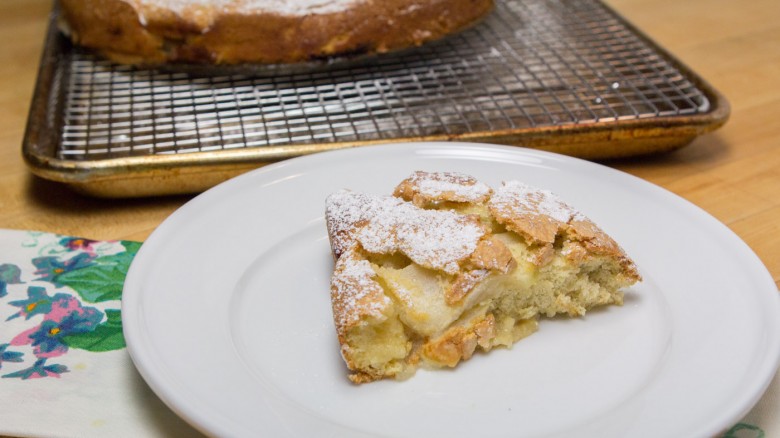 Sprinkle powdered sugar on top of the cake and enjoy!