Molten Chocolate Lava Cakes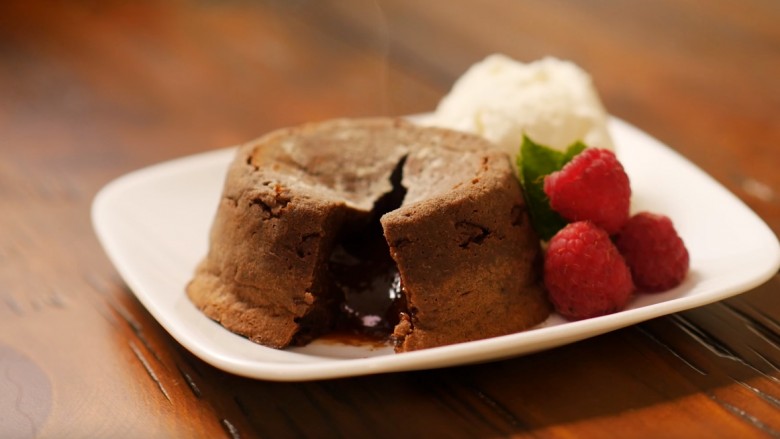 Prep time: 10 minutes. Cook time: 7 to 9 minutes. Servings: 4 mini cakes.
Cakes with runny centers became a thing way back in the mid-'60s when a Texas housewife, Ella Helfrich, nearly took home first prize in a Pillsbury baking competition with her entry. Since then, bakers and chefs all over have come up with their own spin on what has become commonly known as chocolate molten cake or molten lava cake. From flourless versions baked low and slow to airy takes reminiscent of souffle to deliberately underbaked spongy concoctions, this simple cake has seen its fair share of incarnations. You're as likely to find one on the menu at a fancy-pants French restaurant as you are to discover it at an amusement park or kid-friendly resort.
This version of molten lava cake is one that epitomizes my strong love of high-quality chocolate as much as it indicates my laziness. What I mean by the latter is that this recipe calls for only a handful of pantry ingredients and takes no more than 20 minutes from start to finish — 15 if you want it badly enough. Made with rich dark chocolate, butter, a couple of eggs along with extra yolks, sugar, and a scant 2 teaspoons of flour, these miniature cakes are baked in 4-ounce ramekins for maximum cuteness. I find that with super decadent desserts — and I think chocolate cakes with soft, chocolatey liquid centers qualify — individual servings from the outset help me remain dignified with my portions. Bake for under 10 minutes, unmold, and enjoy.
Just one more thing. Be sure to grease and flour the ramekins like your life depends on your being able to get every corner. Doing so will prevent the cakes from sticking and breaking apart prematurely. That said, even if they do break, they're still delicious, so skip the pretense of unmolding in that case and just dig in with a spoon.
Ingredients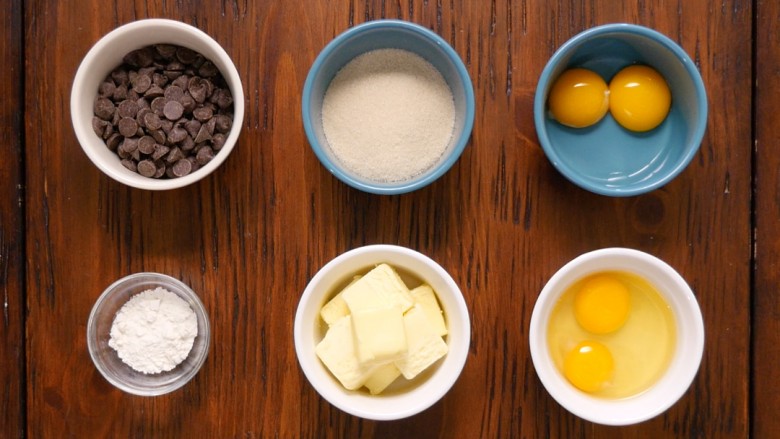 Shopping list


1 stick unsalted butter plus more for greasing ramekins


4 ounces dark chocolate, roughly chopped


2 large eggs


2 large egg yolks


¼ cup granulated sugar


2 teaspoons all-purpose flour plus more for dusting ramekins


fresh berries, whipped cream, or vanilla ice cream for serving, optional


Equipment


small pan


four 4-ounce, oven-safe ramekins


baking sheet


Melt butter and chocolate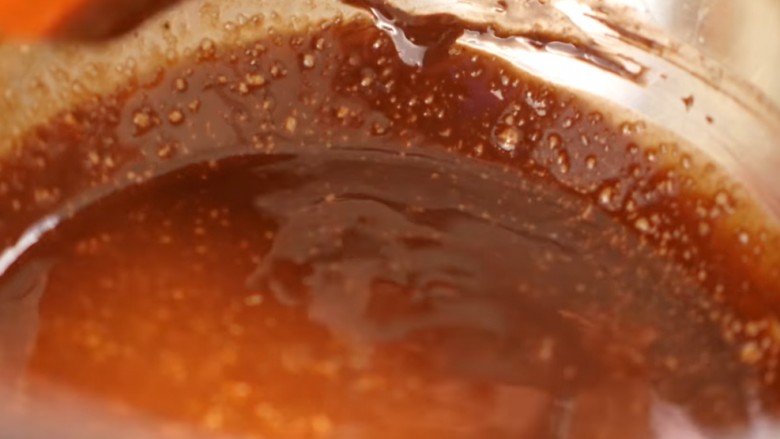 Preheat the oven to 450 degrees. Melt the butter in a small pan. Transfer the melted butter to a large bowl and add the chocolate. Stir until the chocolate is completely melted.
Make batter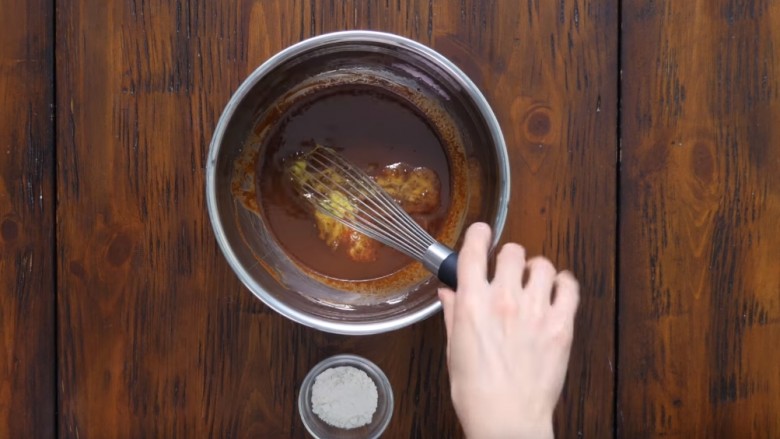 In a separate medium bowl, whisk together the eggs, egg yolks, and sugar until the mixture is pale and thick. Add the mixture to the bowl with the chocolate along with the flour and whisk until fully combined.
Assemble cakes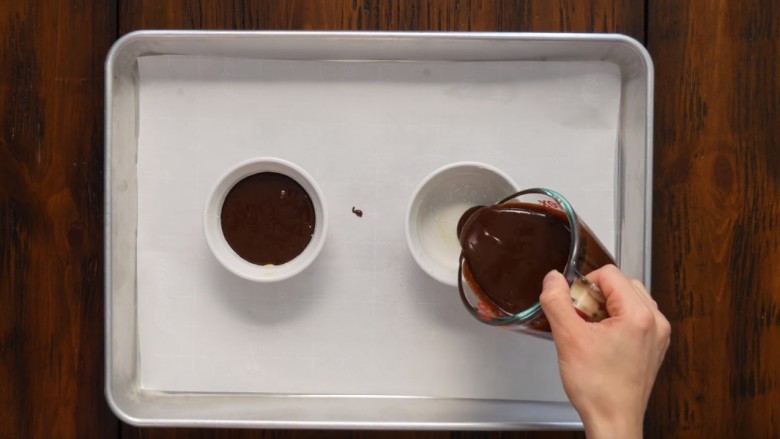 Grease the ramekins thoroughly using butter and lightly dust with flour, tapping out any excess. Transfer the cake batter to the prepared ramekins, dividing evenly. Place the ramekins on a rimmed baking sheet.
Bake cakes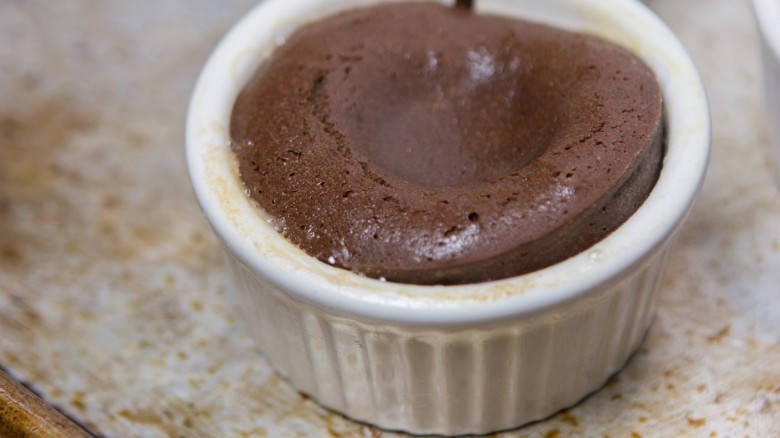 Transfer the prepared cakes to the middle rack of the oven and bake until puffed up and barely set in the centers, 7 to 9 minutes.
Unmold cakes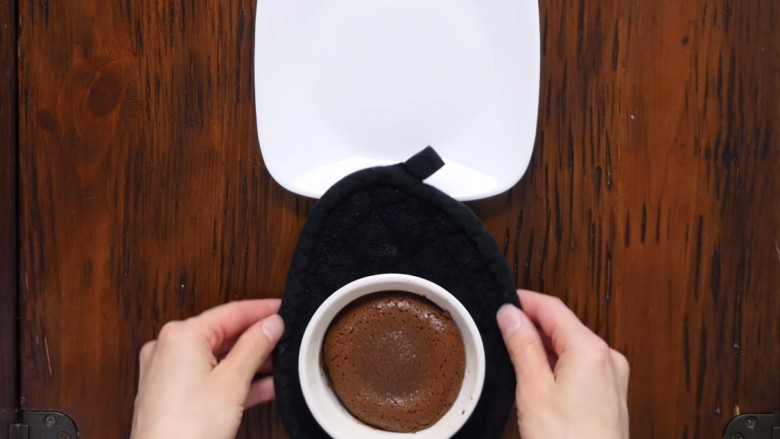 Once baked, remove the cakes from the oven and set them aside for 1 to 2 minutes. Place a plate on top of each ramekin and, using oven-safe mittens, carefully flip the whole thing over. Leave for about 10 seconds, then gently lift the ramekin to unmold.
Serve cakes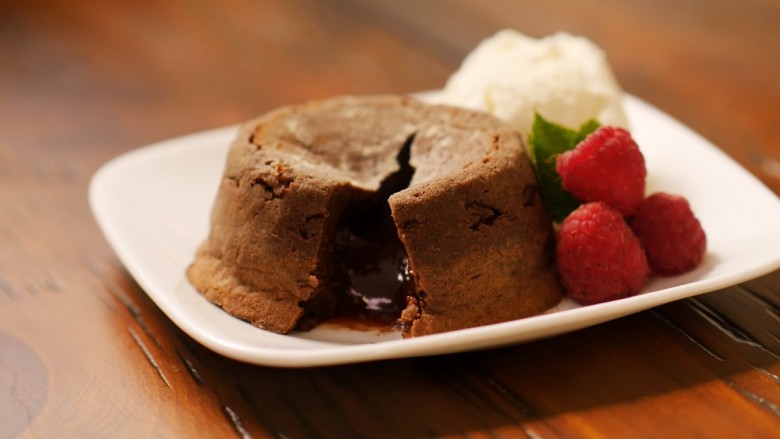 Serve the cakes with a handful of fresh berries, a dollop of whipped cream, or a scoop of vanilla ice cream alongside if you like.
A scoop of vanilla ice cream is a pretty good addition to this cake. Just saying. Try this two-ingredient no-churn version.