Cocktails To Order Instead Of A Vodka Soda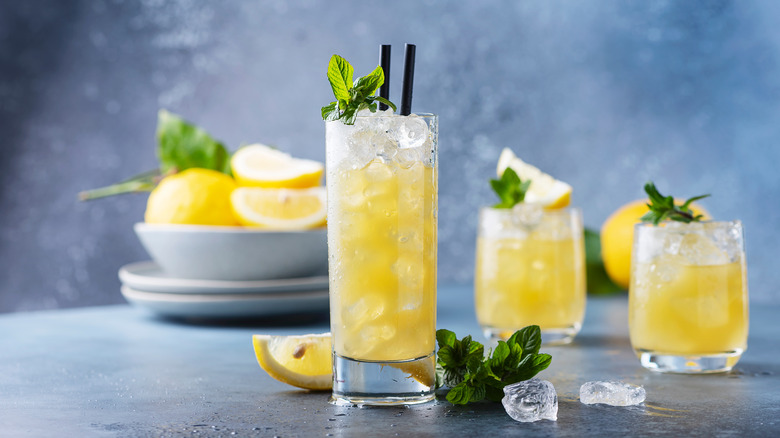 Shutterstock
Whether watching your carbs or seeking a cocktail that's as light as it is refreshing, a vodka soda has long been a popular choice during a night out at the bar.
The vodka soda is so light and refreshing, in fact, that professionals use it as a palate cleanser of sorts. "As a craft bartender, I sometimes taste hundreds of drinks a night to make sure they are made properly. This is what we call straw tasting. This ensures quality. Needless to say, that is a lot of flavor over the course of a night. At the end of a shift, there really isn't anything better than a refreshing vodka soda to cleanse the palate of all that flavor," Deke Dunn, head bartender and Beverage Director at Allegory Speakeasy Bar in Washington, D.C., tells Mashed.
But, of course, it is possible to have too much of a good thing. For those who still love their vodka sodas but want to switch things up a bit, there are many quality cocktail options that have the same light and refreshing elements, but offer the opportunity to try something new.
Japanese whisky highball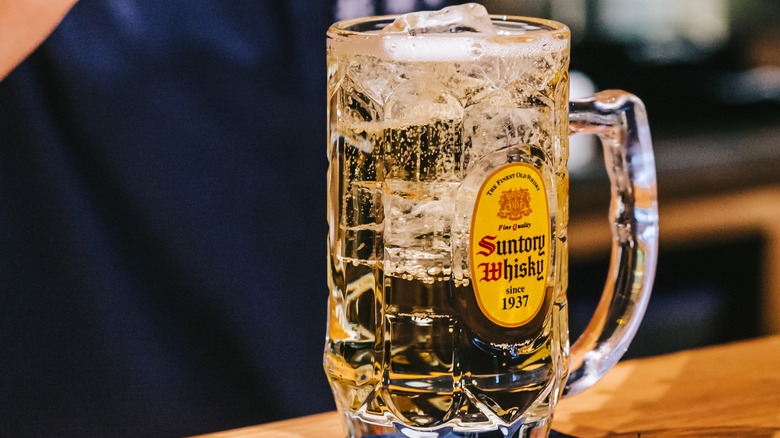 Shutterstock
The thing with a vodka soda is that while it's certainly refreshing, the flavor of vodka is so delicate that it's more often than not buried by the dilution. "The spirit and soda model can serve a few purposes depending on how it's approached, but it primarily serves to lengthen flavor and recontextualize it with texture," Philly-based mixologist Mike Reisman tells Mashed. Enter the Japanese whisky highball. "For the uninitiated, commercial production of Japanese whisky was pioneered by a man named Masataka Taketsuru who studied distilling in Scotland and so a lot of Japanese Whisky tends to lean toward flavor profiles that might be familiar to many Scotch Whisky drinkers," says Reisman.
A well-made Japanese whisky highball has a simultaneous lightness and depth. "It's an exercise in restraint and precision, lest you diminish the fruit and spice notes hallmark to many of its brands," says Reisman. It's worth noting that a really good Japanese whisky, like the Yamazaki 12 Reisman likes in his, can be a little pricey, so this is absolutely worth doing — but it should be done right. That means the best ice and club soda you can get. "For the full experience, you can even delve into the full Mizuwari ritual which, among other steps, involves stirring the whisky precisely 13 ½ times in one direction before adding the soda," Reisman adds. 
Regardless of how you actually decide to put your highball together, it's light but still complex, delicate but still rich, fizzy but still sophisticated — the perfect upgrade for the vodka soda drinker who wants to do a little exploring.
Gin and tonic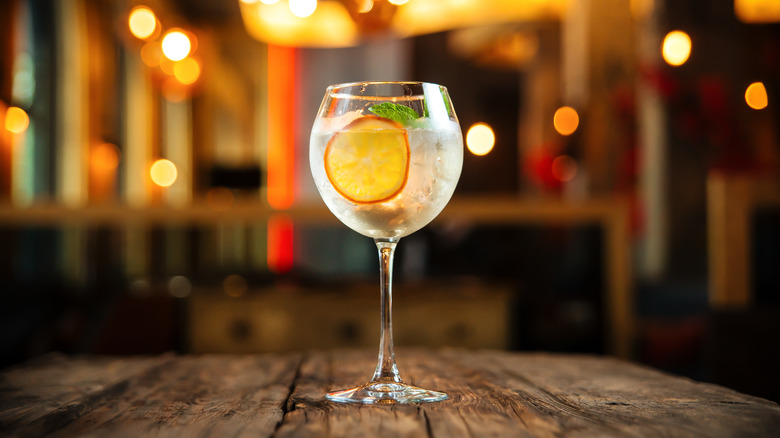 Shutterstock
Gin and tonics have a lot of structural similarities to the vodka soda, and this classic cocktail has quite a fanbase in its own right. Chicago bar expert Jess Sandberg, bar manager of the Michelin Bib Gourmand restaurant PROXI, tells Mashed, "Gin and tonics are the best summer cocktail. They are super refreshing and easy to make, and they are easily customizable too."
You can really make a great gin and tonic out of whichever gin you prefer. "The catch is using high-quality tonics. Some of my favorites are Top Notes and Fever-Tree," says Sandberg. There are so many available now and they all have different flavor profiles so you can really play around with some cool combinations. Sandberg prefers making gin and tonic "Spanish-style" in a large wine glass with different herbs and fruits to complement the gin. "I like using the local Chicago brand Koval dry gin, along with mint and berries to highlight the specific flavors in their gin," adds Sandberg. Or, "Try using Citadelle gin with pineapple pieces and Thai basil. It's a cool way to be able to utilize whatever is growing in your garden as well!"
Lo Mismo
Lo Mismo may not be as household a cocktail name as a martini or a spritz, but it's actually been around for well over a century, according to Diffords Guide. This cocktail is traditionally made with rum, soda water or club soda, so it has a lot of the familiar aspects of a vodka soda, but something special all its own.
The drink's roots go back to 1899, when a Cuban ordered a Bacardi rum and seltzer at the Cosmopolitan Club in Santiago. His friend ordered next and asked for "lo mismo," which means "the same" in Spanish. The Americans that followed also asked for "lo mismo," thinking it was the name of the drink. The name stuck, and the drink continued to grow in popularity. It was a refreshing summer drink that went viral before that was a word! 
"This cocktail is great for someone who is hesitant to change their order, because it has all the elements that they seek in a vodka soda, something light and citrusy, but made with rum," Giovanny Gutierrez, Havana Club Brand Ambassador, tells Mashed.
Vodka Gimlet
Shutterstock
The Gimlet cocktail evokes feelings of classic eras gone by, and for good reason. While no one is exactly sure as to the origin of the classic Gimlet, there is one theory, according to Gunther Toody's, that it originated in the 1860s, in the British Royal Navy by combining gin with lime juice to help fight scurvy. It's similar in concept to vodka soda, but has a more elegant feel – and offers a good amount of versatility.
"Like many gin cocktails throughout the years, bartenders and their consumers have switched the gin spirit for vodka," Marshall Minaya, the beverage director and mixologist for both Valerie and Alfie's Bar and Kitchen, tells Mashed.
A gimlet is composed of three simple ingredients. Classically the base spirit would be gin, but in a vodka gimlet, it'd be vodka, lime juice, and simple syrup. "Most bars carry these three ingredients, and therefore it's a delicious, simple cocktail to order when you want to stray from the normal vodka soda," says Minaya.
"I always encourage those who enjoy the taste of vodka, looking to try something new, to venture into gin," Ryan McKenzie of Seeyamañana and Patent Pending, tells Mashed. A gin gimlet can easily be modified, depending on what's in season, too. "For summer, a super easy modification that I love to make is a rosemary gimlet, made with a rosemary simple syrup," said McKenzie.
Air Mail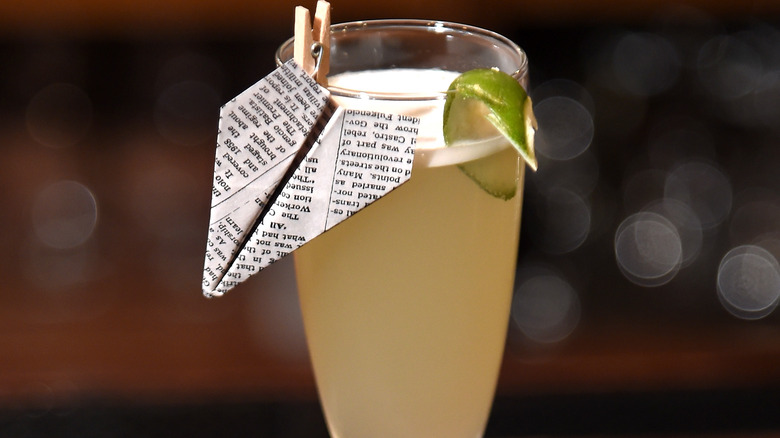 Michael Loccisano/Getty Images
Vodka sodas are about as simple as it gets, but the lime and bubbles offer refreshment and a touch of sweetness and citrus, and that can be perfect on a humid summer afternoon.
There are a collection of bubbled drinks that deliver that and more though, for anyone looking for a citrusy touch of effervescence. "One I think that gets overlooked is the Air Mail; Rum, lime, honey, and bubbles (Champagne). Rum on selection can be a large change in the drink taste, giving it range from light to rich molasses," Anthony Partridge, the lead barman at The Laundry Room, a hidden cocktail haven within Commonwealth in Downtown Las Vegas, explained to Mashed.
Partridge believes it's the flexibility and range of rums that gives the cocktail more range. "Rum tasting notes can be light and clean to dark and heavy. The same recipe can deliver more variety than what vodka can," said Partridge.
Paloma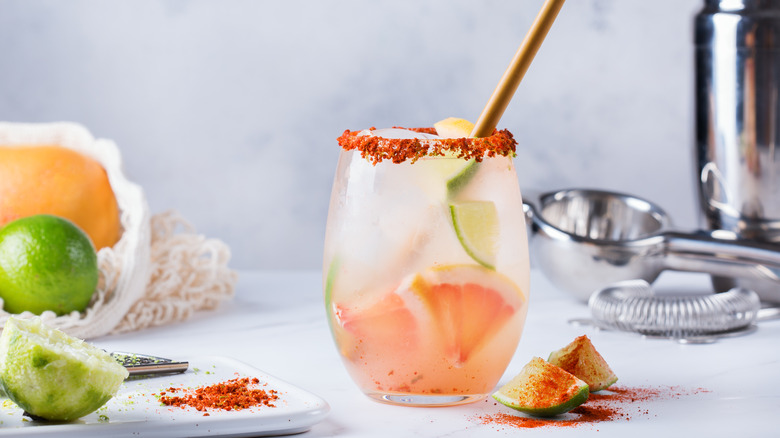 Shutterstock
Those that are searching for something slightly different or more complex, but equally refreshing, might want to consider reaching for a Paloma. The Paloma is a favorite of resort tiki bars and Mexican restaurants and is as simple to make as it is refreshingly smooth and delicious. This is a simple cocktail that consists of only three ingredients: Tequila, fresh lime juice, and grapefruit soda. That's it!
"It is light and refreshing, low in sugar, and is perfect to ward off the summer heat," head bartender and beverage director at Allegory Speakeasy Bar in Washington, D.C., Deke Dunne, tells Mashed. You can drink them all night long and you won't ever feel weighed down. "The vodka soda might be the current zeitgeist, but the Paloma is quickly making its claim to be the successor!" said Dunne. Spritzes have become a popular cocktail as the weather warms, why not make it even more refreshing and add a citrus twist for summer?
Vesper Martini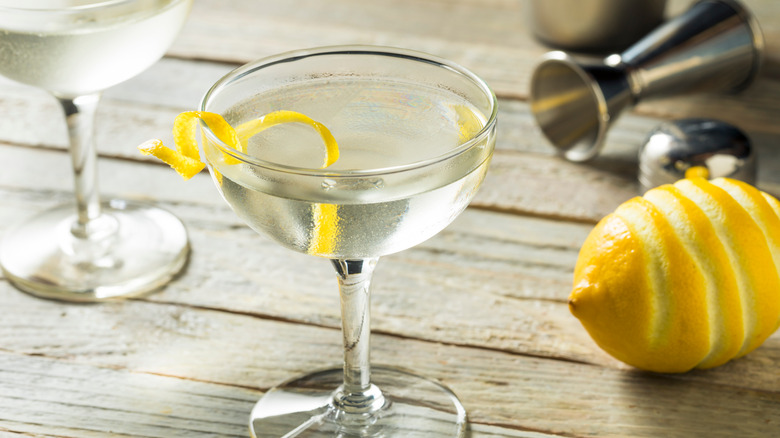 Shutterstock
There's no cocktail more classic or recognizable than the martini. It wouldn't often be compared to a vodka soda, though. However, people who typically go for vodka sodas often do because they're seeking something light and low on the sugar and calories. They may want something that won't make them feel bloated, like a beer or some wines do. A martini can rise to that occasion, and do so while being satisfying and elegant.
A Vesper martini is a great choice for the vodka soda lover seeking a branch out into something a bit more classy. The procedure for making a Vesper is rather straightforward, involving "shaking vodka and gin together with just a little Lillet coating the glass and a lemon peel," Bethany Branfort, Head Mixologist at Holston House, explains to Mashed. It is a very easy cocktail but looks and feels sophisticated. It also just so happens to be made very popular by the James Bond series of movies, and who wouldn't want to feel like that when ordering a drink?
Mule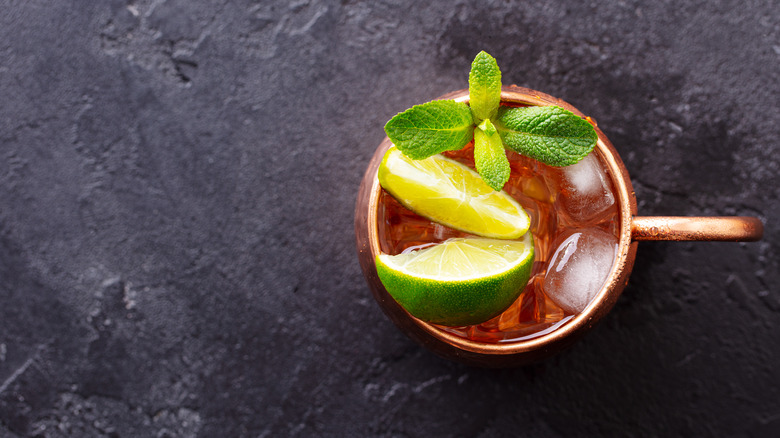 Shutterstock
Mules have long been popular because they are fun and buzzy, and usually come in a cool copper mule mug that's extremely Instagram-friendly. But it also just so happens to be a great alternative to the vodka soda. Mules are generally made out of vodka, ginger beer, and lime — making it quite similar to a vodka soda, but with a bit more flavor depth thanks to that ginger.
Mules are interesting as a cocktail choice because a lot can be done to give them even more depth. One idea is to add some fresh herbs to the lineup, and add just a little mint to the mixture of the typical vodka, lime, and ginger beer. Another fun idea is to add some sort of fragrant and flavorful syrup. "I highly recommend asking the bar if they make their own ginger syrup and adding that to soda to cut some of the sugar and calories, if diet ginger beer is not an option," suggests Branfort. These twists give new life to even the most simple of cocktails, and often make them way more enticing.
Vodka Collins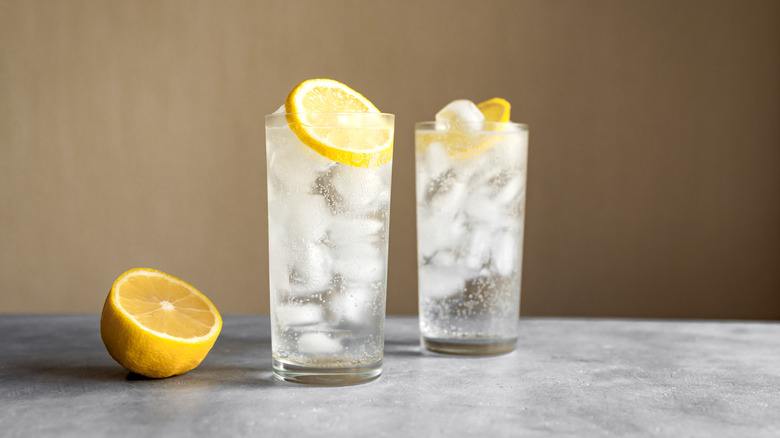 Shutterstock
The Vodka Collins is a perfect option for classic vodka soda lovers, especially when you take the original cocktail and tweak it ever so slightly. While a traditional Vodka Collins is made with vodka, lemon, simple syrup, and soda water, this is a drink that lends itself to many customizations. These tweaks on the traditional can range from the simple, like adding an orange slice or a cherry, to something more exotic. 
"If you like vodka soda but don't feel like vodka soda, you should definitely indulge in lemongrass Vodka Collins," Milos Zica, partner and beverage director at Fandi Mata in Brooklyn, New York, tells Mashed. This spin is refreshing, with a sharp lemon-like scent and a slight hint of exotic ginger. "Lingering grassy and floral notes compliments light and effervescent texture, that make your hot summer days more enjoyable," says Zica.
Tom Collins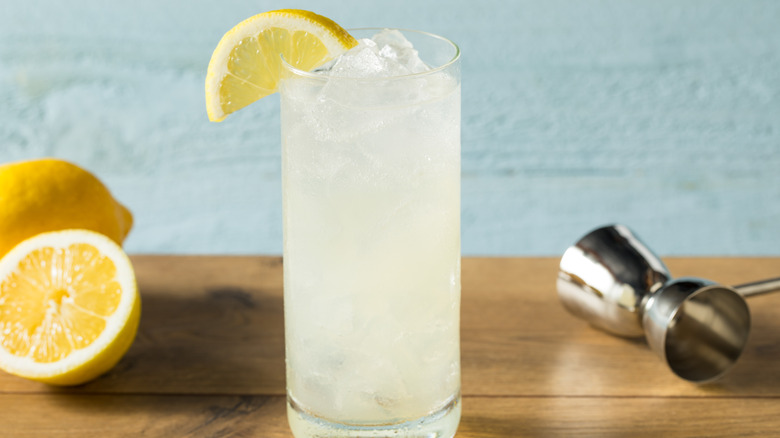 Shutterstock
The Tom Collins is classically made with gin, fresh lemon juice, simple syrup, and club soda, making it a close cousin to the vodka soda. But it's one that leaves a lot more of an impact. "Vodka sodas are one of those drinks that you can slam, you don't have to think twice about what's in it, and will quench your thirst... especially during the hot weather," Jason Kraft, Beverage Director of Roberta's, tells Mashed.
Kraft though, has tastes that go for a bit more flavor, or what he calls more of a "reward for the palate." So if someone at the bar tells him they are seeking a simple highball cocktail that screams summer and has similar qualities as a vodka soda, he recommends a Tom Collins. "Gin, for me, embodies summer with all the floral/botanical elements happening on your palate, and it's the perfect balance of herbaceous-ness, acid, and sweetness with refreshing cold soda water to finish it off," says Kraft. That's the cool buzz that keeps on giving.
Lillet Spritz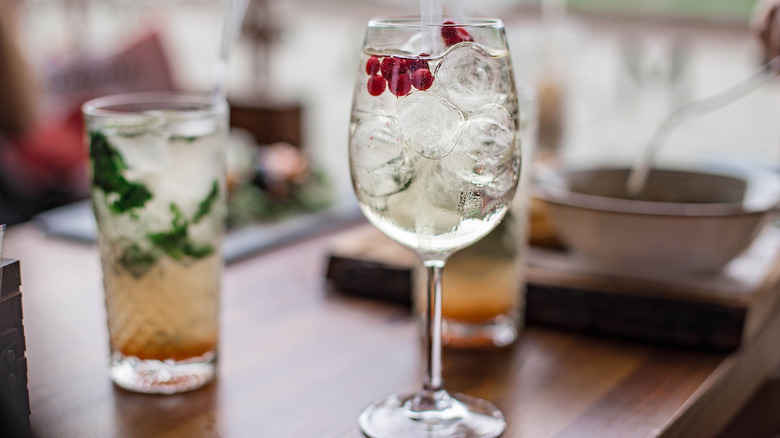 Shutterstock
For something extra special, it's never a bad idea to get a little floral. "I'd highlight a Lillet Spritz because it's really hitting the aperitif mark, getting someone ready for their meal," Beverage Director and Sommelier, Nick Gergen of Juniper and Ivy in San Diego,tells Mashed.
While this spritz has several variations, it is made with Lillet, a wine that is fortified and flavored with herbs, and is often paired with club soda. "It is, in a nutshell, a riff on an Aperol Spritz which has been a wildly classic and popular cocktail for many years, but especially lately with a trend on low ABV cocktails hitting the mainstream again," says Gergen.
Gergen believes the aperitif isn't as widely appreciated in this country as it is in Europe, but it is a great habit to get into. "It really gets guests ready for their meal with both bubbles from the sparkling wine used to stimulate the palate, but also the herbs and botanicals that Lillet is flavored with to open up the appetite," said Gergen. 
TNT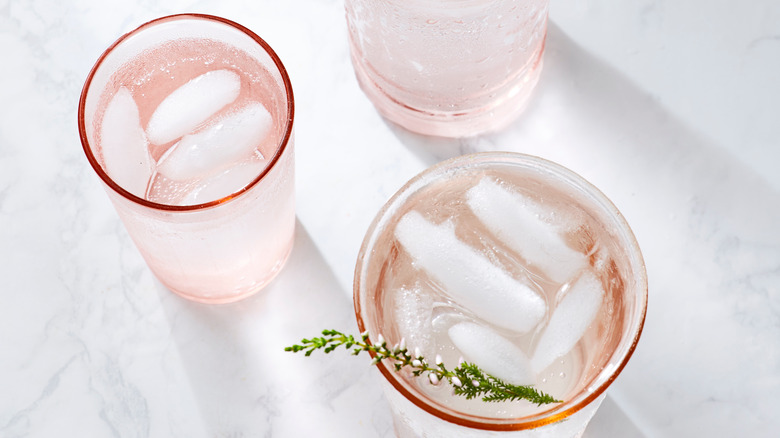 Shutterstock
The relatively recent trend of ordering and drinking the combination of tequila and tonic is a really great (and simple) alternative for a vodka soda drinker, especially if the aspect they are trying to change up is the base spirit. The sweetness from the tequila combines beautifully with the slight bitterness from the tonic, and it's a simple cocktail to make.
"Behind the bar we often hear 'I don't like tequila,' which tends to come from a bad experience, generally involving too many shots of this spirit," Andrew Shannon, former Edition Hotel General Bars Manager, London and Los Angeles & Co-Founder of Candra Drinks, tells Mashed. A TNT, however, will allow you to dip your toe into the agave world without defaulting to the traditional citrus-led tequila cocktails you've probably tried a million times. This drink may actually change your opinion on tequila. It's really quite refreshing!
Aperol Spritz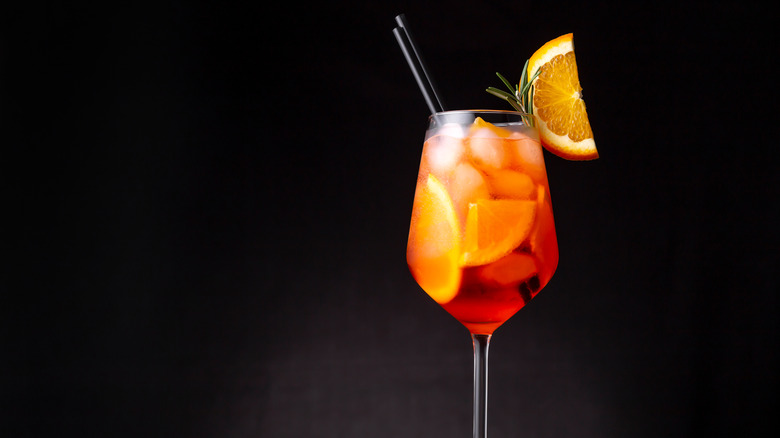 Shutterstock
One of the most trendy drinks of recent summers is the Aperol Spritz. This cocktail is made of Aperol, soda water, and prosecco, which is then paired with an orange peel garnish. It's popular partially because it's so light. "It's very Italian — if you were to walk through an Italian town on a summer afternoon, you'd see everyone drinking Aperol Spritzes," Caroline Galzin, managing partner of Nicky's Coal Fired, Nashville, tells Mashed. The cocktail has a low ABV, so it's something you can sip without worrying about overindulging.
Vodka soda drinkers like something that is light and smooth, not too sweet or too strong, and the Aperol Spritz is about as quintessential of a summertime cocktail as it gets.
"This might appeal to vodka soda drinkers because it is lower in alcohol, and during these hot summer months it can transport the drinker to sitting along a canal in Venice," Mandy Pickering, bar manager for Flatiron, Nashville, explains to Mashed. The hint of bitterness that comes from lime in a vodka soda is replaced by the Aperol. It is incredibly refreshing, with the perfect mix of bubbles and bitterness.
White Vermouth and Tonic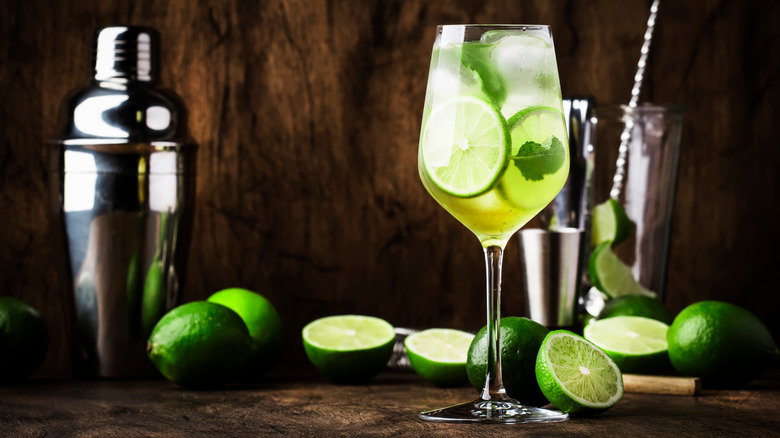 Shutterstock
Another close cousin of the vodka soda is white vermouth and tonic, which is made with — unsurprisingly — white vermouth, tonic, and citrus (different recipes use lemon, lime, or orange). While vermouth is often most associated with drinks like the classic martini, it actually can be quite delicious in a more spritz-type cocktail.
Vodka soda fans will like that this is a low-calorie cocktail, but still a flavorful one. "Vermouth is an often-forgotten-about main component in a cocktail; it is generally added as an extra flavor boost," Lex Rettenmyer, assistant general manager for Church & Union in Nashville, tells Mashed.
According to Rettenmyer, it's the classic licorice flavors inherent to white vermouth paring with the tonic that makes this drink one that's really special. "This is for people that like to taste what they are drinking," said Rettenmyer. If you're a fan of of big tastes, this may be a cocktail for you.