Costco Is Already Selling Starbucks Holiday Blend K-Cups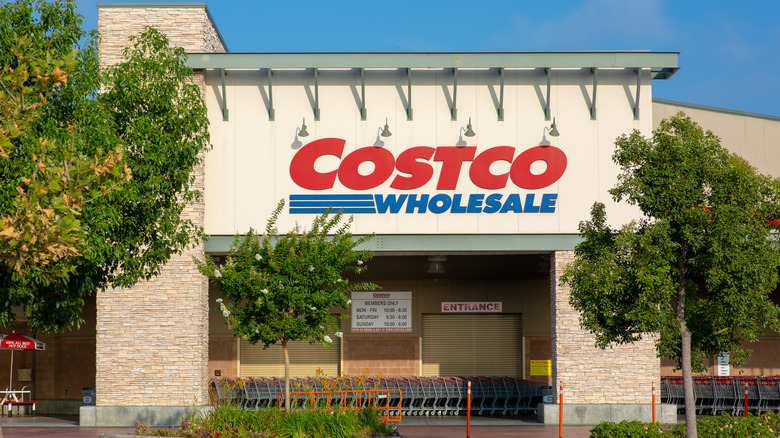 Juan Llauro/Shutterstock
The return of Starbucks' fan-favorite Pumpkin Spice Latte today marked the unofficial beginning of the fall season, and we're not going to lie: We're pretty excited. Cooler weather, colorful leaves, and the ability to sip on a warm PSL in our favorite sweater – what's not to love? The return of everything pumpkin-spiced also serves as a reminder that the holidays are right around the corner, and if you're eager to start decking the halls, we have some exciting news: Retail giant Costco is already stocking its shelves with Starbucks Holiday Blend K-Cups so Keurig owners can get a serious jump-start on getting into the festive spirit.
Costco fan Instagram account @costco_doesitagain shared the exciting news of the seasonal coffee's return to the wholesale store, sharing a photo on August 23 of the familiar holly-covered, 72-count boxes of K-Cups that run for $29.99 each. "Too soon?! @starbucks Holiday Blend has hit Costco!" the Instagrammer captioned the post that has since racked up nearly 3,000 likes, and though some expressed their belief that it was a bit early for holiday drinks, most people seemed incredibly pleased.
It's never too soon for holiday coffee, according to many Starbucks fans
Starbucks' Holiday Blend is described by the Seattle-based coffee chain's website as a combination of "seasonal, bright Latin American beans with mellow Sumatran coffee." A cup of this java promises "a balance of nutty and maple flavors" in every sip. Most Starbucks locations don't start selling bags of its festive blends until November (via Starbucks Stories), so the appearance of the brand's Holiday Blend K-Cups at Costco more than two months in advance understandably has fans excited. "Never too early for holiday stuff," Instagram user @missalexandramarie commented on @costco_doesitagain's post. "Yayy!! This is great coffee, making a purchase asap," said Instagrammer @perezpalmer. A third user who said they no longer drink coffee even contemplated purchasing a case just so they could fill their house with the aroma – now that's a true fan!
Unfortunately, it does not appear that the giant cases of Starbucks Holiday Blend K-Cups have made it into every Costco just yet. One user shared that they hadn't spotted the product during their trip to the retailer the same day @costco_doesitagain's post went up, so it may be best to call your Costco location before making the trip to see if it's in stock. If it is, make sure to be like Instagrammer @saratski14 and grab a few extra cases of the festive K-Cups so you can make the holiday cheer last.