The Real Reason Applebee's Is Bringing Back Its Oreo Shake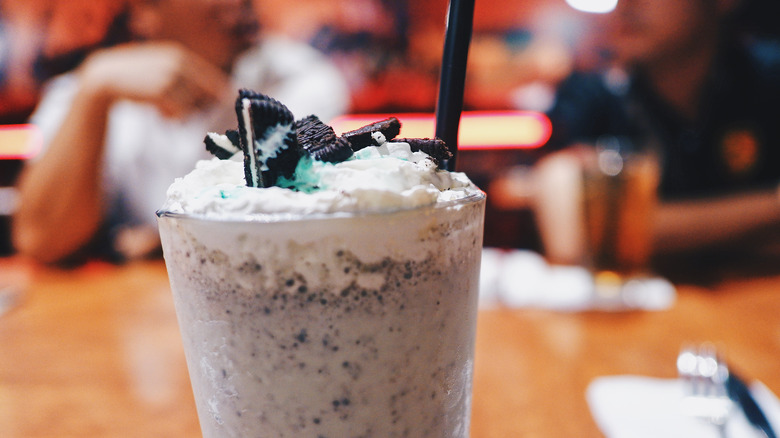 Saknarong Butsabong/Shutterstock
Applebee's fans will be happy to know that the casual restaurant chain is bringing back its Oreo shake for the first time since the pandemic started, CNN reports. Originally, the dessert was removed as part of an effort for the chain to pare down its menu during the height of the novel coronavirus. However, a recent song has emerged and become so popular that it's changed the current Applebee's menu.
The now-viral song "Fancy Like" by country musician Walker Hayes, popularized on TikTok, mentions the chain's Oreo shake and Applebee's has hopped on the publicity the song has brought. The lyrics are all about Wendy's in the first verse. But in the second verse, the song says "Yeah, we fancy like Applebee's on a date night. Got that Bourbon Street steak with the Oreo shake. Get some whipped cream on the top too" (via Lyrics). And just like that, the Oreo shake returned to Applebee's. And now, the chain is doubling down on its presence in the popular song.
Applebee's started a whole "Fancy Like" campaign
After country music star Walker Hayes name checked Applebee's in his song and shared it with choreography on TikTok, the chain has paired up with him to create a whole marketing campaign based on the new song (via Ad Age). The song and some of the best takes on the choreography Hayes and his daughter shared on the social media platform are now an Applebee's ad. Even Shaquille O'Neal got in on things, posting his own version of the dance.
But this isn't just some sponsored content pushed by Applebee's. In a statement that Applebee's provided to Ad Age, Hayes said "For years, my wife Laney and I have been regulars at Applebee's for date night, and I've always wanted to write a song about it." Fortunately that impulse has brought back those delicious cookie-filled shakes for just $2.99 (via Wide Open Country). So visit your local Applebee's soon to get your fill of the shake — they're even offering a special "Fancy Like" date night menu, which consists of (what else?) Bourbon Street steak and an Oreo shake.