America's Favorite BBQ Sauce Probably Won't Surprise You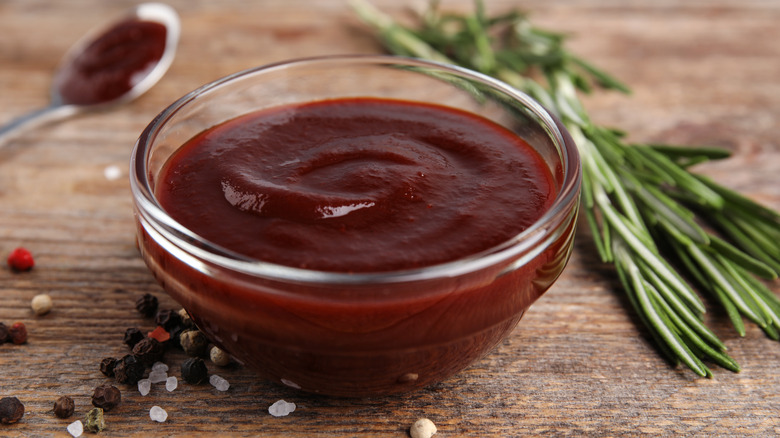 New Africa/Shutterstock
It's no secret that we Americans love our barbecue, especially in certain states like Tennessee, South and North Carolina, Alabama, Texas, Missouri, Florida, and Georgia. Many regions have their own style of sauce that is completely different than traditional barbecue sauce, like South Carolina mustard, Kansas City, or Alabama white sauce (via Eater). Barbecue has been around for quite some time, with the first practice of creating barbecue began during the Colonial Era in Virginia, per Chowhound. Colonists first observed Native Americans cooking meat over an open flame, and when recreating it themselves used butter or vinegar to baste the meat. 
Later, when Caribbean slaves were brought to the states, they also brought cooking techniques, flavors, and spices, and barbecue was born. The three main types of barbecue sauce, according to Smithsonian Magazine, are South Carolina-style mustard sauce, which was primarily developed by German and French immigrants, North Carolina-style vinegar sauce, credited mainly to British settlers, and the Memphis-style sweet tomato sauce, which is attributed to the city's location along the Mississippi River, allowing them access to tomatoes and molasses. Kansas City-style sauce is considered the meeting of eastern and western barbecue styles, according to Dotty Griffith's book, "Celebrating Barbecue." So what's the most popular sauce in the country?
Unsurprisingly, Sweet Baby Ray's takes the top spot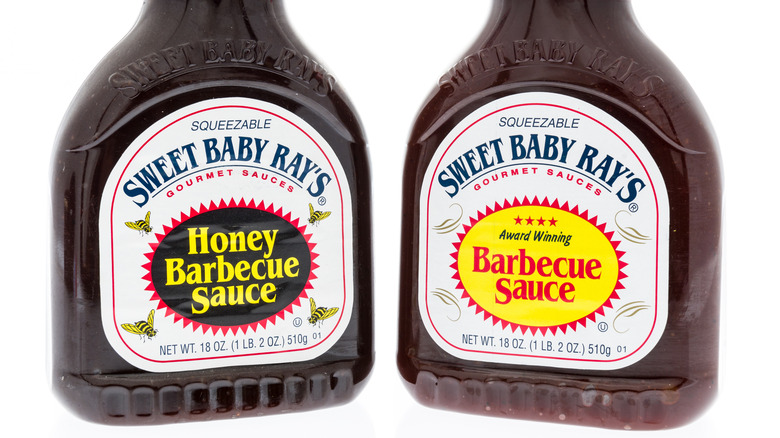 Keith Homan/Shutterstock
While each barbecue sauce has its own unique flavor and texture that are amazing, a lot of people still come back to store-bought sauces that they know and trust, especially if they're dining out at a restaurant or doing a big family cookout. As much as we'd like to think that people are branching out, Sweet Baby Ray's remains the most popular barbecue sauce in America, according to Statista. This sweet and tangy tomato-based sauce is thick and goes great on pretty much everything. 
Plus, Sweet Baby Ray's has come out with a variety of other flavors to add to their arsenal, like Sweet Golden Mustard, Sweet 'n Spicy BBQ sauce, and even some others like Sweet Vidalia Onion (via Sweet Baby Ray's). Interestingly, this famous sauce was developed in 1985 in Chicago by Chef Dave, who submitted his sauce into the country's largest rib cook-off. After beating nearly 700 other contestants, it remains wildly popular to this day.