Why One Restaurant Worker's Popovers Have TikTok In A Frenzy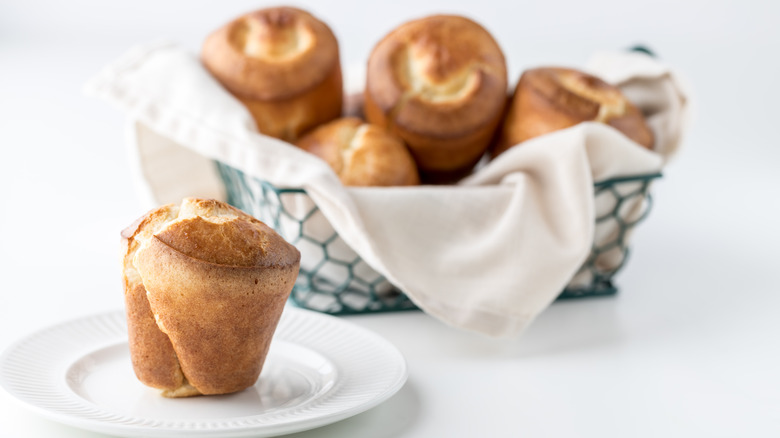 Carey Jaman/Shutterstock
If you're going to run a bistro where popovers are the star of the menu, you better know how to make a perfectly pouffed version of the light and airy pastry. And you better be sure your staff knows the secret to success. Clearly, Pam Paydos, owner of Popover Bistro & Bakery in Simsbury, Connecticut, is good on both counts. She's even confident enough to let her staff poke fun at her in a TikTok video when an employee beats her at her own game. Captioned, "When you're the dishwasher, but your popovers come out better than the owner's #sorrypam," the video shows Paydos removing a tray of popovers from the oven and immediately dumping them in the trash. 
In the next shot, an employee, we assume the dishwasher, pulls a perfect tray of popovers from the oven. A ton of comments have flooded the post with the majority suggesting it's time for the dishwasher to get a promotion and a raise. One TikTok user wrote, "And that's exactly why I always train every person in my kitchen and upgrade them and move them up positions if they qualify." Happily for the talented dishwasher, Popover Bistro & Bakery is on the same page, responding, "Right there with ya!"
Here's the secret to making perfect popovers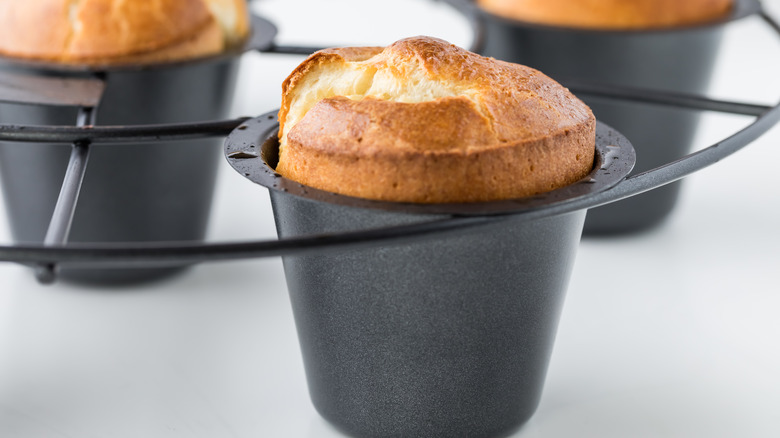 Carey Jaman/Shutterstock
Pam Paydos and her staff have been serving popovers to the Simsbury, Connecticut, community since 2014. Memories of family vacations in Maine, including visits to Jordan Pond House in Seal Harbor, famous for its popovers, inspired the concept for Popover Bistro & Bakery (via Hartford Magazine). She was previously the owner of another Simsbury eatery, Iron Frog Tavern. But make no mistake, Popover Bistro & Bakery is about more than pouffy pastries, they also offer combos like eggs with Swiss, cheddar, and goat cheese or eggs with applewood bacon, turkey sausage, caramelized onions, mushrooms and cheddar cheese.
And despite her TikTok fail, Paydos is generous with experience-based advice. During a segment on WFSB, she shared a few secrets for success including these pearls of wisdom — invest in a popover pan, make sure all ingredients are at room temperature, use a blend of 1/2 whole milk and 1/2 low-fat milk, preheat the oven and the popover pan, bake at 400 degrees for 20 minutes then lower the oven to 300 degrees and continue cooking for another 20 minutes. We're betting the happy dishwasher that beat Paydos at her own game, followed all of her advice.