The Dangerous Reason 52,000 Pounds Of Chicken Salad Was Just Recalled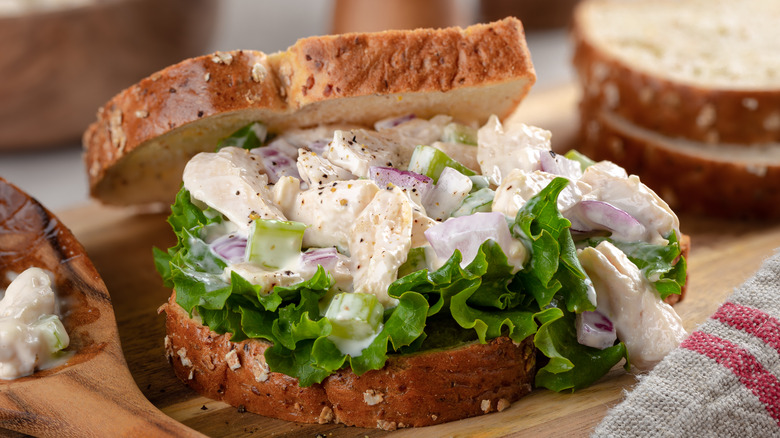 Charles Brutlag/Shutterstock
When you hear the words "chicken" and "recall" in the same sentence, you automatically think "salmonella." It's happened before, and unfortunately it'll probably happen again, but that's not why 52,000 pounds of chicken salad were just recalled. In this case, it was due to possible plastic contamination. TODAY reports that after receiving a consumer complaint, Willow Tree Poultry Farm, a manufacturer of chicken-based products, was forced to recall all chicken salads and chicken dips produced between August 10 and August 13. 
According to the Food and Safety Inspection Service of the United States Department of Agriculture, that's eight different varieties of chicken salad and chicken dip, or more specifically, those that are marked with EST. P-8827. The batch was distributed to wholesalers and retailers located in Connecticut, Massachusetts, Maine, New Hampshire, New Jersey, New York, Pennsylvania, Rhode Island, and Vermont. If you have purchased any one of the recalled products in the affected states, the Food Safety Inspection Service is instructing customers to either throw them away or return them to the store they were purchased from.
You probably ingest plastic in your food every day
While the Food Safety Inspection Service confirmed there were no reports of adverse reactions to the possible plastic contamination, the truth is that any food, not just chicken salad from Willow Tree Poultry Farm, isn't guaranteed to be plastic-free. According to Consumer Reports, the world has produced over 10 billion tons of plastic since the 1950s, and the number is expected to nearly quadruple by 2050. Plastic isn't biodegradable, so it only breaks down into tiny particles, or microplastics, which enter our water and food supply. A 2019 research study shows that "the average American eats, drinks, and breathes in more than 74,000 microplastic particles every year." That's like eating a credit card every week, Consumer Reports explains.
Fortunately you can get around this by reducing your use of plastic, however, there's no surefire way the average consumer can tell if microplastics have made their way into their food. So, while you may not be able to avoid it entirely, if the plastic contamination is due to human error, like in the case of Willow Tree Poultry Farm, you can trust the Food Safety Inspection Service to prevent it.