MasterChef Junior's Sarah Lane Revealed How Reality TV Really Works
Being on a reality TV show as a child can be an interesting experience — we've seen first-hand how that panned out for stars like Kylie Jenner (via Nicki Swift). But how is it like being on a food reality TV show like "MasterChef Junior"?
Sarah Lane, who starred on Season 1 of the show, spills all the details of her experience to HuffPost. Lane was only 9 years old when she had made her appearance on the show, and is now nearing the end of her high school career. Though a Healthline article states how unhealthy reality TV can be for participants (and viewers, too), Lane describes her experience on "MasterChef Junior" was pretty positive, and how she doesn't regret doing it. In fact, she shared that she and the other kids actually had lots of downtime, wrapping up their day at 4 or 5 p.m., before hanging out at night and filming again in the morning.
The drawbacks of being on MasterChef Junior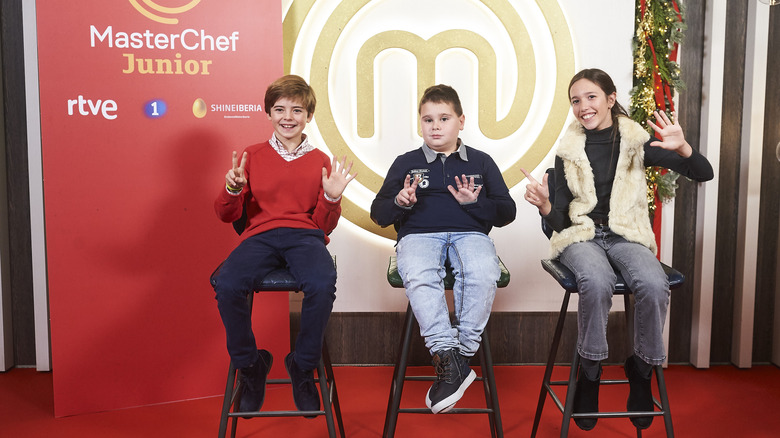 Borja B. Hojas/Getty Images
Essentially, it's tough being on national television as a child, and not everything was glorious while Lane was on the show. One negative instance was when another contestant, Troy Glass, had said, "Sarah is the worst and I don't want her on my team." This statement was actually put on air, and as a result, Glass received so much backlash for it that he had to deactivate his Twitter. Another contestant on the show, Dara Yu, was also filmed crying, which Lane noted as controversial.
This leads to what Lane had said was the only thing she wished she hadn't learned from starring on the show: what happened behind the scenes. "Whenever I watch 'MasterChef,' I can almost pick out who wins from the first episode, and so [shooting the show] kind of killed the magic a bit," Lane told HuffPost. Being a cast member on a reality TV show opened Lane's eyes to the double-edged sword of television editing and production, in that certain takes could be cut or added in, based on the producers' plan. But for the most part, Lane has a positive reflection on her time spent on "MasterChef Junior."