Valuable Lunch Boxes You Might Have In Your Closet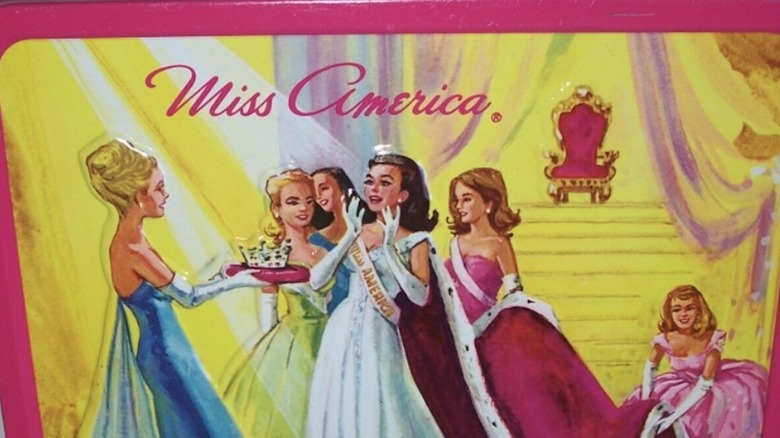 eBay / 9249charlesf
For a long time, the lunch box was strongly associated with laborers. People would go off to work each morning, their briefcase, bag, or toolbox in one hand, and their solidly and simply colored hinged lunch pail in the other. In the middle of the 20th century, lunch boxes became a kid thing, with the entertainment industry marketing metal (and later plastic) models to kids as a way to show off their love for their favorite movie, TV show, fictional character or sports star, because the lunch box was covered in pictures and photos of that thing. 
After a school-year or two of hauling a sandwich, chips, and a juice box to school, those lunch boxes get pretty banged up. Kids also grow out of their lunch box and lose their interest in its subject matter, relegating it to a basement, garage, or landfill. It's often not until a child grows up, moves out, and gets their old box of stuff from their childhood home and inside finds that old lunch box and realizes that it might hold value in the secondary market. Here are some rare lunch boxes from the 1950s, '60s, and '70s that were gathering dust — until somebody made a fortune by putting them up for sale on eBay.
Home Town Airport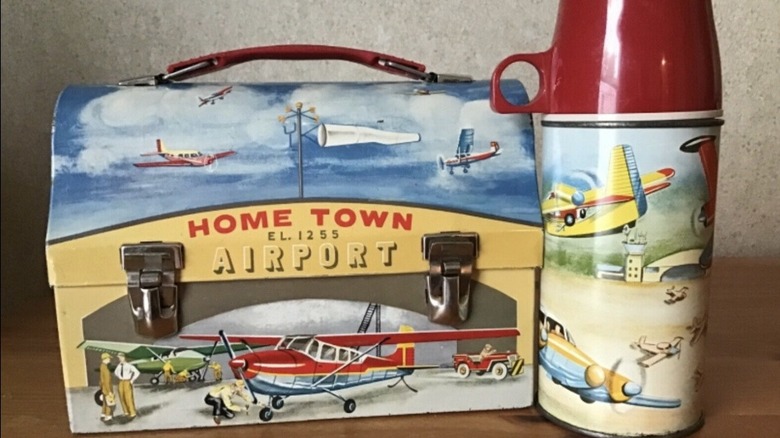 eBay / picking_element
"Thermos" is a term that describes a portable container with which to carry and keep soup hot or milk cold, introduced by a company also called Thermos, more specifically, the King-Seeley Thermos Company. In addition to its signature, titular item becoming a generic trademark, Thermos made lunch boxes (which usually came prepackaged with a Thermos-brand thermos). But even in the 1960s, the company didn't always mess with getting the lunch box rights to the most in-demand cartoon characters, superheroes, and pop figures of the era, so they went with more generalized, non-trademarked things. For example, in 1960, Thermos introduced the Home Town Airport lunch box. It pictured numerous early 20th century propeller planes, both in flight and in a hangar at a tiny airport, attended to by mechanics. (Whose "home town" was this exactly? Anybody's home town.)
The Home Town Airport lunch box was esoteric and lacked broad appeal upon release, which only made it more obscure over the decades that have since passed, which in turn, makes the lunch box extremely valuable and capable of fetching a large sum at auction. In 2021, enthusiasts could expect to pay at least $100 for this collectible in poor condition on eBay, up to about $700 for one in pretty decent condition.
Batman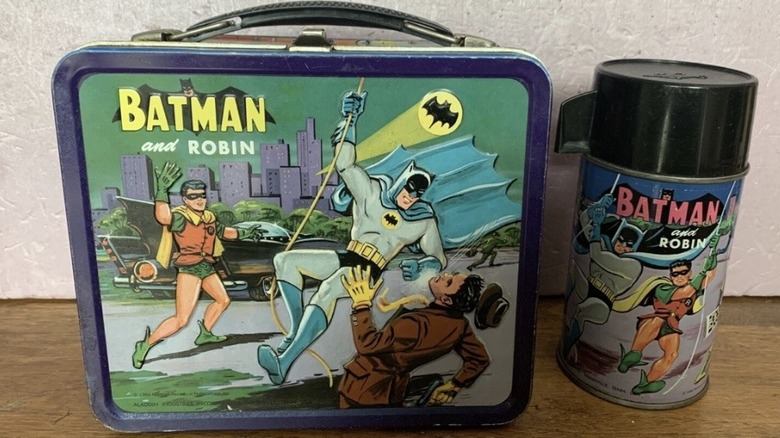 eBay / gmike56
Batman, a.k.a. wealthy bachelor industrialist Bruce Wayne, a.k.a. The Dark Knight, a.k.a. The Caped Crusader, a.k.a. The World's Greatest Detective made his first appearance in "Detective Comics" in 1939 and was central to the dark and stylish big-budget 1989 film "Batman", and also helped define 1960s television as fertile ground for high-concept experimentation. In 1966, the "ironic and campy live-action "Batman" became an instant hit. Hip adults found their generation's Batman, and they could buy Batman lunch boxes for their kids to make them seem cool at school.
In 1966, an eye-popping and colorful Batman lunch box sold around the U.S., featuring Batman and his sidekick Robin as they violently thwart a criminal wishing harm to Gotham City on one side, and saving a baby from a burning building on the other. On eBay in 2021, a well-worn Batman lunch box could be found for under $100, but for one in great shape and complete with thermos, you can expect to pay around $400.
Lost in Space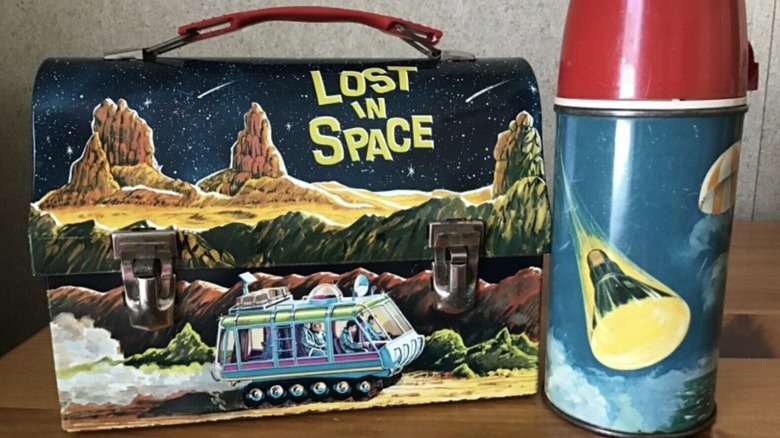 eBay / donaldtrump2010
"Lost in Space" — the low-budget, ramshackle sci-fi take on an interstellar "Swiss Family Robinson" was cancelled by CBS in 1968 after three seasons of middling ratings. It lived on in syndication and the fond memories of Baby Boomers, who loved the scheming, Shakespearean villain Dr. Smith and one of the all-time classic robots, Robot, with the flailing arms who shouted "Danger! Danger!" But upon its initial airing, kids could buy a lunch box depicting the Robinsons' many promised astounding adventures on distant planets. They don't make lunch boxes like they used to — this one isn't some hinged rectangular box, but a pail with two fully illustrated scenes, one on each side. The front features the Robinsons in a rover vehicle, and the other shows Professor John Robinson saving wife Maureen and son Will from a tentacled plant monster while the Robot looks on and does nothing. It included a thermos, too, depicting the kind of rockets that would bring humans to the moon. 
This lunch box oozes nostalgia for '60s entertainment as well as the space race, and a box in great condition can sell for between $450 and $520 on eBay in 2021.
Dudley Do-Right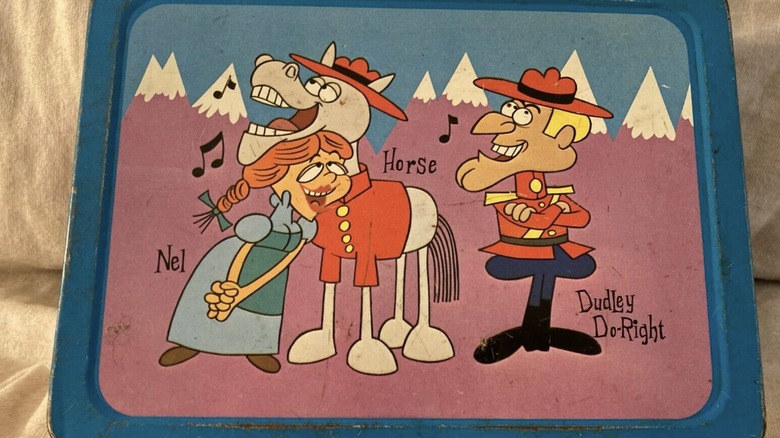 eBay / c**278
In the way that "The Simpsons" or "Adventure Time" are animated series with an audience of children in mind but are so wry, satirical, and comically layered that they appeal to adults, so too did the mid-20th century television output of animator and TV producer Jay Ward. His most famous creation: the silly, fourth-wall-breaking characters Rocky and Bullwinkle. "The Adventures of Rocky and Bullwinkle and Friends" was set up like a sketch comedy show with plenty of recurring characters, perhaps none more popular than Dudley Do-Right, an incredibly dumb and bumbling member of the Royal Canadian Mounted Police forever on the hunt for the villainous Snidely Whiplash and forever mooning over his true love, Nell Fenwick.
Almost as popular at the time as Rocket J. Squirrel and Bullwinkle J. Moose (and who was similarly the subject of a 2000s live-action film adaptation), Dudley Do-Right broke out of "Rocky and Bullwinkle" to star on his very own lunch box. This 1962 treasure features Dudley singing a tune with Nell (misspelled as Nel) along with his horse, Horse, whom Dudley famously rode backward. Dudley Do-Right carries a lot of nostalgic weight for lunchbox collectors. Add to this the fact that only a few show up at auction every year, and the winning bid on this lunch box in a 2021 eBay auction, despite some rust and noticeable wear: $699.99. Past examples have gone over $1000.
Hogan's Heroes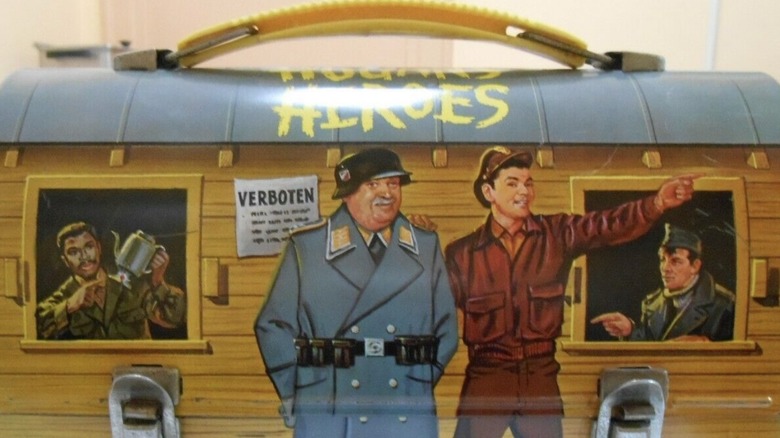 eBay / jv2
Network primetime television was a pretty tame place in the 1970s. Nothing terribly offensive or profane would ever appear on broadcast TV, but some shows certainly skewed toward an older audience. For example, "Hogan's Heroes," the 1965 to 1971 show about crafty Allied prisoners stuck inside of — and forever trying to escape from or outwit their captors at — a World War II prisoner-of-war camp. The villains were literally Nazis, but bumbling and ineffectual ones, such as commandant Colonel Klink, forever stymied by that smirking American, Colonel Hogan. A period-set, inappropriate comedy likely didn't attract many children, but this lunch box, designed to look like the prisoner barracks, was certainly appealing. It featured Klink, Hogan, and other characters going about their business on the show in an elaborately illustrated scene.
"Hogan's Heroes" wasn't the most child-friendly (or child-appropriate show) on television in the early 1970s. But that lack of appeal to kids meant that the merchandise generated to promote and celebrate the show became increasingly rare over the decades. In 2021, "Hogan's Heroes" lunch boxes sold on eBay at prices ranging from $177 to $485, and mostly in the $200 to $300 range. One particularly well-preserved item escaped its owner for a whopping $765.
Universal Movie Monsters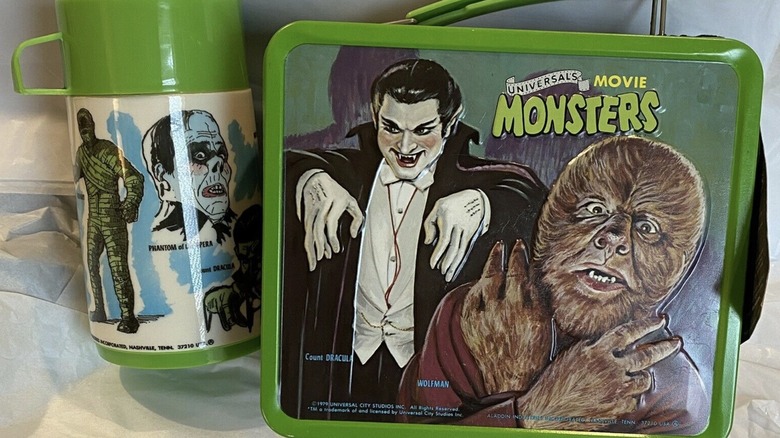 eBay / innertraveler
Massive media conglomerates advertising their intellectual property didn't begin when studios like Paramount and Warner launched their own streaming services to show off their many film and TV franchises. Back in the early 20th century, two studios were known for their brands — Disney, with its endless string of cartoons and kids' movies — and Universal, which produced some of the best, most enduring, and highly regarded monster movies of all time.
Collectively known as "Universal movie monsters," these spooky-scary screen icons, primarily based on literature, included Dracula, Frankenstein's creature, the Phantom of the Opera, the Mummy, and the Wolfman. Portrayed on-screen by the likes of Bela Lugosi, Boris Karloff, and Lon Chaney, Jr., over and over again in the 1920s through the 1950s, all those characters and more appeared on this metal lunch box, first produced in 1979. The Universal Monsters lunch box frequently appears on eBay, and in 2021, a collector could find one on eBay for just over $100. Different factors affect that asking price, such as the condition it's in after knocking around for 40 years, and whether or not the thermos is intact and included. One in excellent shape sold on eBay for over $811 — not only was the Thermos still there, and in great shape, but the box still had the tags left by the manufacturer.
Kiss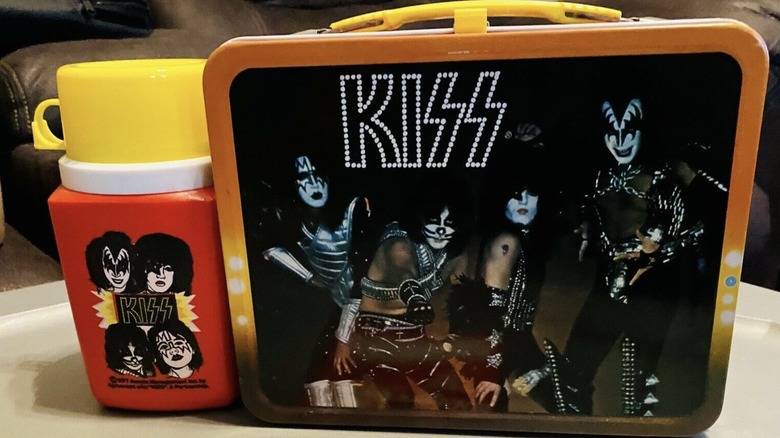 eBay / pickin-grinnin
As one of the most ridiculously and ambitiously branded rock bands on the planet, the logo and campy horror imagery associated with the '70s arena rockers Kiss has appeared on hundreds of products, including shirts, shoes, a casket, and toys. It works, because each of the band's four members (always Paul Stanley and Gene Simmons, and a revolving door of drummers and lead guitarists) take on the persona, costume, and black-and-white makeup of a fantasy sci-fi fighter, such as the Starchild, the Demon, Space Ace, and the Catman. 
As such, when Kiss was in its '70s heyday of churning out anthemic bangers like "Rock and Roll All Nite," "Detroit Rock City," and "I Was Made for Loving You" while also wearing makeup and being real-life comic book characters, they were also extremely popular with children, which made a Kiss lunch box a no brainer for manufacturer Alcon, and a must-have for all junior members of the fan club, the Kiss Army. Dating to 1977, one model from Alcon featured a photo of Simmons, Stanley, Ace Frehley, and Peter Criss, in full costume and makeup and striking poses on one side, and rocking out on stage on the other. In 2021, various versions of this rock n' roll relic sold on eBay, from $165 to $299 to $850. Why so much? That one included a Kiss thermos with an instruction booklet on its correct use.
Mickey Mouse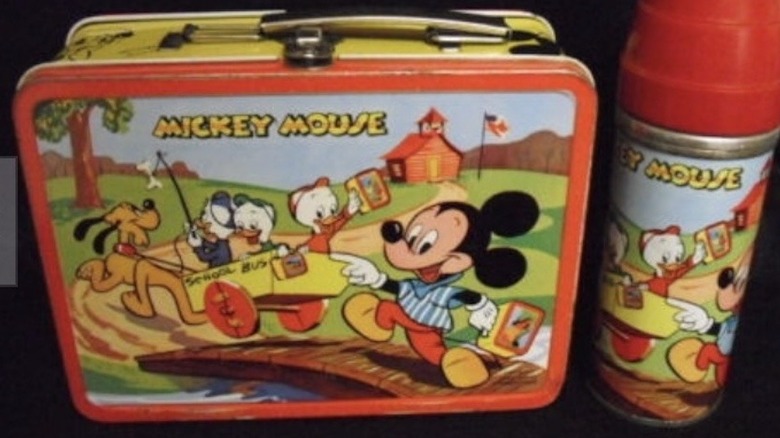 eBay / heavyweightboxer
There just aren't as many characters that are as old as Mickey Mouse that still take up significant room in the collective culture. After a star-making turn in the 1928 cartoon "Steamboat Willie," the high-voiced, always happy, Minnie-loving rodent with white gloves and two circles for ears has appeared in dozens of shorts and multiple TV series but really served as an internationally recognizable symbol and corporate mascot of the Disney brand of family entertainment. A drawing of Mickey, or three stylized black circles representing Mickey, is synonymous with high quality, kid-friendly content, and that extends to decades worth of merchandise, from "Mouse Ear" hats purchased at Disney theme parks, to Mickey-themed lunch boxes.
Even back in the 1950s, lunch boxes caught the eyes of kids and their parents at department stores and five-and-dimes and sold briskly. Depicting a "school bus" — a wagon occupied by Disney brethren Huey, Dewey, and Louie and pulled by Pluto the dog — the box shows a grinning Mickey running alongside it, on his way to school (while carrying a lunch box himself). On the reverse, Donald Duck enjoys a picnic with his nephews. In 2021, an eBay bidder could land a rusty model for $30, or ones in substantially better shape for somewhere in the $125 to $150 range. With a matching metal thermos, a very well kept model from 1954 sold on eBay in 2021 for $799, just short of the estimated top value of $1,000.
Scooby-Doo
eBay / meffo-ric
Scooby-Doo, the sandwich-devouring talking dog — and the four young people he travels around the country with in a van called "The Mystery Machine," unmasking crooked land developers who stage believable supernatural phenomena — hit the scene in 1969 with the Saturday morning cartoon "Scooby-Doo, Where Are You!" Because the franchise is so consistently visible, dutifully adopted by each successive generation, remnants of the show's early days grow ever the more valuable, both sentimentally and monetarily. One of the most popular Scooby-Doo-related items, both then and now, is a King-Seeley Thermos-made lunch box from 1973. The box depicts Scooby and Shaggy in their natural element — running away in fear (in this case it's from a cliffside Headless Horseman). The accompanying drink holder features a portrait of a much calmer Shaggy and Scooby hanging out and smiling. (And oddly enough, both box and thermos mislabel the character as "Scooby Doo," not "Scooby-Doo.")
The 2021 eBay price range for this lunch box in yellow trim with an included green thermos: from $102 up to $250. However, a pristine box, with the manufacturer's tags still attached, brought in $995, and a variation with orange trim and thermos is also available to collectors with deep pockets.
Miss America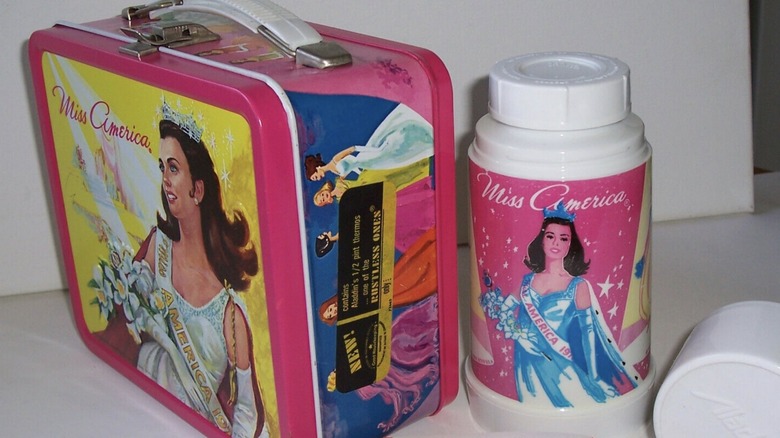 eBay / 9249charlesf
As beauty pageants are increasingly considered old-fashioned and passé, along with changing social norms about gender roles, the annual Miss America contest calls itself a scholarship contest nowadays. It's nowhere near the massively popular and important cultural event it was in the mid-20th century, when the young woman crowned Miss America was often launched into celebrity, such as actor Lee Meriwether and singer Vanessa Williams. The whole Miss America brand was such a big deal that it could generate merchandise like lunch boxes. Countless kids — perhaps future Miss America contestants or those who aspired to be — could carry around a pink lunch box bearing the words "Miss America" and the image of a nameless, fresh-faced young beauty queen, carrying a bouquet, adorned with a sash, tiara, and long gloves. (The illustrated Miss America bears a striking resemblance to Miss America 1972, Laurie Lea Schaefer.) 
The listings of eBay are positively lousy with Miss America lunch boxes from 1972. In 2021 alone, they've sold for as little as $15, with several in the $20 to $50 range. One seller made a fortune when they sold their Miss America lunch box for just over $1,000. It was so costly and valuable because it was in near-mint condition and still had the thermos instruction booklet and unused name-tag that came free with purchase nearly 50 years ago.
Volkswagen Bus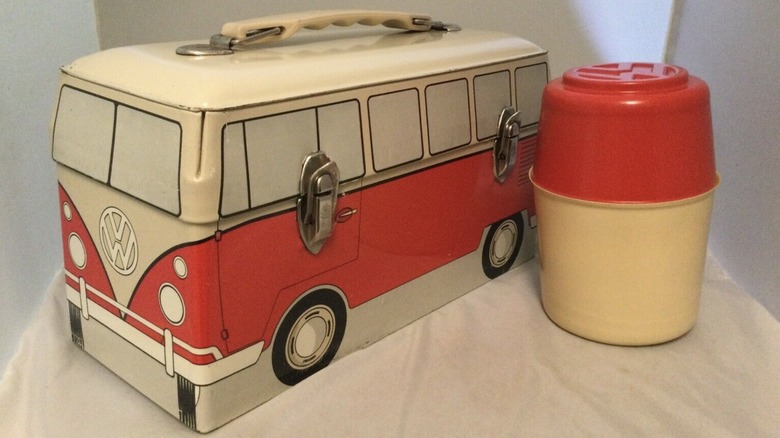 eBay / jojokool
Adorned, decorated, painted, and trademark-covered lunch boxes were created so that fans of a movie, TV show, comic book, or toy could show their friends just how much they liked something — so much so that they or their parents plopped down a chunk of money for a food-carrying device bearing the image of their favorite cultural entity. And yet, branded lunch boxes didn't always feature a character or some kind of narrative project — they could also depict a particularly popular car or vehicle, loved with ferocity by kids and adults alike. German automaker Volkswagen, known in the mid-20th century for two adorable contributions to car culture — the Beetle and the Bus — turned the latter into a lunch box. Handed out as a premium at VW dealerships in the 1960s, it was made by Omni Graphics and came with a two-tone thermos, decorated with a VW logo-badge on the lid.
Numerous people of a certain age (Baby Boomers and former hippies, mostly) look back fondly on the VW Bus, as well as anything that looks like a VW Bus, creating a market for authentic '60s memorabilia, like lunch boxes. In 2021, a Volkswagen Bus box-only, missing the thermos, sold on eBay for $250. A complete set was substantially more expensive, at $1,191.
Star Trek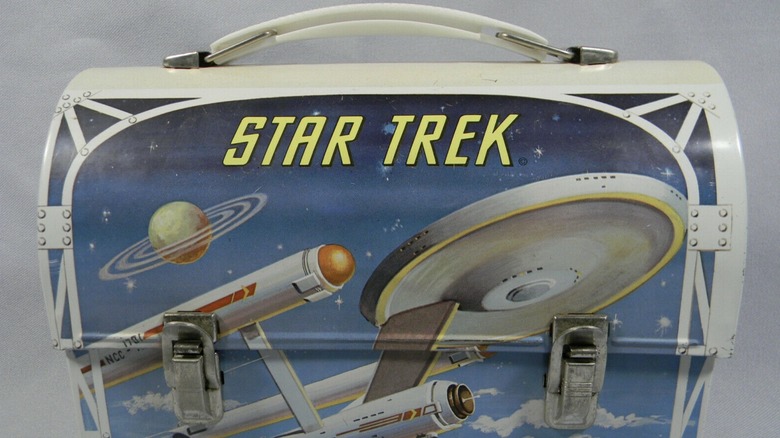 eBay / ejpb
"Star Trek," now a mega-franchise with numerous TV shows and a long string of big-screen films, began humbly as a charming, brainy, allegorical sci-fi series that aired to critical acclaim but low ratings for three seasons on NBC in the late 1960s. It became a cultural phenomenon slowly, thanks to millions discovering it reruns and many of them meeting up at fan conventions, the first of its kind. That led to the revival "Star Trek: The Next Generation" in the late 1980s as well as transforming most anything associated with the original series, or what poorly-selling rarities and relics remained, into extremely valuable treasures to hardcore fans who wanted a piece of the original, before-its-time series. In 2021, a "Star Trek" lunch box, made of metal, in the lunch pail style and featuring a large, fantastical image of the Starship Enterprise, befitting a midcentury sci-fi novel, runs the length of one side, with artistic renderings of Leonard Nimoy and William Shatner as Spock and Captain Kirk, along the other. Final selling price in one particular 2021 eBay auction: $1,513, though most complete sets don't break $1000. One without the thermos moved on eBay in 2021 for a still hefty $1,250, but most incomplete sets top out at around $600.
Superman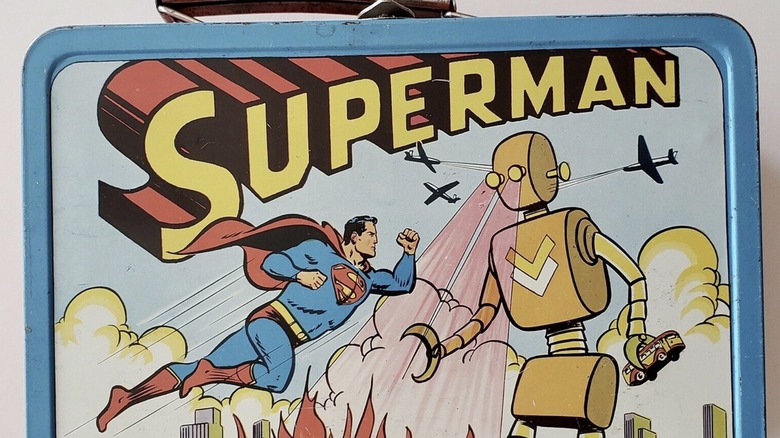 eBay / Probstein123
Superman, the first major American superhero and DC Comics' flagship character, has been consistently popular since his introduction in print in 1938. Since then, the "Man of Steel" — who can fly, reverse time, punch with the force of a thousand men and more — has been the subject of a hit radio show, numerous blockbuster films, and in the 1950s, the syndicated television series "Adventures of Superman." Starring George Reeves as Superman (and his alter ego, nerdy Daily Planet reporter Clark Kent), the special effects-laden, fantastical series was extremely favorable with children, as were tie-in products. 
The show was such a hit that countless elementary school-age Baby Boomers had to get their hands on a Superman lunch box. One issued in 1954 seems to have sold quite well, as a few specimens have surfaced on eBay. Made out of aluminum and manufactured by ADCO, one side features a comic book-style Superman flying up to fight a giant robot laying waste to Metropolis with his laser-beam eyes. On the reverse, some of Superman's generic greatest hits — punching through a brick wall, busting through chains, and preventing a plane from crashing. Superman's real name is Kal-El and he's from another planet, and the prices paid for that lunch box are just as out of this world. In 2021, examples of this box in good condition have sold from $1,100 to $1,350.
The Beatles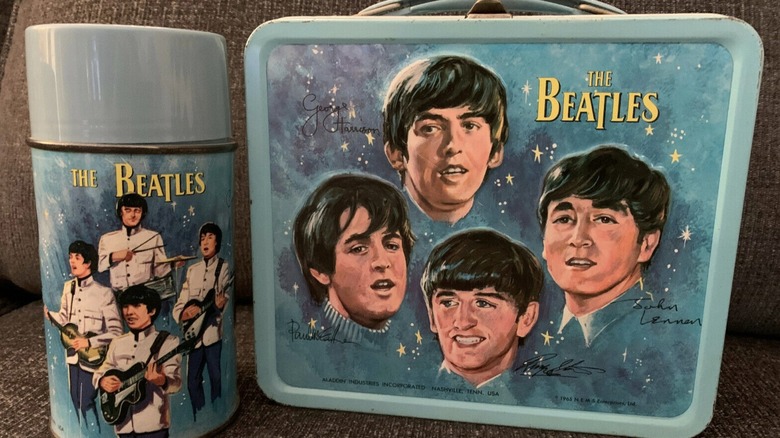 eBay / hackshack2000
Among their many innovations, the Beatles were one of the first widely marketed rock acts in history. Decades before New Kids on the Block bed sheets or NSYNC Trapper Keepers, companies in the U.S. and the U.K. made a bundle selling cheap stuff to kids and teens bearing the visages of the Fab Four in their early, mop-top years. Aladdin Industries, a Nashville-based lunch box company, cashed in on what seemed to be a Beatles fad and put out a line of lunch boxes in 1965. Many wound up used to smithereens or rusted away into nothingness in landfills, but the ones that did survive are valuable because they're rare and strike up a nostalgia for a bygone era. 
One side of the box features the open-mouthed faces of the four Beatles, and the other imagines them mid-performance. (These world-famous musicians don't quite look right — Paul McCartney and Ringo Starr especially don't look like Paul McCartney or Ringo Starr.) Called "one of the rarest and most popular" lunch boxes on the planet by the "Warman's Lunch Boxes Field Guide," Beatles lunch boxes, complete with thermos, sold at prices ranging from $200 to $1,250 in 2021. One seller, who purported theirs to be in better condition than the same one sitting in the Smithsonian, unloaded theirs for $1,475.
Boston Bruins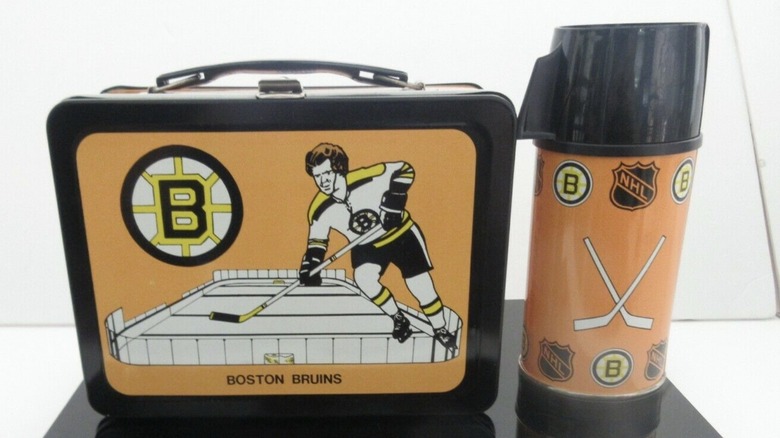 eBay / stiggey
A lunch box with a small run and subsequently limited interest is going to make for a rare artifact. Okay Industries existed for only five years in the mid-1970s, struggling and ultimately failing to compete with Big Lunch Box. In its short life, it didn't produce a lot of licensed products, but it did manage to get the rights to run a span of lunch boxes featuring the graphics and logos of the Boston Bruins, one of the NHL's oldest and most popular teams, and one with one of the most loyal and rabid fan bases in all of American sports. The lunch box, issued in 1973, features the words "Boston Bruins" printed in plain in block letters, plus a big "B" logo, a mostly unadorned hockey rink, and a player in Boston Bruins gear who absolutely resembles team legend Bobby Orr. The thermos featured the Bruins logo, crossed hockey sticks, and the NHL insignia. 
According to Collection Hero, a Bruins lunchbox with thermos sold on eBay in April 2021 for $135.50. That one was old and showed some natural signs of wear that come with use and the passage of time. Not so for the same lunch box that appeared on eBay just three months later. Final selling price: $1,599.99, with that big jump on account of how this one was unused, and in mint condition, classified as "new old stock" — merchandise that was produced but never distributed or sold.
The Jetsons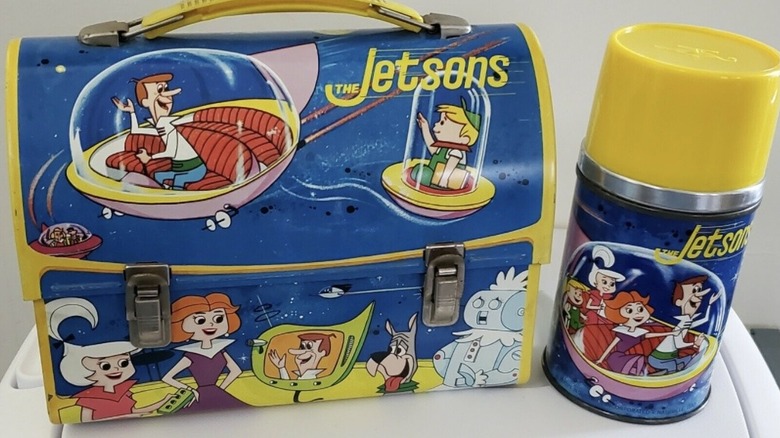 eBay / victdin_39
In 1962, "The Jetsons" debuted on ABC. A spin on the successful "The Flintstones," an animated primetime family sitcom set thousands of years in the past, "The Jetsons" takes place in the space-age future, with elevated homes, flying cars, domestic robots, and extreme automation. The show wasn't a hit on par with "The Flintstones" however, and was canceled after a single season. It stands to reason that the stuff associated with an unpopular, quickly-disappeared show didn't sell a ton, sending what few "Jetsons" items that did make it out of the store into basements, closets, and garages. 
But then "The Jetsons" became a cult hit due to reruns and was revived for syndication in the 1980s, permanently reawakening interest in well-preserved treasures bearing the likenesses of George, Jane, Judy, and Elroy Jetson, their talking dog Astro, and their insecure robot maid Rosie. A vintage "Jetsons" lunch box would become especially desirable. Similar to the old lunch boxes used by construction workers and laborers, this one is curved out in a futuristic style, and also features a thermos. One of the most collector-coveted vintage lunch boxes, a few flew off of eBay in 2021, all earning their sellers big stacks of cash. Complete sets of "Jetsons" lunch boxes and their thermoses blasted off to buyers' homes for prices ranging from $750 all the way up to $1,300, $1,400, and $1,700. Even one in poor condition, missing the thermos, can fetch over $400.
Land of the Lost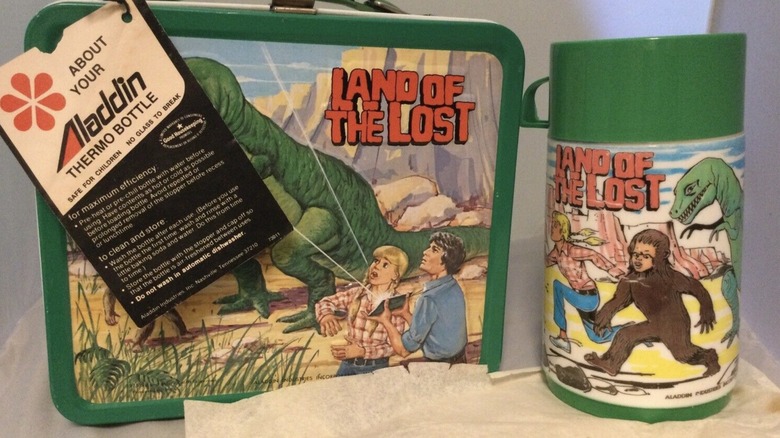 eBay / vintage.values
Classic metal lunch boxes are often not in superb condition. With even light and careful everyday use, a thin, aluminum pail shows signs of wear and tear, easily scratched and dented being carted to and from school for at least a year, and the moisture that imperceptibly comes from the food inside can slowly rust the whole thing, on the inside and out. A lunch box that has defied science and remained in relatively excellent condition in the decades since manufacturers replaced aluminum with more durable plastic makes it all the more valuable. Take this one depicting the characters Rick, Holly, and Cha-Ka from the campy, low-budget, Saturday morning action adventure series about a scientist and his family lost in a prehistoric, monster-riddled era, "Land of the Lost." It ran for three seasons in the 1970s, which made for a mountain of "Land of the Lost" lunch boxes floating around. Depending on the level of wear, surviving examples have sold on eBay in 2021 for anywhere from $57 to $112. Boxes in excellent, near-perfect condition commanded much bigger prices — $1,400 for one, and another for $2,275.00 because it still had its tags, indicating almost no use at all.
Toppie the Elephant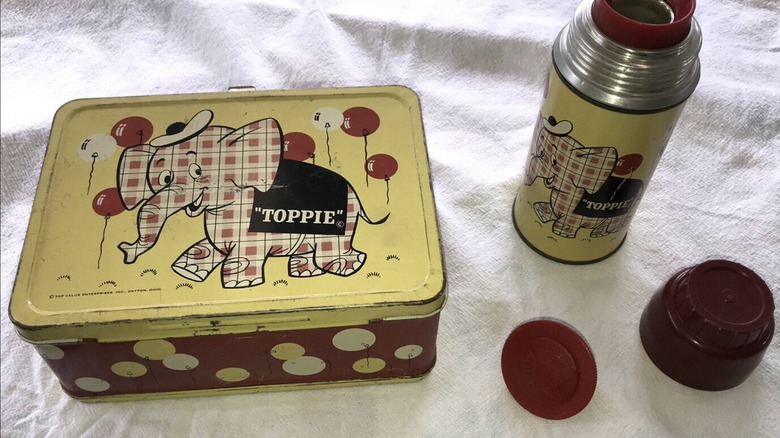 eBay / iskatelife12_0
The older a piece of pop cultural ephemera, the more valuable it gets, generally speaking. That's because time, rust, neglect, the urge to clean out basements, attics, garages and forgotten and abandoned storage units means objects disappear or rot away to near-nothingness. Plastic lunch boxes from the '80s are less valuable than metallic ones from the '50s because they were produced in much larger quantities and because plastic sticks around forever — making those boxes not rare, and thus not that valuable. But a metal lunch box that's still relatively well-preserved, bearing the images and words of a long forgotten pop cultural phenomenon making it all the more rare can only drive up the value. 
In 2021, an eBay seller in Tennessee offered up a slightly scratched, barely rusted vintage box from 1957 adorned with the image of a smiling, beret-wearing plaid-skinned elephant whose clothes indicate is named "Toppie." The box, also decorated with red balloons and a white bubble pattern on the sides, included a matching metal thermos in even better shape, bearing the image of the same happy elephant. Toppie appeared on numerous products that faded from memory — promotional items redeemable by green-stamp-book collecting. Nobody in the '50s probably thought these would be worth much, but they were wrong. Not too many Toppie lunch boxes show up on eBay, but in 2021 a latter-day reproduction sold for about $127. The real, vintage, item, however, was much more valuable, auctioned online for an astounding $6,500. Collectors have called this the pinnacle of all lunch box collecting, and it's thought that about a dozen exist today. Even those in bad condition can fetch as high as $4000.