For The Perfect Grilled Cheese, One Panini Press Stands Above The Rest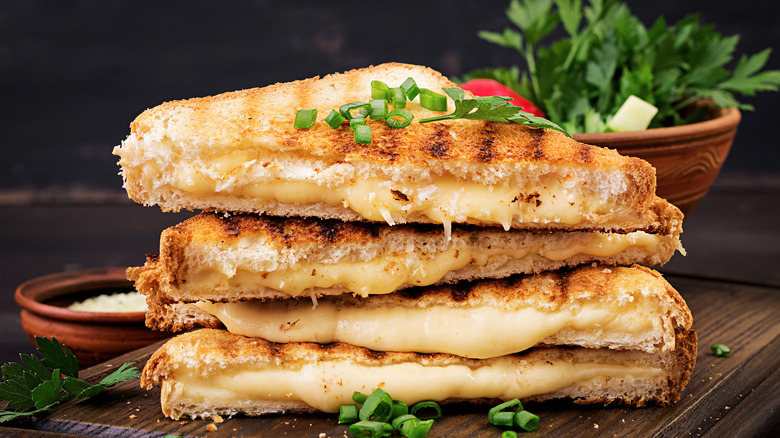 Timolina/Shutterstock
We may receive a commission on purchases made from links.
Next to a PB&J, a grilled cheese is one of the best sandwiches to whip up when you're craving something comforting and delicious. In its simplest form, the dish only calls for three ingredients: bread, cheese, and a little bit of butter or mayo to coat the outside of your sammie, giving you a satisfying crunch with every bite. But as easy as it is to find what you need to make the perfect grilled cheese, pulling it off isn't quite as effortless. Charring your sandwich to a crisp is one of several potential mishaps that can occur when a grilled cheese sandwich is on the lunch menu, ultimately rendering it inedible and leaving your stomach begging even louder for food.
Fortunately, there is a gadget out there that will make burnt grilled cheese sandwiches a thing of the past: a panini press, which The Spruce Eats notes will help distribute heat evenly to your sando while also taking the struggle of flipping it out of the cooking process. There are plenty on the market these days, but if it's an Instagram-worthy grilled cheese sandwich you're trying to make, the Cuisinart GR-4NP1 5-in-1 Griddler is the only one worth adding to your Amazon shopping cart. Here's why.
Its versatility is unmatched
You already know Cuisinart as the makers of the food processor hailed by Julia Child, but even without the brand recognition, the specs for their 5-in-1 Griddler certainly prove that it's worth a buy. With a sleek, stainless-steel design, looks alone make this piece of equipment a must-have for your kitchen. However, it's this product's versatility that truly makes it stand above the rest. 
Use the Cuisinart GR-4NP1 5-in-1 Griddler to make the perfect grilled cheese, or even some juicy steaks, which can be cooked in either contact grill or full grill mode, but that's not all! Flip its nonstick, dishwasher-safe grill plates over to transform this bad boy into a full griddle, or go half-grill, half-griddle to perform two tasks at the same time. You can even purchase a separate set of waffle plates to create the ultimate brunch without having to take out a single pan. Its trio of control knobs allows you to adjust temperatures with ease, and the scraping tool included with your purchase will help take some of the hassle out of the dreaded cleanup process.
With so many uses, you'll definitely be keeping this panini press on your kitchen counter for daily use, meaning you'll have some free cabinet space for that other gadget you've been eyeing.
Here's what customers are saying
We're not the only ones that have good things to say about the Cuisinart GR-4NP1 5-in-1 Griddler — just ask Amazon customers. More than 24,000 global ratings have earned this product a 4.7-star status and a label of "Amazon's choice," as well as hundreds of positive reviews. 
"Be sure the unit is level! No problems found so far when unit is level. Heat distribution for making grilled cheese sandwiches, two or three at a time, has been very satisfying," wrote one reviewer, who also shared that the cleanup process was easy. "It seems like it is built to last, which makes it a good value," said another satisfied customer. They liked the product's portability and said it's "much easier than gas grilling, especially when cooking for four or fewer people."
Reviews outside of Amazon are just as glowing. Lil Grill Collective named it the "best compact Cuisinart griddle," while Kitchen Sanity said that "the value you get from this machine is reasonable when you think about how many functions it has. It may save you time in the kitchen with cooking and cleanup combined." For those hoping for the perfect grilled cheese and beyond, it's clear that this panini press stands above the rest.
Purchase the Cuisinart GR-4NP1 5-in-1 Griddler on Amazon for $79.99.