Pillsbury Has Good News For Fans Of Its Pumpkin Spice Cinnamon Rolls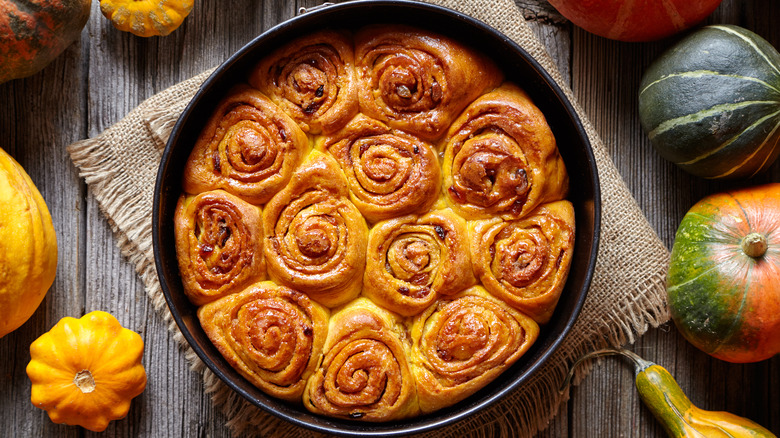 GreenArt/Shutterstock
Love it or hate it, it's that time of year again. Days are getting shorter. Nights are getting cooler. And pumpkin spice is everywhere. Even Poppin' Fresh, the iconic Pillsbury Doughboy is getting in on the action. Pillsbury is bringing back its annual fall favorite, Pillsbury Grands Pumpkin Spice Cinnamon Rolls. According to Taste of Home, the limited-edition pumpkin cinnamon rolls are in grocery stores now. 
Each tube contains the fixings for five grand-sized rolls (via Country Living) and prep could not be easier. Simply start by preheating the oven to 350 degrees F. Pull apart the individual rolls and place them side by side in a round (square works, too) pan. Bake for 23 to 27 minutes. Remove the pan from the oven and immediately top the rolls with the included pumpkin spice icing, so it gets all drippy and delicious. Oh, and we'd be remiss if we didn't share this tasty tidbit: Pillsbury Grands Pumpkin Spice Cinnamon Rolls are made with Cinnabon cinnamon. (That's right! Would we lie to you?)
Try this new twist on Pillsbury's pumpkin treat
If you are not already a fan, you will be. In some households, Pillsbury Grands Pumpkin Spice Cinnamon Rolls are a much-anticipated annual treat. In the review section on Pillsbury's product page earlier this year, one fan wrote, "I loved them and I look forward to finding them when it's fall season." Another consumer chimed in, "I had these in the house from the holidays and figured I'd better eat them. I think they are GREAT!! I hope you bring these back this coming fall. The icing is really good, too ... and I'm not a big icing fan."
You can stick with the traditional preparation, or try a new twist on an old favorite. Pillsbury offers a few suggestions, including its yummy breakfast casserole: Pumpkin Pie Breakfast Bake. You will need two tubes of Pillsbury Grands Pumpkin Spice Cinnamon Rolls, four eggs, 1/2 cup canned pumpkin, 1/4 cup packed brown sugar, one teaspoon ground cinnamon, and one 5 oz can of evaporated milk. Cut each roll into eight pieces and place the pieces in a pan. Combine your remaining ingredients and pour the mixture into the pan. If you like your breakfast nutty, top it all off with and 2/3 cup coarsely chopped pecans. Bake. Top with icing and dig in!