What Was Actually Served On The Titanic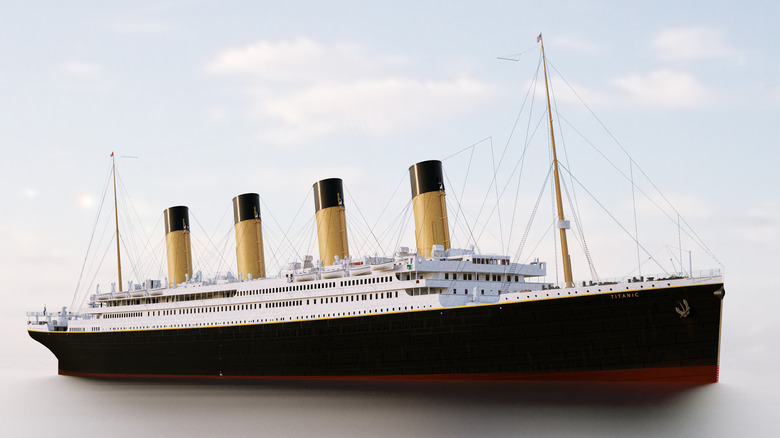 antoniradso/Shutterstock
At some point during their lives, almost everyone dreams about being rich. (Genuinely rich, that is — not the childhood fantasy of finding a $1 bill that's tightly glued to the sidewalk by a piece of five-days-old gum.) One way to daydream about life with an overflowing bank account is to browse the menus of fancy restaurants, imagining what you'd order if money were no object. If you were a first-class passenger on the Titanic, for example, you'd be spoiled for choice with all kinds of fine delicacies, as shown by photos of the ship's menus that differed vastly for its first, second, and third classes (via House Beautiful).
Obtaining tickets for the Titanic's maiden voyage — which infamously ended with the supposedly unsinkable ship striking an iceberg and sinking on April 15, 1912, costing the lives of more than 1,500 people, according to History — was far from cheap. The lowest-price ticket for third class cost about $10 (approximately $1,100 in today's money), second class was priced at $18 ($2,000), and the grand first class commanded at least $41 ($4,500). The food customers received reflected the price they paid.
The Titanic dining experience varied by ticket price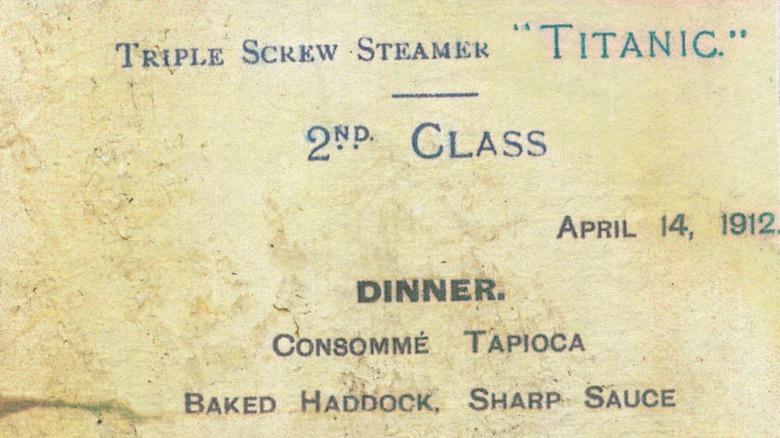 Print Collector/Getty Images
History lovers can read the menus served during the Titanic's journey, courtesy of Titanic Belfast. Unsurprisingly, first-class travelers got what they paid for. Their breakfast offerings included posh bites like smoked salmon, sirloin steak, and scones with marmalade. Lunch might have been fresh fish, corned beef over buttery potatoes, and assorted cheeses, while dinner's classy options were filet mignon, foie gras, oysters, and roast duckling in apple sauce — not to mention éclairs or peaches in Chartreuse jelly for dessert. Of course, these meals were served on fine china in the most sumptuous dining rooms on the ship.
Second-class passengers received a more limited, but still refined, set of dining options. Dinner included curried chicken and rice, lamb with mint sauce, and roast turkey with cranberry sauce. Desserts — like ice cream, fresh fruit, and coconut sandwich cookies — seemed pretty sweet, too.
A typical day of eating for third class was comparatively dismal, beginning with porridge, smoked herring, and buttered bread for breakfast. These passengers' largest meal of the day was at lunchtime and consisted of things like rice soup, roast beef, and plum pudding, served at long tables in a more casual setting. They snacked on pickles and stewed figs at teatime, while supper was cabin biscuits, cheese, and gruel (yes, gruel). Still, third class on the Titanic was similar to second class on other ships, and many of these passengers likely found their meals onboard to be more luxurious than those at home, reports IrishCentral.