Shake Shack's Collab With Milk Bar Features 2 New Chocolate Shakes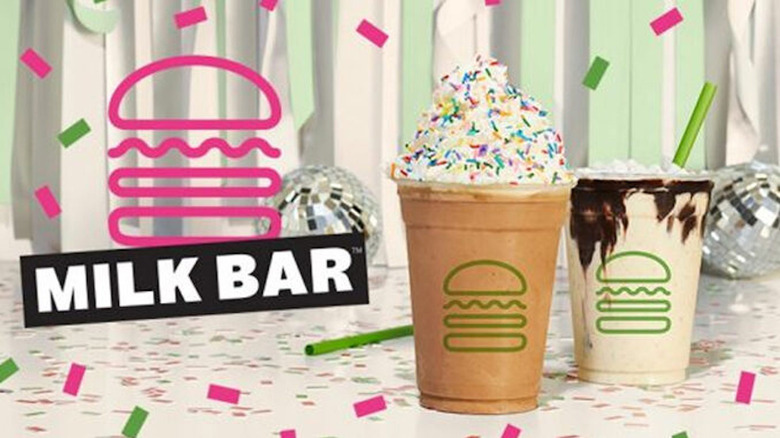 Shake Shack
Everyone loves a good mash-up, especially when it involves two classic New York food brands. According to Chew Boom, Shake Shack is partnering with Milk Bar to debut two new shakes. The Chocolate Birthday Cake Shake is a hand-spun celebration of Milk Bar B'Day crumbs, Milk Bar B'Day frosting, and chocolate cake frozen custard crowned with whipped cream and rainbow sprinkles. Or, go for the Cornflake Chocolate Drizzle Shake. Milk Bar Cornflake Crunch is hand-spun with malted vanilla frozen custard and topped with Milk Bar chocolate fudge drizzle and mini marshmallows. Milk Bar is founded by CEO and pastry chef Christina Tosi. Tosi, who is also an author and "MasterChef" judge, famously coined the term "cereal milk" to describe the cornflake-infused milk she often incorporates into her recipes (via The Daily Meal).
Tosi enthusiastically commented on the collaboration, telling Forbes "Any excuse to crush milkshakes at breakfast, lunch, and dinner in the name of menu development, I happily race towards. To make milkshake dreams come true with our BFFs at Shake Shack?! Those are life goals."
Shake it up birthday style
The collaboration between Shake Shack and Milk Bar is a limited-time partnership. The new shakes — Chocolate Birthday Cake and Cornflake Chocolate Drizzle — are available from September 3 to November 1. Can't wait? According to Chew Boom, use the Shack App to get early access starting today, August 31. Pricing starts at $5.99 per shake.
We couldn't help wondering about the "birthday" in Chocolate Birthday Cake Shake. Here's a bit of good news from TimeOut. Every Friday through September, Shake Shack will randomly select a date to post on their Instagram story. If the date matches your birthday, you're in the running for a free shake. Just make sure to be among the first 50 followers to DM Shake Shack on Instagram and you'll get a code to order a free shake through the Shack App. That's not all: throughout the promotion, Shake Shack and Milk Bar will be donating goodies to The Birthday Party Project, a non-profit organization dedicated to bringing birthday parties to kids experiencing homelessness. Sounds pretty sweet to us.