Easy Egg Fried Rice Recipe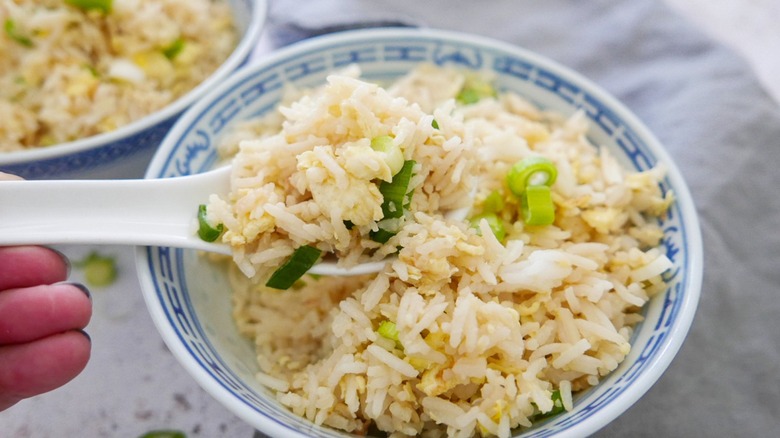 Ting Dalton/Mashed
Back in the days before we had DoorDash, GrubHub, and Uber Eats, there were pretty much only two kinds of food you could have delivered: pizza and Chinese food. Even today, Eater says that both types of cuisine rank among the most popular delivery items. While we're all about convenience, the fact is, delivery fees and tips add up and can make delivery a pretty pricy habit if you're relying on it on a regular basis.
While pizza is not the easiest item to make in your own kitchen, at least not if you want something that tastes like anything you'd get from a pizzeria, simpler types of Chinese foods are just as easy and even quicker to make at home than they are to have delivered. Such is the case with this egg fried rice recipe from Ting Dalton of Cook Simply. As Dalton says of this dish, "It is so quick and easy, you don't need to call [for] a takeout." As a bonus, she adds, "It's perfect for using up leftover rice."
You may already have most of the ingredients to make this egg fried rice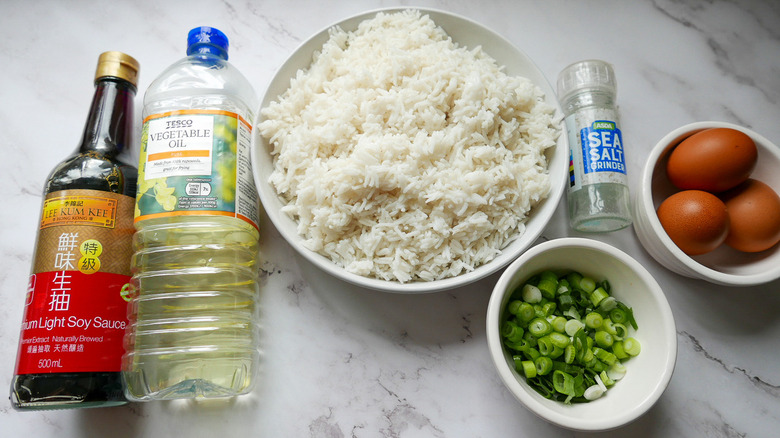 Ting Dalton/Mashed
Most of the ingredients you'll need to make this fried rice are basic pantry staples. You've got vegetable oil, eggs, and soy sauce, don't you? If you don't have a bottle of soy sauce in the cupboard, you may well have enough packets left from your last takeout order to make up the small amount you'll need for this recipe. You will also need some green onions, but if you don't have any on hand, you could always just chop up a yellow or white onion and sauté it to use as a substitute.
As this is a recipe for fried rice, you'll also need some rice, of course. Dalton tells us, "You can use different types of rice," going on to say, "I like to use jasmine rice, but I also find basmati rice works very well for egg fried rice."
The pre-cooked rice for this recipe needs to be cold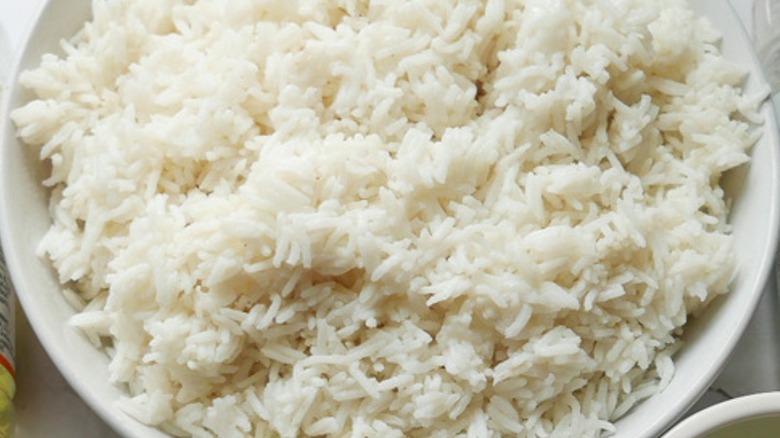 Ting Dalton/Mashed
The rice you'll be using in this recipe is pre-cooked, and it should also be straight out of the fridge. Dalton explains why, saying: "It is important to have cold rice because warm rice clumps together, and you'll get a wet, mushy texture" if you use it. What you want is for the rice to break apart and separate easily, which is something it should do if it's sufficiently chilled.
If you have no cooked rice on hand, you'll need to make it in advance and then allow enough time for it to cool down in the fridge. If you're using standard long-grain rice, you'll need to cook about one and a third cups of raw rice in two cups of water to get the perfect amount of cooked rice needed for this recipe. If you come up just a tad short, though, don't worry, as this recipe is a pretty forgiving one, and a little rice more or less won't matter too much (as long as it's cold).
Prepare the eggs for their role in this egg fried rice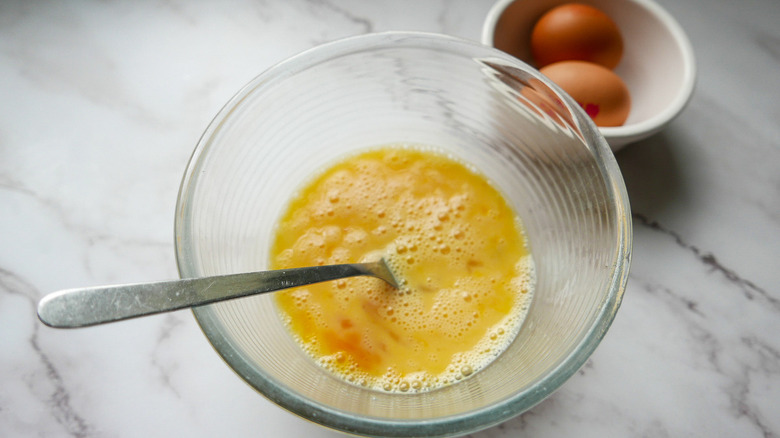 Ting Dalton/Mashed
Begin by beating the eggs with just a pinch of salt. Next, heat up a wok or a large skillet over high heat, and drizzle a tablespoon of the oil over the bottom, spreading the oil out to coat the pan. When the oil and the pan are both warm, pour in the eggs, and then gently shake the pan from side to side so that the beaten eggs slide around in the oil as they cook. This will help to scramble them a bit.
Add the rice and other ingredients to the pan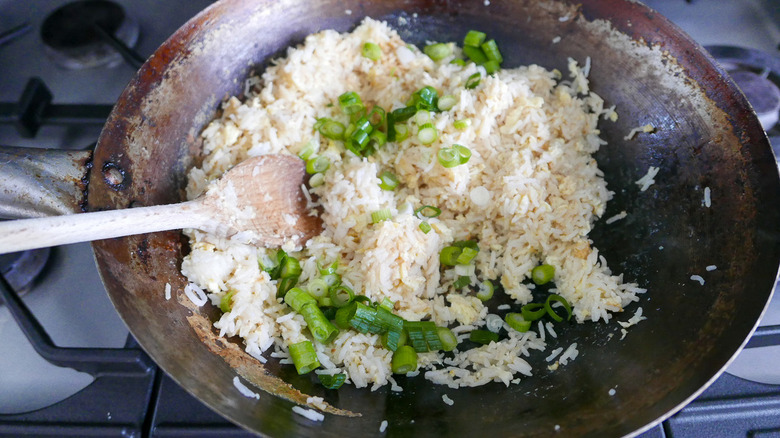 Ting Dalton/Mashed
When the eggs are partly cooked, add the rest of the cooking oil to the pan, and then stir in the rice. Mix the ingredients all up, then drizzle the soy sauce around the sides of the pan. Taste the fried rice, and add salt to taste. As soy sauce itself is pretty salty, the dish might not need much additional salt, if any. Mix everything together once more, then turn off the heat before you stir in the onions.
As Dalton says, "I love this dish, as it's a real staple for lots of meals." On its own, she says it makes "a great accompaniment to main dishes like meat and fish," but if you want a one-pot meal, you can always add some cooked shrimp, chicken, or diced ham to your fried rice.
Easy Egg Fried Rice Recipe
Don't want to order delivery? Find out how to make this delicious egg fried rice recipe in the comfort of your own home. It'll be a hit!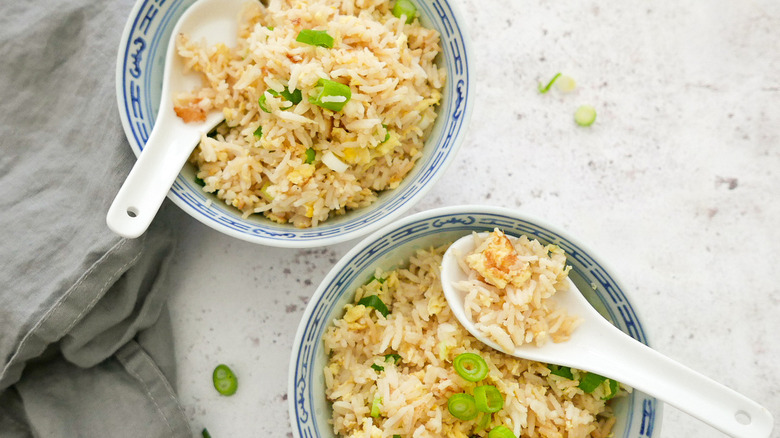 Ingredients
3 eggs
3 tablespoons vegetable oil, divided
4 cups cold rice
2 tablespoons soy sauce
2 green onions, sliced fine
Directions
Beat eggs with a pinch of salt.
Heat a wok or a large skillet over high heat, then add 1 tablespoon of cooking oil to coat the bottom.
Pour beaten eggs into the pan and scramble them by moving the oil quickly.
When the eggs are partly cooked, add the remaining cooking oil and the rice, and mix with the eggs.
Drizzle the soy sauce around the sides of the pan, then add salt to taste and thoroughly combine all the ingredients.
Turn off the heat before stirring in the green onions.
Serve and enjoy.
Nutrition
| | |
| --- | --- |
| Calories per Serving | 848 |
| Total Fat | 14.8 g |
| Saturated Fat | 2.0 g |
| Trans Fat | 0.1 g |
| Cholesterol | 120.0 mg |
| | |
| --- | --- |
| Total Carbohydrates | 155.9 g |
| Dietary Fiber | 0.3 g |
| Total Sugars | 0.3 g |
| Sodium | 488.4 mg |
| Protein | 17.7 g |