Trader Joe's Fans Are So Excited For Its New Vegan Mayo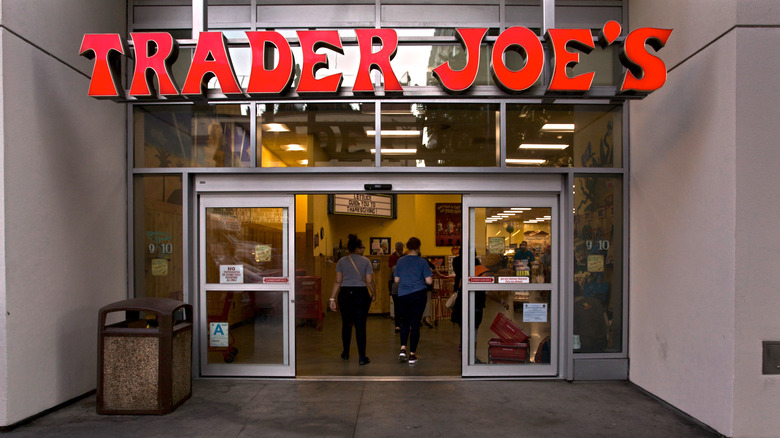 Elliott Cowand Jr/Shutterstock
When it comes to pleasing customers, Trader Joe's tries to ensure that it caters to as many people as possible, including offering a range of products for all kinds of diets and lifestyles. For example, there are plenty of vegan options at the store, hails Live Kindly, including plant-based meat options such as the Impossible Burger and Soy Chorizo, dairy-free milk products, vegan cheese, and more. And, according to Women's Health, you also can't go wrong with products like TJ's Riced Cauliflower Stir Fry, Vegan Ranch Dip, and the Cauliflower Gnocchi.
Plenty of Redditors say they swear by Trader Joe's simply for their vegan options. As one person wrote in the thread, "I have been a vegetarian for 13 years and mostly eat a vegan diet. TJ is my favorite. I love how they label everything." Another shopper celebrated the fact that the prices are incredibly affordable compared to how other markets price their vegan goods. And another person pointed out that Trader Joe's has a handy list of vegan items inside its store to help when shopping, and it's also available on the website for pre-planning your trip: "The list has everything in the store that's vegan, and it's divided into sections ... like snacks, beverage, cookies, etc!" 
Shoppers are currently praising the latest animal-free product option to hit store shelves: vegan mayonnaise. By the looks of social media praise, it appears its on its way to being a new cult favorite.
Here's why people are already loving Trader Joe's vegan mayo
A photo from popular Instagram account @TraderJoe'sList showcases the new dairy-free mayo and it's already getting a lot of attention from followers. The caption reads, "I've been waiting for this moment for a long time! I can't wait to use this #vegan mayo on a sandwich or as a base for a sauce!" Already, the post has more than 10,000 likes and 270 comments. Many followers were particularly pleased the brand opted to use healthy avocado oil to make it. "Kudos to TJ's for using avocado oil instead of canola or soybean oil," one person said. In fact, according to the Instagram post, this vegan mayo has natural ingredients like chickpea broth, avocado oil, mustard flour, sea salt flakes, and more.
Others commented on how far improved this new vegan mayo is from the previous iteration that was discontinued. "Definitely curious on this one. The old vegan mayo wasn't terrible but it also didn't exactly taste like mayo," said one person. "Finally," said another commenter. "I remember being so depressed when they discontinued it. I'm so happy."
There were also some folks that added how they intended to use the mayo including for making egg salad, potato salad, and one person who had the idea for a zesty chili lime aioli. The possibilities are endless.