Instant Pot Lemonade Recipe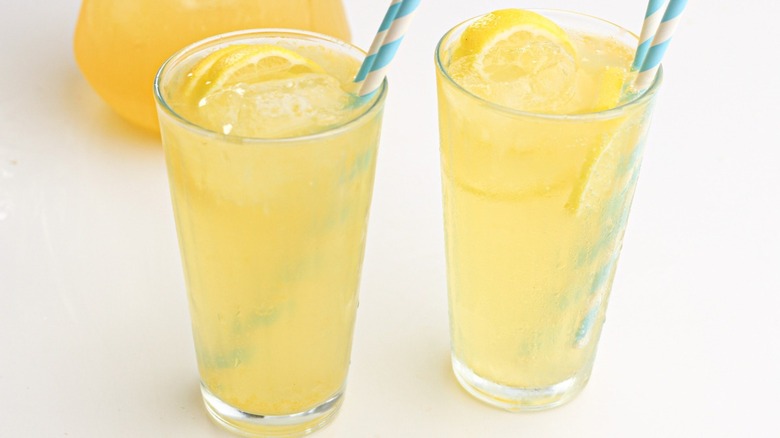 Susan Olayinka/Mashed
Lemonade is one of the most refreshing drinks you can enjoy, and it certainly hits the spot on a hot summer day. But whether it's the middle of summer or the dead of winter, there's something about lemonade that can brighten your day.
Lemonade has such a sweet taste, and it brings all of your tastebuds to life. Whether you're a kid or an adult, we think we all can agree that lemonade is always a good idea, and it also helps to quench your thirst. Recipe developer Susan Olayinka came up with this simple and sweet recipe for lemonade that can be made with the help of your Instant Pot. If you didn't think it was possible to make lemonade in an Instant Pot, then think again! She shares that she loves how easy this drink is to make. When asked what her favorite part of the recipe was, she replied, "Definitely the fact that it takes one minute in cooking time," Olayinka raves. 
Keep reading to find out how to make this delightful beverage!
Gather the ingredients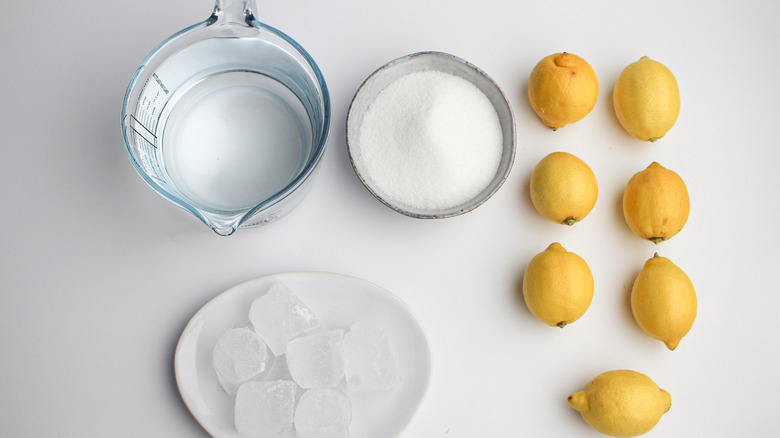 Susan Olayinka/Mashed
The first thing you'll need to do for this recipe is to gather all of the necessary ingredients. The great thing about this drink is that it's super affordable and requires just a few items. The main ingredient for this recipe is lemons, and you will need seven of them. This equals about one cup of freshly squeezed lemon juice. In addition, you will also need the zest from seven lemons, so you can just use what you have already.
 Also, be sure to add white sugar to your list as well as a few cups of carbonated water. Last but not least, you will need some ice cubes. 
Wash and zest the lemons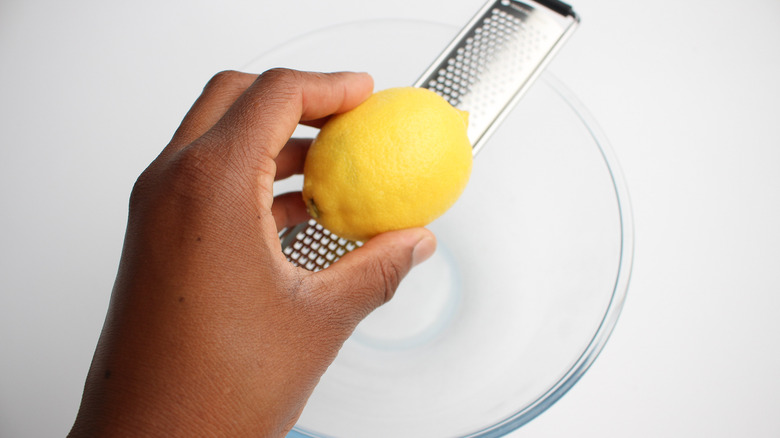 Susan Olayinka/Mashed
To begin, wash all of your lemons thoroughly to get off any of the germs or the residue from the produce sticker. Once you finish cleaning the lemons, grab a small bowl, and grate the skin to get the zest. After you have the zest, the next step is to cut the lemons in half and then squeeze all of the juice into another bowl. You can either squeeze the lemon by hand or use a citrus reamer. If you opt to do it with your hands, it serves as a nice stress reliever!
Grab the Instant Pot and add the lemon juice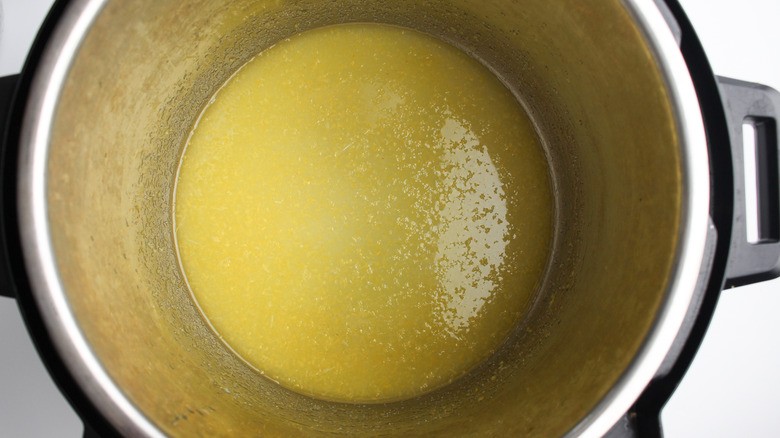 Susan Olayinka/Mashed
Now it's time to take out one of the most helpful kitchen devices of all time: the Instant Pot. It's a wizard in the kitchen, and it can literally do it all. Place the Instant Pot on your counter in a safe spot and open the lid. First, toss in the lemon juice followed by the lemon zest. The last item to add at this time is the sugar. "The benefit of using an Instant Pot is that it cooks very fast compared to [when it's on] the stove," Olayinka notes. "You also don't need to babysit it!" 
Cook the lemonade on high for one minute, and then release the pressure after five minutes.
Pour the lemon syrup into a bowl and stick it in the fridge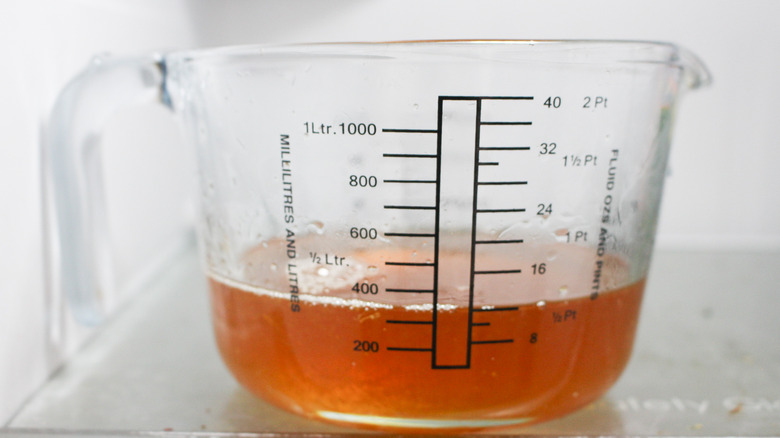 Susan Olayinka/Mashed
Once those five minutes are up, pour the freshly made lemon syrup from the Instant Pot into a glass bowl. Stick the bowl in the refrigerator for at least an hour. "Chilling it is simply to allow all parts of the lemonade to [get] cold because when it comes out of the Instant Pot, it will be hot," Olayinka shares. 
Of course, you can allow it to chill for longer if you're not yet ready to enjoy the drink.
Enjoy your fresh lemonade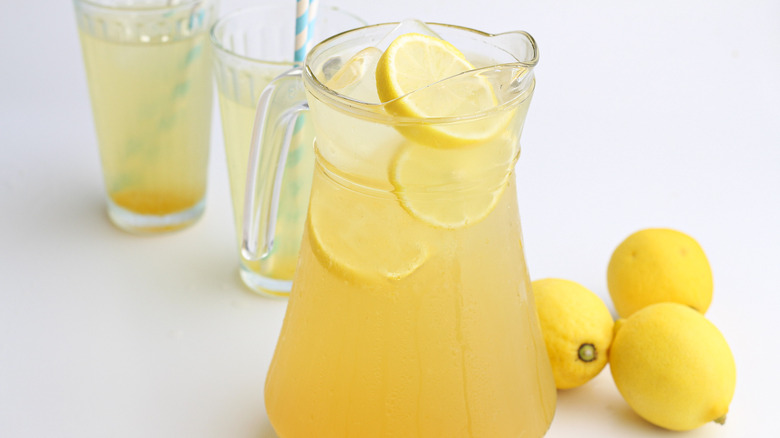 Susan Olayinka/Mashed
Once you've let the lemonade sit in the fridge for an hour, it's time to serve! You can use a pitcher and pour it into glasses or serve in mason jars ... it's totally up to you how to do it. "You can definitely add some other fruits to this [drink]. Chopped strawberries [and] chopped mango create a fruity twist," Olayinka shares, adding that mixing it with iced tea for an Arnold Palmer would be great as well.
There is a way to keep any extras. "Leftovers won't really store because the carbonated water would lose its fizz after [a while]," Olayinka shares. "So [it's] probably just best to make the syrup and then add the water after if you want to have leftovers."
Instant Pot Lemonade Recipe
Recipe developer Susan Olayinka came up with this simple and sweet recipe for lemonade that can be made with the help of your Instant Pot.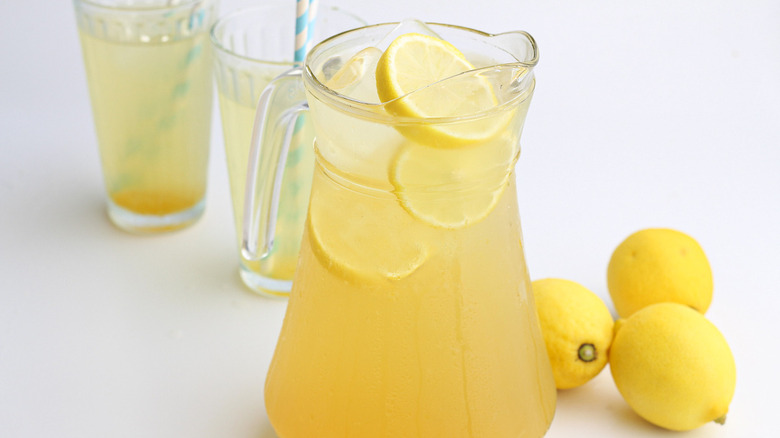 Ingredients
Zest of 7 lemons
1 cup freshly squeezed lemon juice
1 cup white sugar
3 cups carbonated water
Ice cubes
Directions
Wash the lemons, then zest them into a bowl.
After all the lemons are zested, cut them in half and squeeze the juice out.
Pour the juice and zest into the instant pot.
Pour the sugar into the Instant Pot.
Cook on high for 1 minute, releasing the pressure after 5 minutes.
After 5 minutes, pour the lemon syrup into a glass bowl and place in the fridge for 1 hour.
After 1 hour, take syrup out of the fridge and pour into a glass pitcher. Pour the carbonated water over the syrup and mix together.
Add ice cubes and serve.