Want To Stay At A Potato-Shaped Hotel? Now's Your Chance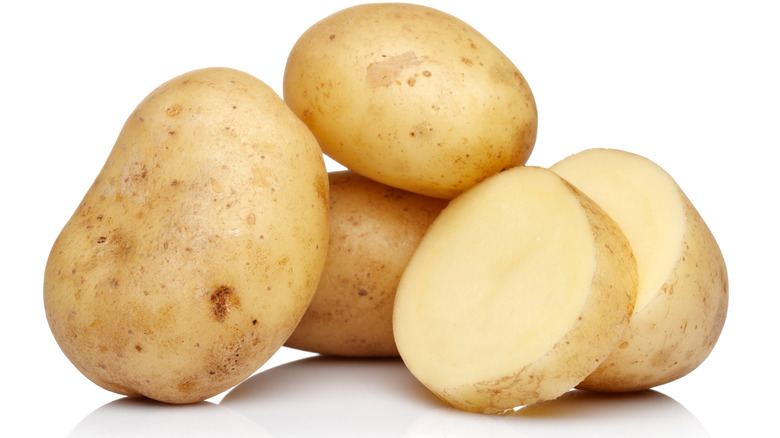 mahirart/Shutterstock
If you are looking for an unconventional getaway, you have many options from which to choose. For example, Idaho now has a hotel that's shaped like a potato listed on Airbnb. (Yes, really.) According to Insider, this hotel was set up in 2012 to honor the Idaho Potato Commission's 75th anniversary. For those not in the know, potatoes occupy a place of pride in Idaho thanks to the fact that the weather conditions in the state are ideal for growing high-quality potatoes (via Spruce Eats.) The Big Idaho Potato Hotel is located far from civilization and offers the ultimate countryside experience for those who want to try something slightly different. 
While the hotel's exterior really does resemble a potato, inside its ambience is fairly chic. The hotel's website claims, "How do you dispose of a 6-ton spud made of steel, plaster and concrete? You don't. You recycle it and turn it into the Big Idaho Potato Hotel, the only potato hotel in the world!" Oh man. The structure offers unbeatable views of the Owyhee Mountains and it's "28 feet long, 12 feet wide, and 11.5 feet tall, with enough space inside for a queen-size bed and cozy lounge area," per Insider. Plus, it's an eco-friendly property and resides 20 miles (30 minutes) from downtown Boise. 
How to enter 'The Great Spud Getaway'
Curious about the property yet? According to Food & Wine, you can get access to a complimentary stay at the Big Idaho Potato hotel. Those eager to participate can enter the sweepstakes thanks to McAlister's Deli and "The Great Spud Getaway," an initiative being launched to mark National Potato Month in September. The winner will get to make the most of a comfortable stay for three nights and four days at the Potato Hotel where they'll be treated to fun "potato-themed" activities, including "the chance to take a ride in the Big Idaho Potato Truck, a 72-foot semi trailer with a four ton potato on board," per Food & Wine.
Also, the winner will receive a year's supply of spuds from McAlister's Deli. Woohoo! To participate, all you need to do is post a photo of a customized potato dish from the deli with the hashtag #spudbudsweeps. Don't forget to tag McAlister's Deli on Instagram, Twitter, and Facebook. The contest will be open for entries until September 14. Prep your submission and keep your "eyes" on the prize!