The Cocktails The Emily In Paris Characters Would Really Drink, According To Ashley Park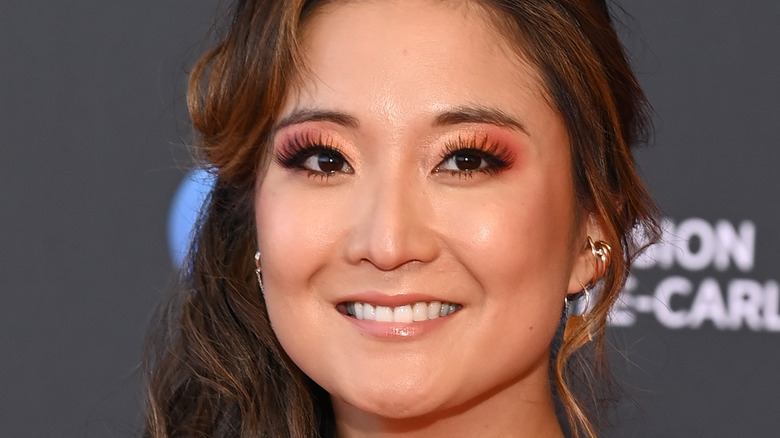 Pascal Le Segretain/Getty Images
The American comedy-drama "Emily in Paris" premiered on Netflix in October 2020, and the world hasn't been the same since. Created by Darren Star, the genius behind the hit show "Sex and the City," "Emily in Paris" centers around Emily Cooper, played by Lily Collins, a Chicago native in her mid-20s who moves to Paris to provide an American perspective to Savior, an esteemed but traditional French marketing firm. According to Variety, this rom-com became Netflix's biggest comedy series of the year, with 58 million households tuning in to watch the drama unfold.
Whether you love it or hate it (or it's the show you love to hate), "Emily in Paris" was one of the best shows to grace our streaming services during the pandemic. This Golden Globe-nominated series transported viewers out of their mundane lives in the middle of quarantine, to the dazzling City of Light. It was the perfect light-hearted escape and binge-worthy entertainment to enjoy for days on end while stuck inside.
The popular Netflix show, which got renewed for another season, just wrapped up filming Season 2 in August. People caught up with Ashley Park, who plays Mindy Chen, Emily's closest friend in Paris and a fashion-forward au pair, on the show. The 30-year-old actress, who just partnered with Ketel One Botanicals, a vodka brand that infuses their liquor with real botanicals and natural fruit essences, dished on what cocktails best match the "Emily in Paris" characters' personalities.
Emily and Mindy would enjoy the same cocktails
Some of the most memorable scenes from "Emily in Paris" occurred during wild nights out on the town. And whether the characters were sipping on a glass of champagne or downing shots of vodka, there was always a drink in their hands. As one of the biggest stars on the show, Park gave People an inside scoop on what the characters go-to beverages would be, using Ketel One as her inspiration.
"Of course we've seen them drink Parisian wine and everything all throughout the first season," said Park. "I feel like they would make the same cocktail, but Mindy would pour a little bit more of the vodka and Emily would have a lot more of the soda water."
At the end of Season 1, it was revealed that Emily and Mindy would be moving in together starting in Season 2. The California native, who is close friends with Collins in real life, believes that all three Ketel One vodka flavors — grapefruit rose, cucumber mint, and peach orange blossom — could be found in the on-screen best friends' new apartment. "It's fun, it's bright, and it's colorful," said the Broadway actress. "Those are all things that Mindy is, Emily as well."
However, when it comes to Camille, played by French actress Camille Razat, Park thinks her character would opt for champagne. "Champagne is definitely her thing," said the Tony Award nominee, referencing the character's family's champagne business on the show.