El Pollo Loco Just Dropped New Loaded Taquito Nachos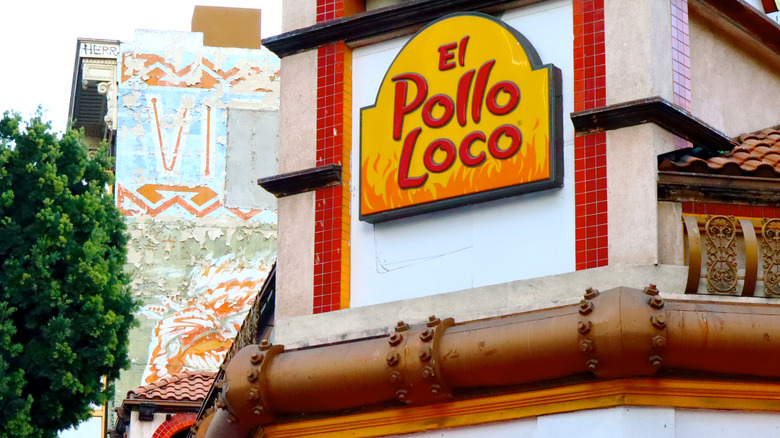 Walter Cicchetti/Shutterstock
When you are craving Mexican food on the go, nothing can compete with El Pollo Loco. This SoCal staple was founded by Juan Francisco Ochoa in Mexico in 1975, and opened in Los Angeles, California five years later. Within a year, the LA location racked up $2 million in sales, and the rest is history (via Thrillist). This Southwestern chain is known for their signature Sinaloa-style marinated grilled chicken. This heavenly chicken is marinated with a special mix of garlic, citrus, and spices, and the recipe is both a well-kept secret and impossible to recreate at home (via The Daily Meal). Known for its fresh food and diverse vegetarian options, El Pollo Loco is not like other fast food chains. In 1995, they even held the world record for the largest burrito in the world — take that, Chipotle!
There are so many delicious options on the El Pollo Loco menu, from their stacked burritos to that yummy chicken. But if you're a diehard fan of this regional fast food chain, you're in luck! According to Brand Eating, El Pollo Loco just debuted new loaded taquito nachos on their menu, and you won't want to miss out on this limited time deal.
There's not one, but two loaded nachos debuting
Officially called Double Crunch Taquito Nachos, this all-new menu item features "fresh, hand-salted tortilla chips topped with four delicious handmade chicken taquitos, freshly chopped chicken breast, creamy queso blanco, handmade pico de gallo and El Pollo Loco's famous creamy cilantro dressing" (via QSR Magazine). Drooling yet?
If you didn't think it could get any better than that — think again. El Pollo Loco is launching not one, but two new double loaded nacho items for a limited time only. Perfect for fans of their "crazy chicken," the Double Chicken Nachos will consist of "fresh, hand-salted tortilla chips topped with a mountain of El Pollo Loco's citrus-marinated, fire-grilled chicken, hand-mashed guacamole, signature creamy queso blanco, smashed pinto beans, sour cream, handmade pico de gallo and fried serrano peppers."
The famous chicken chain is launching these two new menu items as a part of their "Say No to Naked Chips" ad campaign, which is definitely one of the more creative nacho marketing ideas we've encountered. "No one ever wants to come across a naked chip in their nachos because it's offensive and downright unappetizing," El Pollo Loco's president and CEO Bernard Acoca tells QSR. "At El Pollo Loco, we don't think anyone should ever have to go through the uncomfortable and upsetting experience of unexpectedly coming across a chip in a state of undress, which is why we're loading up our nachos with twice the toppings." We couldn't agree more!