The Real Reason Why People Eat Chicken And Waffles - Exclusive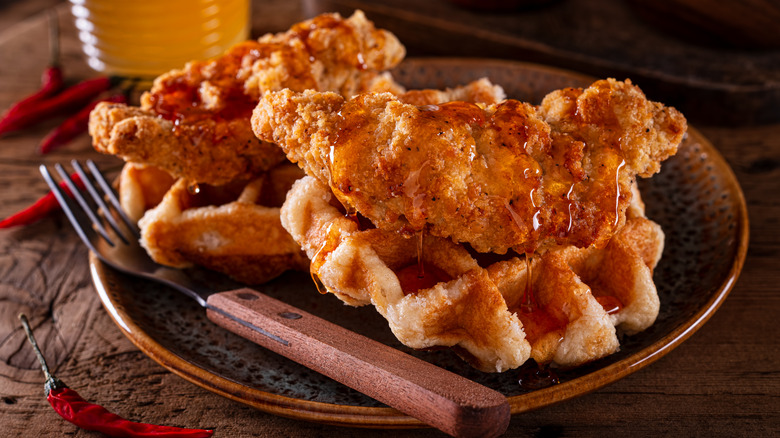 Foodio/Shutterstock
Chicken: it's what's for dinner. And waffles: they're what's for breakfast. Unless, of course, you're indulging in the decadent chicken-and-waffle combo that's been a hallmark of soul food since it found its way onto the menu of Well's Supper Club in Harlem in the 1930s — and likely was enjoyed for generations before that (via NPR). So that's the history of chicken and waffles — but a lingering question is why the enduring popularity? Lots of interesting food combinations make it onto menus, after all. But not many of them remain in high demand more than 90 years later.
To get the scoop, we asked soul food authority Tanya Holland, who founded the restaurant Brown Sugar Kitchen and is guest-judging on this season's "MasterChef." Holland also has been on "Top Chef," "Selena + Chef," and has her own cooking show on the OWN: Oprah Winfrey Network, "Tanya's Kitchen Table." In an exclusive interview with Mashed, Holland explained that chicken and waffles are perfect for people who want to have their cake and eat it with some fried chicken, too. "I just think people really are drawn to the idea of sweet and savory, especially at brunch where they can't make up their mind," Holland said. "It's actually a really good combination."
This is the best way to enjoy chicken and waffles, according to Holland
Holland admits she had been on the fence about serving chicken and waffles on her own menu when she first hung out a shingle at her restaurant's original Oakland, California location. "It's funny, I moved here and I tried some in a restaurant, and I thought I could do these better. And when I opened, I just had one waffle maker and I just knew I wanted to serve fried chicken and I was like, 'Oh, and we have a waffle maker,'" she recalled. Thankfully, Holland gave it a shot, since this particular dish "took on a life of its own" as one of Brown Sugar Kitchen's most sought-after entrees, she said. "The cornmeal waffle is so light, fluffy, and crisp; the fried chicken is tender and succulent," raved one review.
What makes Holland's chicken and waffles a cut above other renditions of this soul food staple? The chef, who discusses all things culinary in her podcast, Tanya's Kitchen, gives that credit to the syrup: "I think it's even better with our house-made apple syrup, because I just think the apples and the corn mill in the chicken are really complimentary." You can find the recipe for Brown Sugar Kitchen's chickens and waffles on the Oprah website.
Catch Chef Tanya Holland on this season's "MasterChef" on FOX.