Copycat McDonald's Strawberry Banana Smoothie Recipe
Susan Olayinka/Mashed
What are the first things that come to your mind when you think about a frozen treat from McDonald's? Sweet, perhaps? Delicious, even more likely? And probably sugary, too. But guilt-free? Probably not. But as it happens, when you make this copycat version of a McDonald's strawberry banana recipe at home, you can make a slightly healthier version of the fast food classic.
That's because this sweet and tasty smoothie derives all of its sweetness and flavor from fresh fruit. Asked whether there was any added sugar needed here, chef and recipe developer Susan Olayinka of The Flexible Fridge said: "Surprisingly no! The banana makes it sweet." That is great news, considering the banana is one of only four total ingredients here, compared to the 15-plus ingredients in the McDonald's smoothie.
Is a McDonald's smoothie better for you than, say a milkshake? Absolutely. But best of all is this DIY take on the treat that uses only the good stuff. Let's take a look at how to make it at home.
Gather your ingredients for this strawberry banana smoothie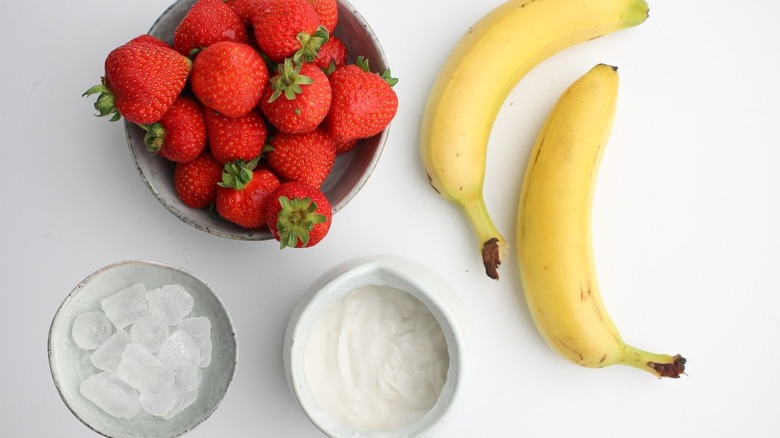 Susan Olayinka/Mashed
As noted, this recipe calls for just four ingredients, two of which are right there in the name: strawberries and bananas. The fruit should be fresh and ripe, and the bananas should be just starting to show a bit of brownness and softness, which indicates peak sweetness and ripeness. The other ingredients are simply low-fat yogurt and ice cubes. Make sure that "the yogurt is unflavored," Olayinka says, as it's more about consistency than flavoring. 
That said, you can experiment with flavored yogurts at some point, but best to keep it simple at first.
Chop the fruit and measure the yogurt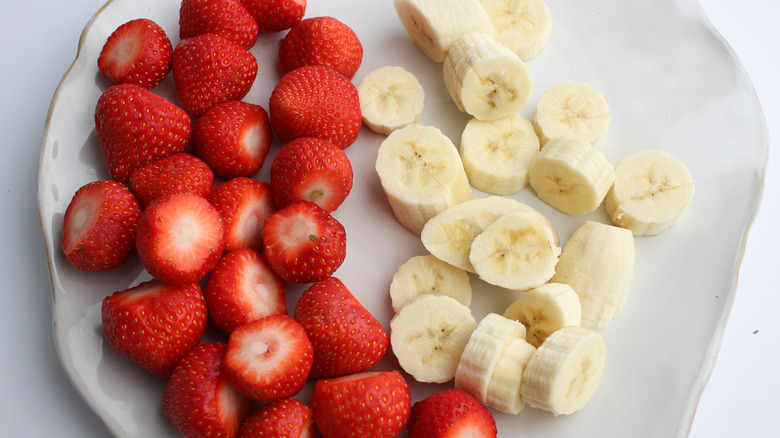 Susan Olayinka/Mashed
Time for a bit of chopping. Remove the stems from the strawberries, and if any are large, consider halving or quartering them so all of the berry pieces are roughly uniform. Now peel the bananas and slice them into approximately one-inch-thick discs. 
Now set the fruit aside close at hand, and then measure out one and a half cups of the low-fat yogurt. And finally, gather a cup of ice cubes right before you get to the blending portion of the recipe.
Add all ingredients to the blender and get blending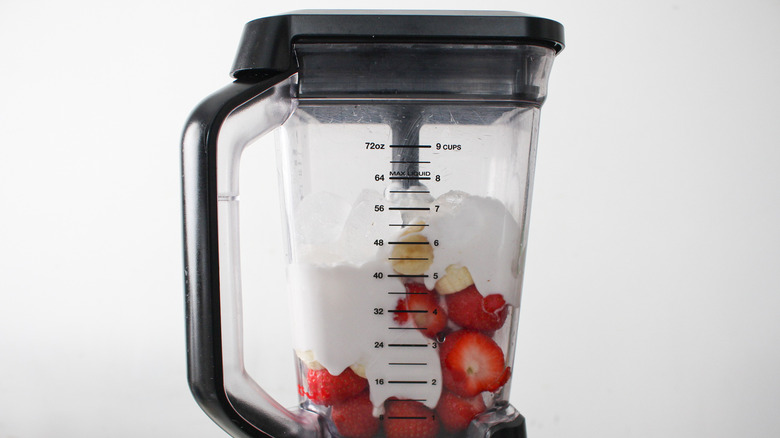 Susan Olayinka/Mashed
Just a few seconds of work left here! Add the strawberries and banana pieces to the blender, alternating fruit types a bit to ensure a more even blending, and then add in the yogurt and ice. Now run the blender at high speed for 10 seconds, which may well be enough to wrap things up. If need be, scrape ingredients back down the sides with a spatula, then blend again for a few more seconds.
Serve and enjoy!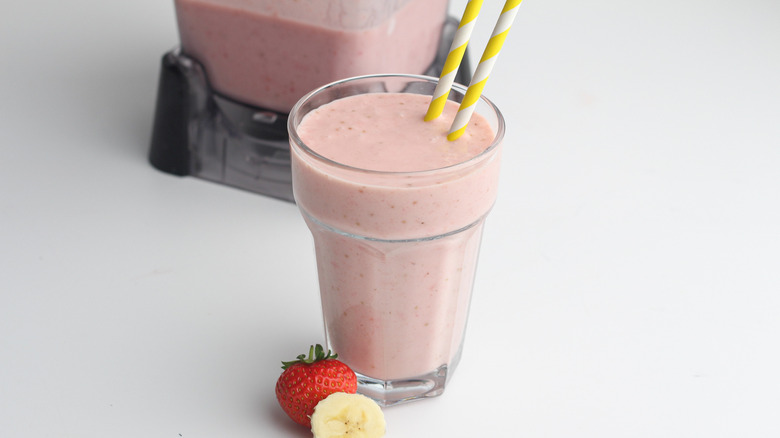 Susan Olayinka/Mashed
That's it, you're done, and in much less time than you even would have spent at a McDonald's drive-thru! Go ahead and pour out two large servings of smoothie (each will be about 12 ounces, give or take), and enjoy a sweet treat that's healthy, will leave you feeling full for a while despite a modest calorie count, and that really is guilt-free.
And in case you're wondering, you can, by all means, double the recipe size and make four servings or cut it in half for a smoothie just for you.
Copycat McDonald's Strawberry Banana Smoothie Recipe
Is a McDonald's smoothie better for you than, say a milkshake? Absolutely. But best of all is this DIY take on the treat that uses only the good stuff.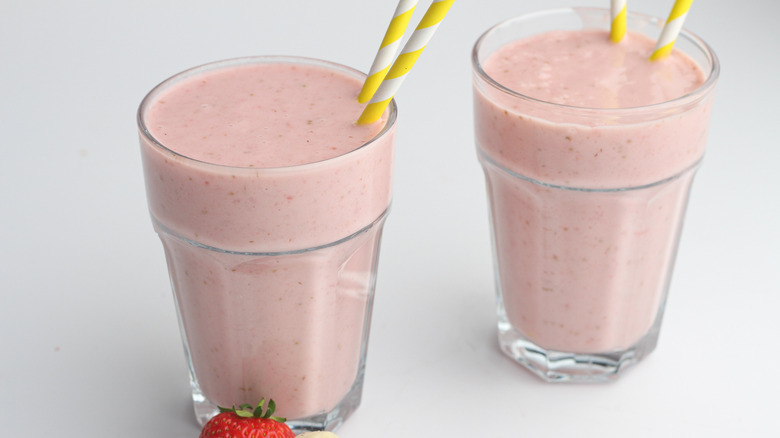 Ingredients
3 cups strawberries
2 bananas
1 ½ cups low-fat yogurt
1 cup ice cubes
Directions
Slice the stems off the strawberries and set aside, then peel the banana and slice into 1-inch pieces and set aside.
Place into blender chopped strawberries, chopped banana, yogurt, ice, and blend on high for 10 seconds.
After 10 seconds, once all is blended smoothly, pour into a serving glass and enjoy.
Nutrition
| | |
| --- | --- |
| Calories per Serving | 292 |
| Total Fat | 3.9 g |
| Saturated Fat | 2.0 g |
| Trans Fat | 0.0 |
| Cholesterol | 11.0 mg |
| | |
| --- | --- |
| Total Carbohydrates | 56.9 g |
| Dietary Fiber | 7.6 g |
| Total Sugars | 38.2 g |
| Sodium | 136.8 mg |
| Protein | 12.4 g |