Instagram Is Loving Paula Deen's Sweet Tribute To Her Husband 'Mikey'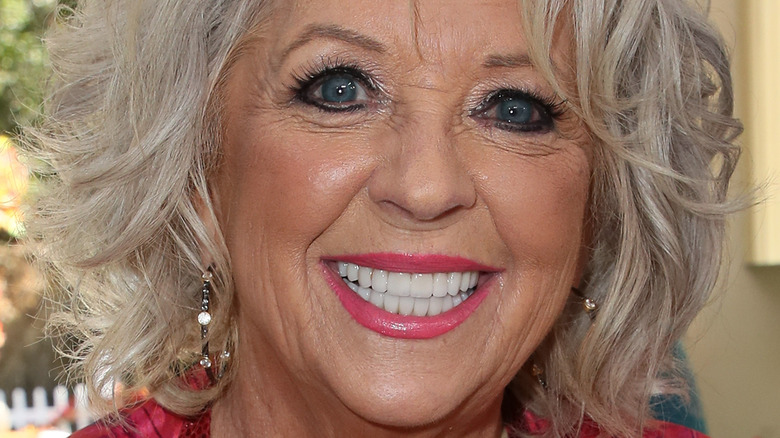 David Livingston/Getty Images
We may receive a commission on purchases made from links.
Celebrity chef Paula Deen has the sweetest love story. Per Delish, Deen came across her husband, Michael Groover, several years ago because of her dogs. They had wandered into Groover's yard and Deen followed them, which is how she ultimately met Groover. Sounds like a scene out of a movie, doesn't it? Well, they hit it off from the start and their first date took place the following day on a boat. How romantic!
After dating for awhile, the couple decided to tie the knot in 2004 in Savannah, Georgia. It was a huge deal and fans got to watch the event on the Food Network. To nobody's surprise, the menu was full of delectable food items, such as pickled okra sandwiches, fried collard greens, and more. What's more, Groover even wrote about his shared experiences with Deen in a book called "My Delicious Life with Paula Deen." 
Deen recently took to Instagram to express gratitude for Groover's presence in her life. Here's a look at Deen's sweet words for Groover.
Paula Deen's tribute to 'Mikey' will melt your heart
Paula Deen could not help but dote on her husband and express her appreciation for everything that Michael "Mikey" Groover does for her. She shared an adorable picture of herself with her husband on Instagram and wrote, "Today I just wanted to share a little appreciation for my husband. He works hard, he supports me and my crazy life, and he always knows how to make me laugh. I love you, Mikey!" Aww, man. 
Their fans were touched by the message. One Instagram user wrote, "beautiful picture, sweet sentiment.. love is wonderful." Another fan added that they absolutely love the couple's story. Meanwhile, another commenter said that the couple "found each other just in the nick of time."
Earlier this year, Deen and Groover also celebrated their anniversary with an Instagram post in March. Deen mentioned here as well that her husband can always make her laugh. These two are so sweet!