Tom Kerridge's Honest Response To This Complaint About His Pub's Steak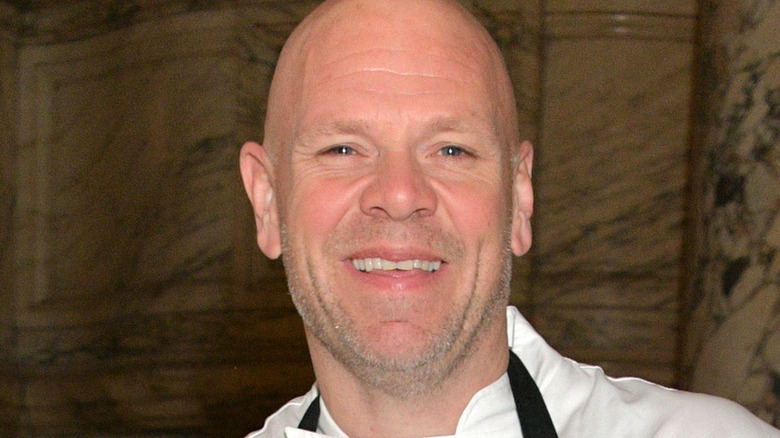 David M. Benett/Getty Images
Tom Kerridge, the chef behind two-time Michelin starred restaurant The Hand and Flowers, has come under fire recently for his menu prices. According to Lad Bible, a wine critic was among the first to complain about the sky-high prices at the restaurant. And earlier in the summer of 2021, people were shocked that his fish and chips cost some £35 be it from his shop at Harrod's where you can get it topped with caviar or from one of his restaurants where it is just a pound or two less (via Daily Mail).
Most recently, wine critic Guy Woodward lavished criticism on The Hand and Flowers for its high prices, namely an £87 sirloin steak. However, other dishes are just as expensive, like the aforementioned fish and chips and a £7.50 side of cabbage. For comparison, the Daily Mail notes the national average cost of fish and chips in the U.K. is just £6.50. But the prices were not Woodward's only concern.
The complaint felt the pub has an image issue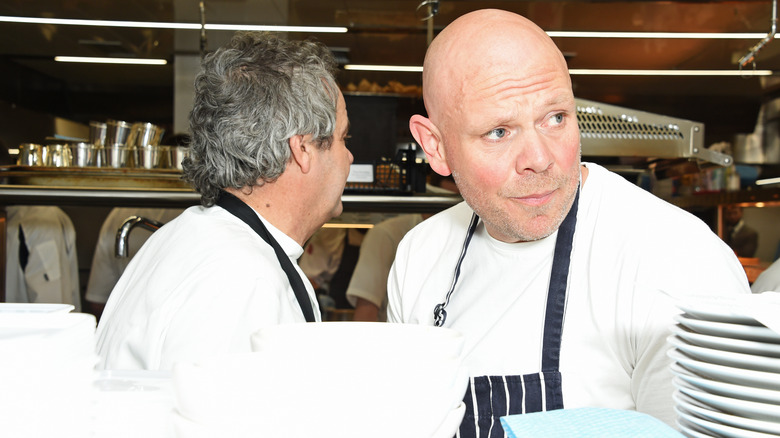 David M. Benett/Getty Images
According to Lad Bible, Woodward was primarily dismayed by the pub's advertising which in his opinion gave the restaurant an "inconsistent" image. Woodward explained that the Michelin-starred pub describes itself as "a proper pub" that is "unpretentious," "relaxed," and "accessible." Kerridge responded on Twitter, claiming that Woodward didn't have the same understanding of those descriptors as Kerridge.
Kerridge wrote, "Those prices include everything, vat and service. No additional service charge at all. Also I pay staff properly and treat their job as a professional career." He went on, adding "Perhaps the real cost of dining should be addressed. Unpretentious does not mean cheap. Also, why is profit a bad word?" Woodward clearly wasn't letting go and wrote back. He said, "My issue isn't with the prices – people are evidently happy to pay them. It's the marketing. £87 for steak and chips is hardly an 'unpretentious, proper pub' that's 'accessible to everyone....'."
While paying a living wage is clearly an important and positive step in the restaurant industry, it's no denying that the average pubgoer would have a hard time justifying such steep prices.