The Massive Change A Viral TikTok Caused At This Japanese Restaurant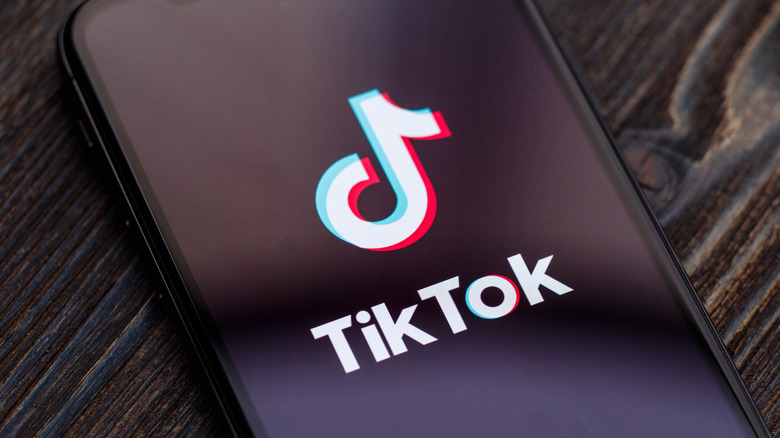 XanderSt/Shutterstock
Never underestimate the power of the internet. A Denver-based Japanese eatery called Domo was in for a surprise after a clip featuring the restaurant achieved viral status on TikTok, The Denver Channel reports. The video, which was less than a minute long, offered glimpses into what eating at Domo looks like. Viewers were so impressed that they started visiting the restaurant in large numbers.
The eatery has been around for ages: it was founded in 1996 by Gaku Homma and offers a picturesque experience to its patrons, who can choose to eat inside or outside in a traditional garden. Domo's ambience is heavily inspired by Japanese culture and offers an authentic dining experience — Zagat once deemed it the fifth best Japanese restaurant in America. The relatively understated eatery has now received an unexpected boost after the TikTok video went viral, taking its owner and staff members by surprise. The restaurant's chef, Koichi Ninomiya, explained, "It's nice to have people coming in, but at the same time, it's just a little bit too much for us to handle as a staff and as a whole, we are not equipped with enough staff to handle the demand."
The restaurant didn't know how to deal
As The Denver Channel reports, Domo's owner was so flummoxed by the surge in numbers that he decided to take a break for two weeks in order to regroup and figure out how to handle so many customers. It makes sense: diners who saw the viral TikTok were so curious about Domo that they were queuing up in droves before opening time. 
It became daunting for the staff to accommodate so many people and they had to let some diners down. Occasionally, cops had to be called to control the customers as they shouted at each other while waiting for their turn. The waiting time shot up from 30 minutes to three hours in some cases. Yikes. After taking a break, Homma and his team returned with some changes. They would open three nights a week instead of seven and would restrict seating capacity on account of the pandemic. 
This didn't deter customers, though. Chef Ninomiya said that they still "hit our capacity almost every night." He added that they really do appreciate their diners' enthusiasm. "We do want to serve everybody. You just have to come early, put your name down, be patient, and try not to get frustrated with us, and we will do the best we can," he said.