This Vietnamese Pho Has Costco Shoppers Divided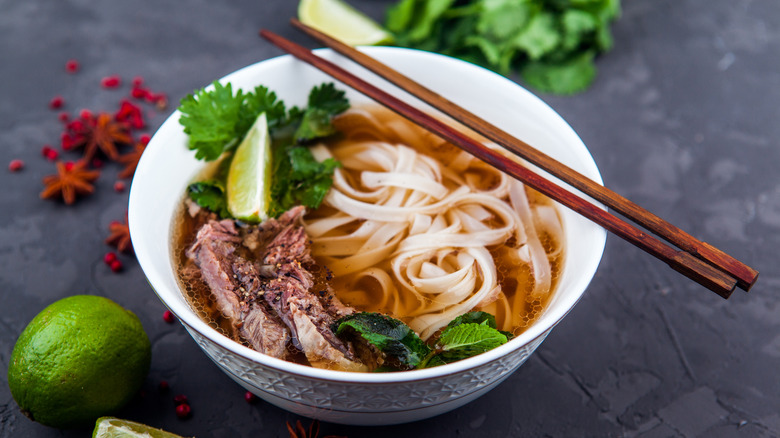 CheDima/Shutterstock
Instant pho? It seems like a contradiction to offer an instant version of a classic grab-and-go Vietnamese street food. But Instagrammer @CostcoBuys noticed it's now on the shelves at Costco just begging anyone to take up the challenge and try it. The blogger, whose self-described mission is "to show the world how amazing Costco is," posted about the new find on Instagram, saying, "Pho bowls are on sale at Costco for just $8.79 through 9/26! I love pho so I'm definitely giving this a try!"
So far, though, the reaction among their followers has been divided. Commenter @Mshoneybutter weighed in with an unequivocal no-thank-you: "This was not tasty at all, sorry will not buy again, if you had real pho this is not even close." And user @Irene.tsakos was quick to agree, commenting, "Not at all like real pho soup, yuck for me." Another person, @Bunnee.bakes had a specific complaint, claiming it was "super oily and no flavor to the broth." And @imnotarunner asked, "How is this authentic? The noodles aren't even correct, let's just start there."
On the other hand, @fume.mp3 had a somewhat positive response, saying, "As a Vietnamese person, this instant pho obviously doesn't taste like authentic pho that's homemade or from a restaurant, but for the price, it's good for emergency food." That comment, though, was accompanied by a laughing emoji, so we're not sure how to interpret it.
You can always make some homemade pho
The Instagram post from @CostcoBuys includes a photo of the new Snapdragon Vietnamese Pho,  noting it's gluten-free and ready to eat in just three minutes. In addition to this dish, Snapdragon — a San Francisco Bay area company (via Buzzfile) — also produces a lineup of instant soup and ramen noodle bowls. 
Several comments on the Instagram post referenced excessive salt content in the product, so we checked the company website for nutrition information. Turns out one bowl of Snapdragon Beef Pho contains 1,550 mg of sodium. That's about 67% of the FDA's recommended limit for healthy adults. But we get it, sometimes a hit of salty broth is just what the doctor ordered. Instagram user @jenniebeanins suggested a work-around solution if this is of concern, saying you don't have to use the full seasoning packet that's included: "It helps to add stuff to enhance it and just put less soup seasoning if it's too salty." 
And if time is not of the essence, as the one commenter on the Instagram post from @CostcoBuys suggested, consider making your own pho. The classic Vietnamese noodle soup isn't all that difficult to make, but it does take time to do it right. It's tempting to get a jumpstart on the process by using store-based broth, but Inspired Taste says the trade-off isn't worth the shortcut: "Substituting store-bought beef broth for this homemade beef broth just won't cut it. We know our process takes longer than some, but trust me, this homemade pho broth has so much more flavor. You won't regret it."