Mountain Dew's New Apple Flavor Is Coming To Kroger Stores
It is almost officially autumn, and once the air starts turning cool, that can only mean one thing: It is just about time to start enjoying everything apple-flavored. From strolling through orchards picking bunches of fresh apples, to taking a sip from a mug of sweet and delicious hot apple cider, to savoring the flavor of a fresh apple cider doughnut, it is the perfect time of year to enjoy all the tart deliciousness of this seasonal fruit. 
And now, even Mountain Dew is getting into the spirit with the release of its new Thrashed Apple Flavor. This new flavored soft drink delivers the same bold, citrus taste that fans love about the original Mountain Dew, but adds an apple flavor for a sweet seasonal twist. This new product will be released in collaboration with the Kroger Family of Companies, in what is one of Kroger's biggest-ever beverage launches, according to Chew Boom.
Mountain Dew Thrashed Apple can be found-in store and online at Kroger Family of Companies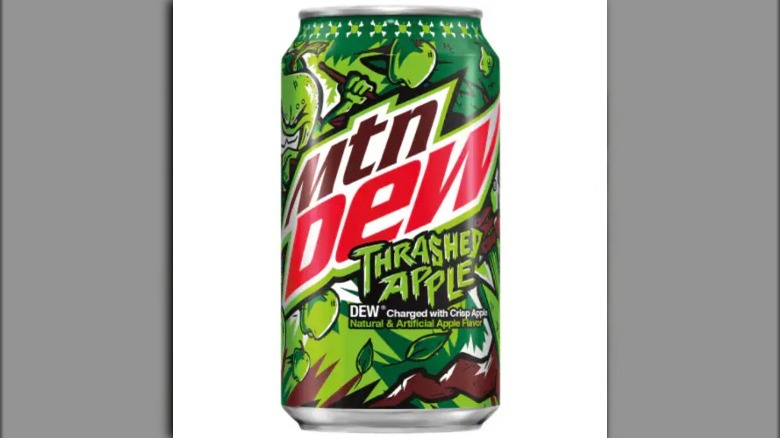 Kroger
This apple flavor won't fall far from Kroger's family tree, which means you'll be able to buy this flavor at such Kroger-related stores as Baker's, City Market, Food 4 Less, Fred Meyer, King Soopers, QFC, and of course, Kroger, among others, according to Chew Boom. It can be purchased in-store and online in 20-ounce bottles and 12 oz. 12-pack cans beginning on September 13th, just in time to help ring in the fall season. 
In a press release about the new seasonal release, Pat O'Toole, vice president of marketing for Mountain Dew, said, "Dew is thrilled to introduce Mountain Dew Thrashed Apple in partnership with Kroger, a long-standing partner who has embraced bold Dew flavor innovations" (via PR Newswire). O'Toole paired this new bold flavor with an equally bold prediction about its prospects. "With the perfect combination of tart and sweet, Thrashed Apple is a refreshingly bold drink that only Dew could deliver. We have created MTN Dew Thrashed Apple with the confidence that it will become a quick favorite amongst Dew Nation."