Simple Apple Jicama Slaw Recipe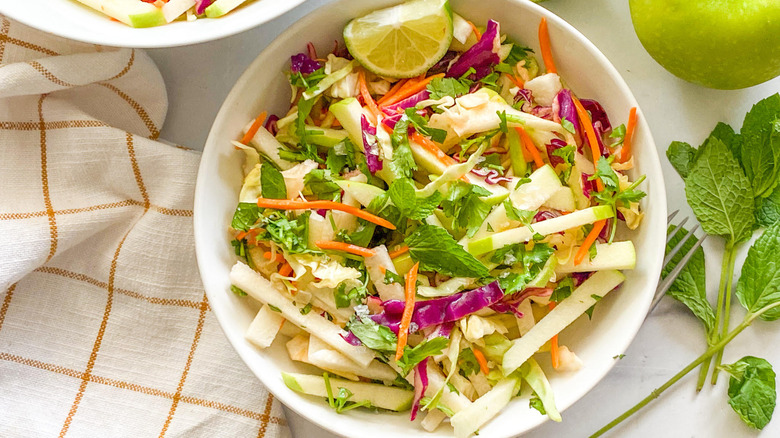 Miriam Hahn/Mashed
What better way to brighten up a meal than with a fresh and colorful coleslaw? While we're all for a classic cabbage slaw, Mashed recipe developer Miriam Hahn has created a delicious variation you're sure to love. Hahn is a wellness coach, and she is always enthusiastic about sharing healthy food that tastes great. Her simple apple jicama salad is no different, and she remarks, "My favorite thing about this coleslaw is that it is different and so surprisingly delicious." Jicama is a Mexican root vegetable that tastes great raw and definitely stands out paired with apple and fresh herbs. If you've always wondered what you could make with it, this slaw is the answer.  
The dish is refreshing, and Hahn adds that it can easily be served along with a main: "[It's] such a nice addition to a barbecue. Also great for a ladies lunch or book club served with a fun appetizer and some soup." The easy recipe takes advantage of vibrant flavors, and Hahn notes in particular that it is "such a great recipe to have, especially if you grow mint and cilantro." For a different take on a traditional side dish, you'll definitely want to whip up this amazing apple jicama slaw.
Get the ingredients together for this simple apple jicama slaw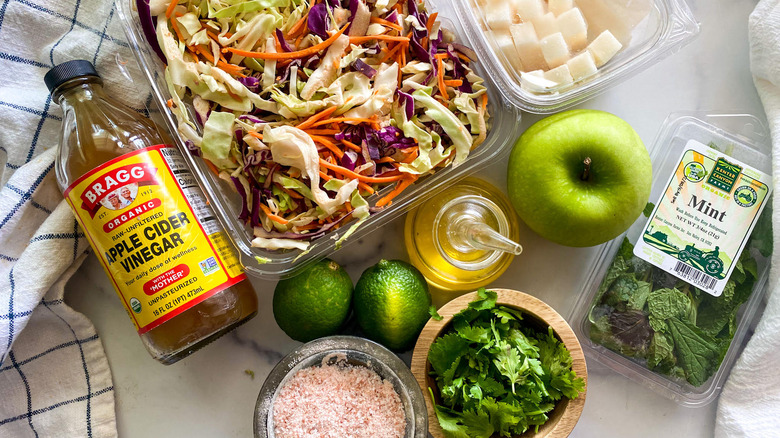 Miriam Hahn/Mashed
The ingredient list is fairly short for this recipe, and Hahn tends to keep it straightforward, noting, "I like how simple this salad is, so I usually don't add anything." The dressing has a pleasant tang thanks to a few key components: olive oil, apple cider vinegar, lime juice, and salt. The acidic flavors keep the overall taste fresh and vibrant.
Next, to keep the prep to a minimum, Hahn opts for a pre-made slaw mix, which generally consists of shredded cabbage (red and green) and carrots. Hahn also uses pre-cut jicama to avoid having to fully prepare the jicama, another shortcut we love. A juicy green apple adds the perfect balance of sweetness and tang to complete the taste.
Finally, fresh herbs make all the difference here — cilantro and mint play an important role in this coleslaw. Hahn is a huge fan, saying, "I have to say, the mint makes the whole salad." If you don't have mint around, Hahn would probably advise you to wait before making this slaw: "You can't skip the mint. It really takes it from being kind of basic to out of this world!"
Start off by mixing together the ingredients for the dressing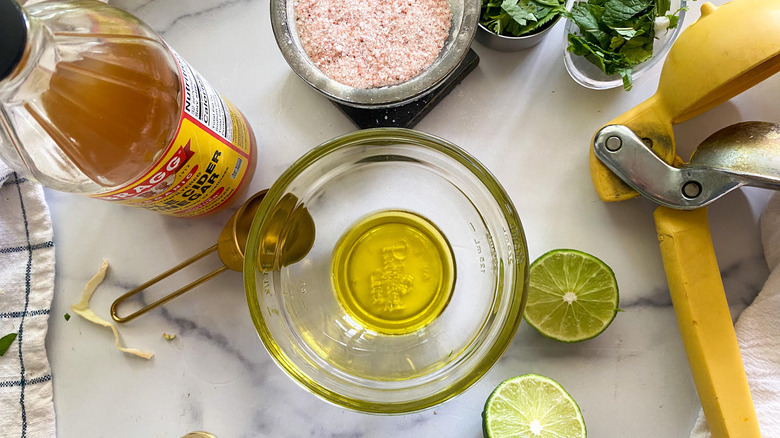 Miriam Hahn/Mashed
First of all, you'll start off by preparing the coleslaw dressing. Set out a small bowl and measure out one tablespoon of olive oil, two tablespoons of apple cider vinegar, and the juice from one lime. Finally, sprinkle in a quarter of a teaspoon of salt. Mix all of the ingredients together in the bowl to combine them smoothly, then set the mixture aside until you are ready to dress the slaw.
Chop up the salad ingredients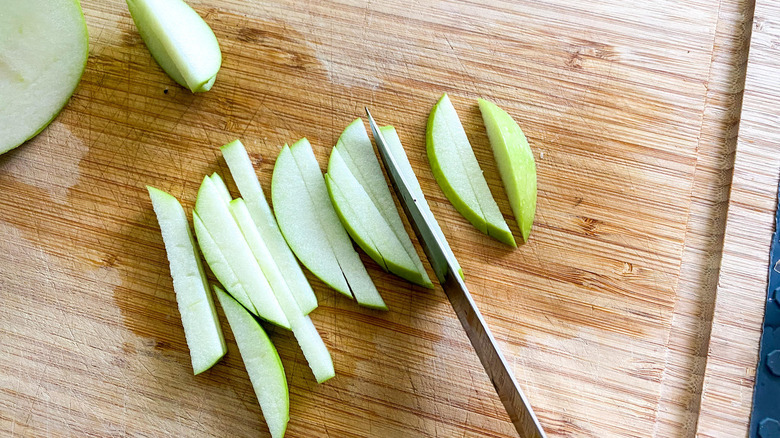 Miriam Hahn/Mashed
Although purchasing a pre-made coleslaw mix certainly cuts out a chunk of the prep work, a few ingredients do require a bit of extra slicing. While Hahn uses pre-cut jicama sticks in this recipe, she recommends slicing them into thinner matchstick-sized pieces. Next, core the green apple and slice it thinly into similarly sized matchsticks. Finally, chop up the fresh cilantro and mint to add into the slaw at the end.
Transfer the salad ingredients into a large bowl and toss them with the dressing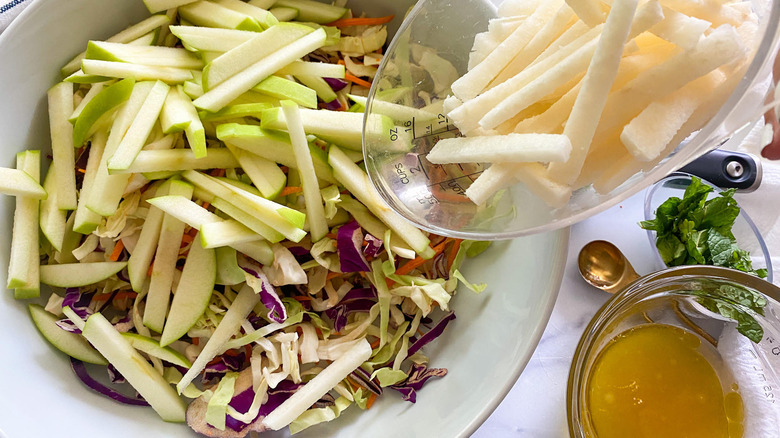 Miriam Hahn/Mashed
Now that all of the slaw components are ready, it's time to assemble it. Transfer the slaw mix, jicama and green apple matchsticks, and the chopped cilantro and mint into a large bowl. Then, evenly pour the dressing over the slaw. Finally, with the help of large spoons or tongs, mix up the slaw ingredients to uniformly coat everything with the tasty dressing. 
Serve this tasty apple jicama slaw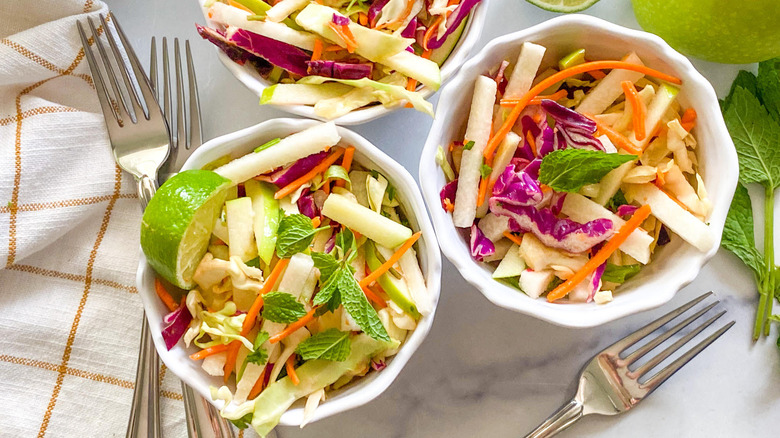 Miriam Hahn/Mashed
After a quick 10 minutes, it's already time to enjoy this delicious apple jicama slaw. For a light snack or appetizer, you can serve the slaw by itself. Otherwise, Hahn suggests "to serve it alongside sandwiches for lunch or dinner." You could also serve it in a classic barbecue setting, which Hahn loves, noting that "it works great with anything off the grill."
If you're planning to make a big batch, Hahn cautions that although the salad can keep well in the fridge, "[It] won't last as long as regular slaw because of the apple." Nevertheless, making it a bit in advance is finem and she adds that "the lime juice really helps keep things fresh."
Simple Apple Jicama Slaw Recipe
What better way to brighten up a meal than with a fresh and colorful coleslaw? While we're all for a classic cabbage slaw, we've created something different.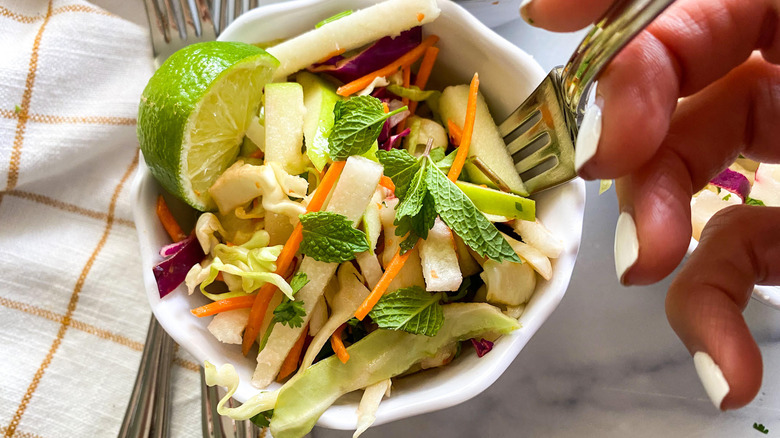 Ingredients
1 tablespoon olive oil
2 tablespoons apple cider vinegar
1 lime, juiced
¼ teaspoon salt
1 (10-ounce) container pre-cut jicama
4 cups pre-made slaw mix
1 green apple, cut into thin matchsticks
¼ cup cilantro, chopped
¼ cup mint, chopped
Directions
Mix the olive oil, vinegar, lime juice, and salt in a small bowl and set it aside.
Trim down the pre-cut jicama into thinner matchsticks.
Transfer the slaw, jicama, apple, cilantro, and mint into a large bowl.
Toss the dressing with the contents of the bowl and serve.
Nutrition
| | |
| --- | --- |
| Calories per Serving | 91 |
| Total Fat | 3.6 g |
| Saturated Fat | 0.5 g |
| Trans Fat | 0.0 g |
| Cholesterol | 0.0 mg |
| | |
| --- | --- |
| Total Carbohydrates | 14.5 g |
| Dietary Fiber | 5.6 g |
| Total Sugars | 5.8 g |
| Sodium | 151.6 mg |
| Protein | 1.0 g |