Football Fans Won't Want To Miss This Wendy's Breakfast Deal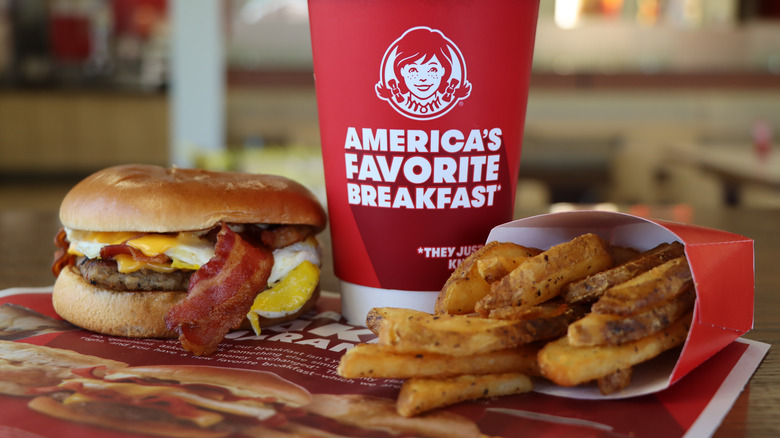 Deutschlandreform/Shutterstock
Wendy's is an institution that made its debut all the way back in 1969. According to Eat This, Not That!, its founder, Dave Thomas, launched the first outlet in Columbus, Ohio. And the menu was as fascinating as you would expect it to be: chili, the Frosty, burgers, and fries. Yummy! The brand has come a long way since then and is a crowd favorite for many reasons.
A Reddit user in the U.K. mentioned that they will be getting Wendy's outlets soon and asked American foodies to describe what the fast food chain is like. One fan wrote, "I like the Wendy's double cheeseburger better than McDonalds or Burger King. Try a chocolate frosty." Another fan said that they are especially fond of the Junior Bacon Cheeseburger because it is the perfect lunch option, as it is just right in terms of size.
Also, the fast food chain has scrumptious breakfast options.The brand claims that everything on offer is freshly prepared. The menu looks inviting, too: there are croissants, breakfast sandwiches, side dishes, combos, and more. If you like the breakfast options here, you will be thrilled to know that Wendy's is now offering something extra for its fans — particularly those who are pumped about the start of football season.
Make some noise for the croissant sandwiches
According to the Wendy's site, the brand is super excited to celebrate football season with its fans.This makes sense considering that the company is associated with NCAA college football and legendary athlete Reggie Bush. Here's the big news: Foodies can now buy croissant sandwiches for only $1.99 at Wendy's. Hurrah! Carl Loredo, Chief Marketing Officer of The Wendy's Company, said in a statement, "Wendy's breakfast is a guaranteed win for fans looking for a better breakfast."  Loredo added, "Kickoff your gameday mornings with the best breakfast in the game and catch the $1.99 Croissant Sandwiches offer before it's gone."
The deal is valid for Sausage, Egg & Swiss Croissants, as well as Bacon, Egg & Swiss Croissants, and is expected to last until October. Fans can either order through the Wendy's app or hit the nearest outlet for a hearty breakfast. They can also choose to order online. So many options! Also, just so you know, food delivery is free on weekends this month if you order through the app. Woohoo!