Pumpkin Spice Fans Need To Know About These Trendy Hot Chocolate Bombs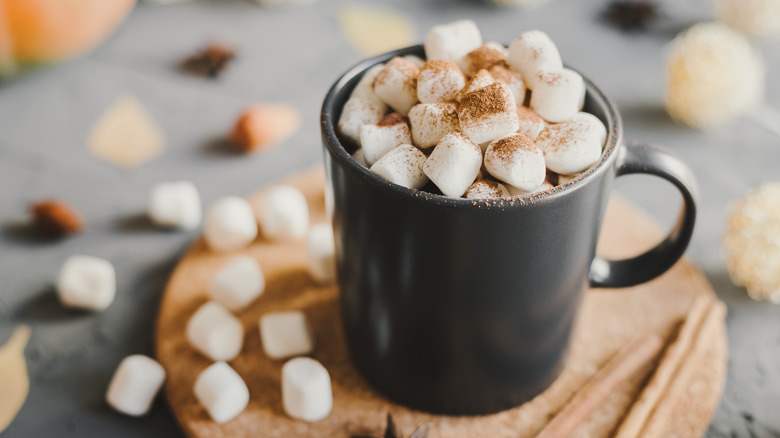 VeronikaSmirnaya/Shutterstock
2020 might have been a forgettable year for many reasons, but some of us are likely to remember it for some of the seasonal food innovations that came about, including charcuterie chalets, breakfast charcuterie boards, and hot chocolate bombs. And while you might argue that September is still a bit too early or too warm for hot chocolate, Target's got something that might change your mind — because it takes what might be a decidedly cold weather concept and adds a bit of fall zing to it. 
What could well become an annual hot chocolate trend is coming to us in a most season-appropriate flavor. The new offering puts a 2021 spin on the 2020 hot chocolate bomb trend by taking pumpkin spice, infusing chocolate with this popular fall flavor, and then filling the flavored hot chocolate bomb with mini marshmallows and hot cocoa mix (via Delish). This latest iteration of a hot chocolate bomb has Target fans excited enough to share the discovery on social media (via Instagram). "Spotted in the Halloween section. Get fall started a little early with a Pumpkin Spice Hot Chocolate Bomb," the post on @TargetsTreasures reads.
Hot chocolate bombs are getting the pumpkin spice treatment
Hot chocolate bombs were first spotted on social media in October 2020, and were meant to be a literal Easter egg that concealed all manner of goodies that revealed themselves when the bomb came in contact with hot milk. The trend was seen by some as the perfect way to symbolize a year dominated by illness and uncertainty. As freelance writer Julie Dugdale told The New York Times last year, the hot chocolate bomb was "... this huge, fun, bursty, melty glob of — you don't even know what's going to happen. But you don't have to worry about it going anywhere, or spilling anywhere, or being something that you didn't realize was going to happen and not being able to clean it up or deal with it." And while you could technically make the bombs at home yourself, it didn't take long for retailers to get into the act and offer them on their shelves.
Even though this year has turned out to be (marginally) better, we're glad hot chocolate bombs have made a comeback, because while 2020 turned out to be a forgettable year, no one should have to forget a great hot chocolate trend.