Trader Joe's New Lightly Spiced Pumpkin Spread Is Turning Heads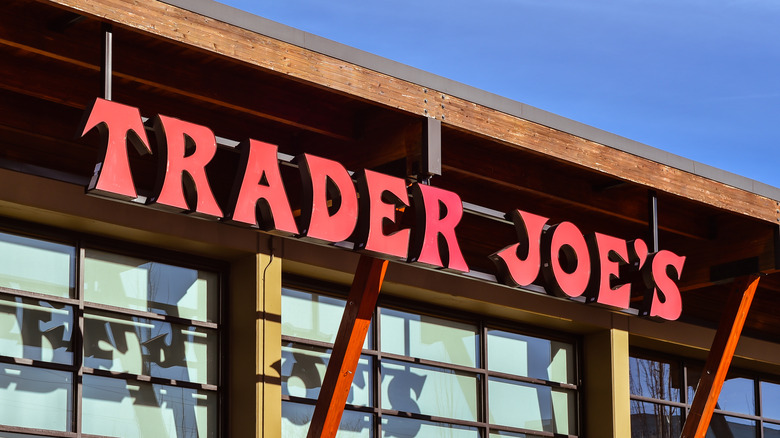 jejim/Shutterstock
From pumpkin spice hummus to pumpkin spice pretzels, fall season has officially arrived at Trader Joe's according to their latest flyer. But there's one item that really has caught the attention of the grocery chain's customers on Instagram. Fan account @traderjoeslist, shared that their local store has added a new sweet and savory lightly spiced pumpkin spread to its shelves. While people are a little confused about it, many also can't wait to give it a try.
The social media account first shared a photo of the spread on September 9, and within a day the post had already gained more than 20,000 likes. The caption read, "NEW PUMPKIN SPREAD • $2.99 • I'm so excited for this new #pumpkinpalooza item! I'm thinking this would taste amazing on a charcuterie board!" For just $3, it's hard to go too wrong trying this new pumpkin spread. The jar suggests using it with roasted meats and vegetables, but it can likely be used for so many other dishes too.
This is what Trader Joe's shoppers want to know about the spread
Some lucky people have already tried the new sweet and savory pumpkin spread, while others simply know they want to try it. One person responded to the post writing, "it tastes good in coffee too," which would mean you could have your own fall-flavored drinks right at home. Someone else commented, "love that its sweet and savory!" Another comment read, "Yum I have to try this!!!" However, others were a little perplexed by the sweet and savory aspect of the spread.
One fan asked, "how does this taste in comparison to the original pumpkin butter? The ingredients don't sound savory so kinda wondering lol." Fortunately, @traderjoeslist responded and explained writing, "this is more of a jam-like consistency and doesn't have honey." More Trader Joe's shoppers were just upset that their stores hadn't rolled out all of the gourd-themed products yet.