How The Pandemic Created 2 New French Cheeses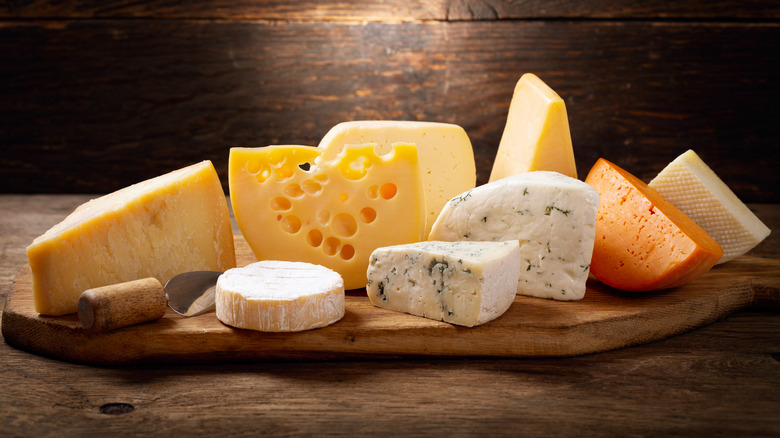 Nitr/Shutterstock
While the ongoing COVID pandemic and its ensuing lockdowns have undoubtedly been difficult and stressful, there have been a few good things to have come out of it. To be specific, two very delicious items have emerged as a result of the past year, according to Food & Wine. While staying at home and social distancing, cheesemakers in France spent their time experimenting with new ways to create never-before-seen French cheeses.
Cheesemakers Lionel and Laura Vaxelaire, who own a 30-herd dairy farm near Saulxures-sur-Moselotte in eastern France, were faced with a dilemma after business slowed down by almost 80% during the pandemic, leaving them with pounds of unsold Munster cheese with no place to go. "When France went into its first lockdown last March, my cows never got the message— they just kept producing milk. So we kept making cheese, yogurt and other products even though ... the restaurants we supply had closed, as had most local markets and our farm store," Laura Vaxelaire told Food & Wine.
The undisturbed aging process created "Le Confiné"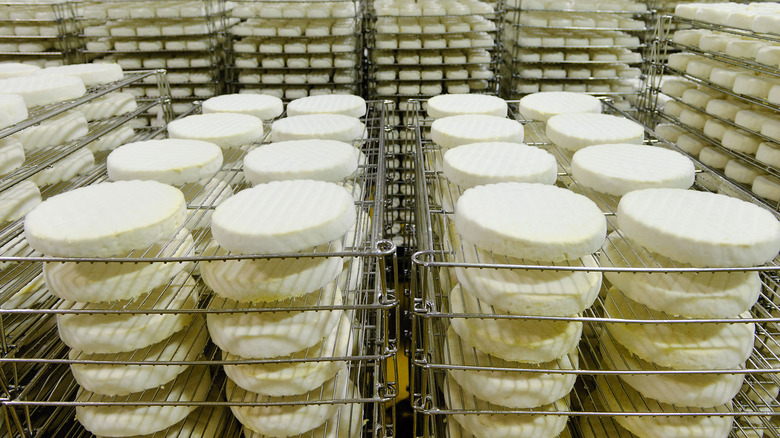 Bloomberg/Getty Images
The Vaxelaires decided to turn their problem into an opportunity, allowing the cheese to continue aging without turning it over or washing it with fresh water, as they normally did with their cheeses. The result was an entirely new cheese, cleverly named "Le Confiné," or the "locked-up one." 
"Sometimes adversity is good inspiration," Laura Vaxelaire noted to Food & Wine.
The new cheese featured an non-traditional spotted gray rind, a runny texture, a slight chalky center, and a strong, lactic flavor which Vaxelaire described to Forbes as something "between our Munster and a Camembert type. It's chalky inside, with a greyish, mottled flowery rind. It took the flavour of our whole raw milk and the flora of the cellar." To their delight, the customers loved it, so the Vaxelaires did what any enterprising cheesemakers would do and went ahead and registered the cheese with the l'Institut National de la Propriété Industrielle once the lockdowns were lifted in France.
The other new cheese was inspired by southern France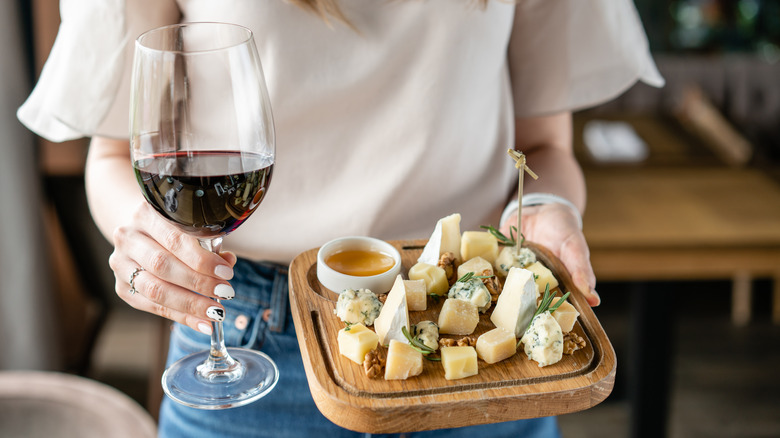 Fusionstudio/Shutterstock
The Vaxelaires weren't the only cheesemakers innovating during the pandemic. A cheesemonger by the name of Sylvain Crégut had returned to his hometown of Le Gard in southern France and thought, what better way to celebrate his return than by making his very own cheese? He set about gathering the tools that would help create the perfect cheese to represent his warm, sunny home of Le Gard: fresh ewe's milk cheese from a dairy in the village of Lussan, sea salt from the saltworks in nearby Aigues-Morte, and a sweet aperitif wine called Carthagène. Crégut soaked the cheese in salt water, washed it in the local Carthagène, and allowed it to age.
Finally, he delicately placed the cheese inside fashionable wooden boxes lined with frilly paper cups and topped it all off with sweet, wine-soaked yellow raisins. Soon, the cheese was flying off the shelves. 
"I'm a cheese affineur (curator) by profession, but this is the first time I actually made one," Crégut told Food & Wine. "I love cheese because it reflects the best of human nature, its ingenuity — cheese was invented as a way of storing milk, and its capacity for pleasure and sharing. So I'm very proud to have created a new one. Vive la France!"