Häagen-Dazs Has Good News For Pumpkin Spice Lovers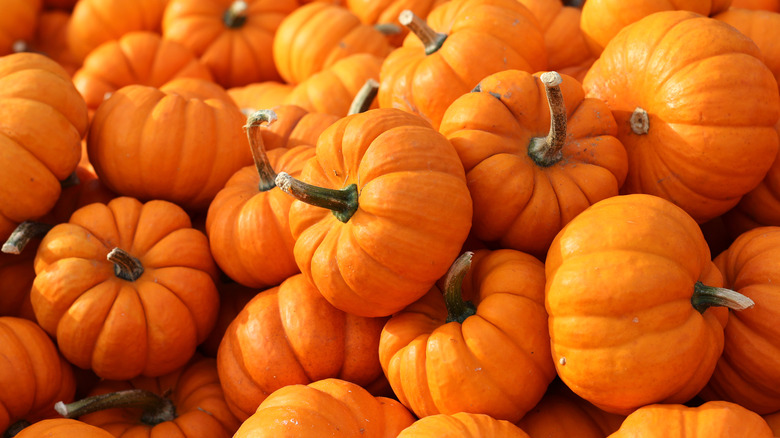 AN NGUYEN/Shutterstock
Whenever you start seeing big piles of bright orange pumpkins wherever you go, that's a sure sign that summer is coming to end. Pumpkins are synonymous with all kinds of fall activities, like baking pies, carving jack-o'-lanterns, or sampling sweets, particularly of the pumpkin spice variety. Popular ice cream brand Häagen-Dazs has just announced it will be getting in on the seasonal fun with a decadent new Pumpkin Spice Shake, says a company press release. It's being rolled out just in time for fall, but the only spooky thing about the dessert is just how tasty it is.
The Pumpkin Spice Shake will feature Häagen-Dazs' popular dulce de leche ice cream as its base, which delivers the classic flavors of sweet cream and caramel and is enhanced with rich golden caramel swirls. The luscious ice cream is blended with pure pumpkin purée and an aromatic dusting of autumnal spices, then topped with whipped cream as the finishing touch on a perfect fall treat.
The Pumpkin Spice Shake will only be available for a limited time
Be warned: This tasty new treat is a seasonal offering, which means if you are looking forward to getting your hands on one of these Pumpkin Spice Shakes, you won't want to wait. The item will only be offered at participating Häagen-Dazs shops nationwide now through November 15, according to the press release. If you've fallen in love with Häagen-Dazs' other limited-edition items, such as the Chameleon Cold Brew Float in the summer or Peppermint Bark Shake in the winter, you know you'll have to act fast to try the fall shake before the season ends.
Don't have a Häagen-Dazs store near you but want to try the Pumpkin Spice Shake? Just grab a pint of dulce de leche ice cream (or one of your favorite Häagen-Dazs flavors with a similar taste), then blend it with a couple of spoonfuls of canned pumpkin and a few shakes of pumpkin pie spice. When the mixture is smooth and creamy, pour it into tall glasses, top with whipped cream, and enjoy the essence of fall.