Minions And NERDS Are Releasing This Divisive Halloween Candy
Teri Virbickis/Shutterstock
We may receive a commission on purchases made from links.
This year, Minions and Nerds have come out with their own take on the divisive Halloween offering that is candy corn (via FoodBeast). Nerds' version of this seasonal candy won the Sweets and Snacks "Seasonal Award" at the 2021 Sweets and Snacks Expo. These incredibly bold and vibrant triangular candies feature a hard shell with a soft interior. 8-ounce bags of Nerds Candy Corn are currently available online for around $2, and come in six flavors including strawberry shell with strawberry grape inside, and strawberry-lemon with blue raspberry fruit punch inside (via Amazon).
But how do these award-winning candy corns taste? Reviewers are divided on whether they taste like candy corn at all, and whether they taste any good. One happy customer on Amazon says, "These are so good, I had to order two more bags! lol!!!" Another describes the experience as a little strange saying, "very sour, non-candy corn texture. Just average sour chewy hard-ish candies". Adding to the mixed reviews, yet another customer simply hates them. "Nope not buying ever again it melted into glub clusters. Too sweet and couldn't distinguish one flavor from another."
Maybe Minions will have better luck re-envisioning the classic Halloween candy?
Will these new twists combat candy corn hate?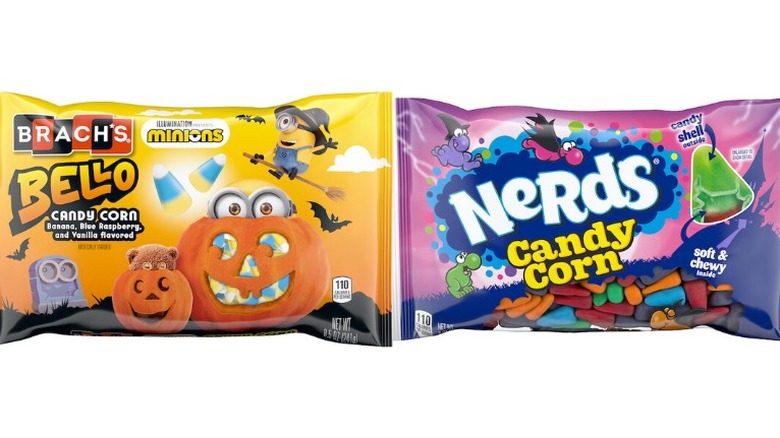 Ferrara
Minions has partnered with candy giant Brach's to release their own candy corn with seasonal packaging that doubles as promotion for the 2022 "Minions" movie, according to FoodBeast. Officially called the Brach's Minions Bello Halloween Candy Corn, these bite-sized candies come in flavors including banana (no surprise), blue raspberry, and vanilla (via Amazon). Like the Nerds Candy Corn, a bag also costs about $2.
Unlike the Nerds version, user reviews show this candy to be shaped and colored much like traditional candy corn with a triangle shape, chewy texture, and a striped pattern. However, the stripes are yellow, blue, and white to match the Minions theme. Initial customer reviews are a little more positive for this product, but it looks like you definitely need to like classic candy corn to appreciate it. Says one reviewer, "If you like Banana, Blue Raspberry and vanilla, this candy corn is for you! The flavors are bold, really sweet! So a little can go a long ways! I'll most likely buy more around Halloween for the family."
So what's your verdict — traditional candy corn, Minions banana-twist, or the crunchy reinvention from Nerds?