Bobby Flay Is Bringing Bobby's Burgers To This New Location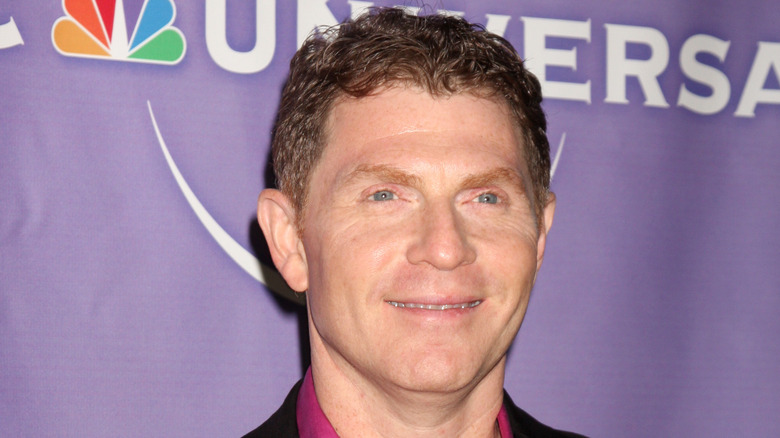 Kathy Hutchins/Shutterstock
Bobby Flay is bringing burgers to a new location and we've got the scoop. According to Eater, his restaurant Bobby's Burgers filed permits for an estimated $413,393 build at Harrah's, a resort in Las Vegas. This location is across the street from the original Bobby's Burgers location inside the Forum Food Hall at Caesar's Palace. Flay's burger joint will join Harrah's resident restaurants, including an existing Burger Bar, fellow celebrity chef Buddy Valastro's PizzaCake restaurant, and singer Toby Keith's I Love This Bar.
Flay's fast-casual burger joint is different from the preexisting Burger Bar at Harrah's, which serves "Red River Farms Nebraska Angus Burgers, All-Natural Turkey Burgers, and Organic Veggie Burgers" at a walk-up style food court called the Fulton Street Food Hall. The Bobby's Burgers at Caesar's Palace features Flay's signature burgers, fries with all the dipping sauces, and thick shakes and we expect the Harrah's location will follow suit.
So what exactly can we expect to eat?
Bobby Flay crunch burgers are on the menu
We presume the Bobby's Burgers in Harrah's will have similar menu offerings as the nearby Caesar's Palace location. Per Eater, options include Bobby Flay's signature "crunchified" burgers filled with potato chips, plus nacho, barbecue smokehouse, and blue cheese and bacon burgers. It's not just beef that's available — Eater notes the menu has expanded to include fried chicken and veggie burgers.
Flay has opened more than one burger joint throughout his career, so there might be a little confusion. The similarly-named Bobby's Burger Palace was, as Eater describes, a "more upscale" burger restaurant Flay opened elsewhere on the Vegas Strip. It closed last year.
While many are thrilled to have more chances to taste Flay's take on quick-service food, others are a little less enthusiastic. As Yelp reviewer Simon notes, "There isn't anything spectacular or to die for with theses burgers/fries. It's pretty basic and that's what you'd get from a fast food place in a food court." Although not everyone was wowed, most people realize this is a quick-service option and not fine dining, and frame their reviews accordingly.
As for us, we'll throw down a taste test on Bobby's Burgers any time.