The UK Is Facing This Major Problem With Italian Foods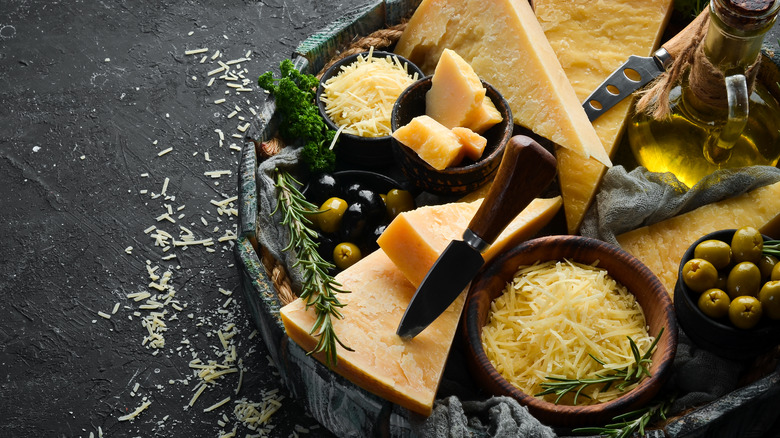 YARUNIV Studio/Shutterstock
When it comes to food, many of us are under the impression that what you see is what you get. But as experts have repeatedly warned, food fraud is a thing that is more common than you might think, and it affects a wide range of products from honey and olive oil to seafood and spices (via Bon Appétit). Now, an Italian farmer's group is warning consumers to be on the lookout for fake products from a specific source. 
Lobby group Coldiretti says its food exports into Britain is on the decline, and it now wants consumers there to look out for specific fakes, according to The Times. "The British need to watch out for Italian oil and Parmesan with an Italian flag on the label, which actually comes from America," said Lorenzo Bazzana, Coldiretti's chief economist. "Produce pretending to be Italian is worth €100 billion in sales a year globally, double the real food and drink coming from Italy."
Brexit has made it difficult to send Italian ingredients into the UK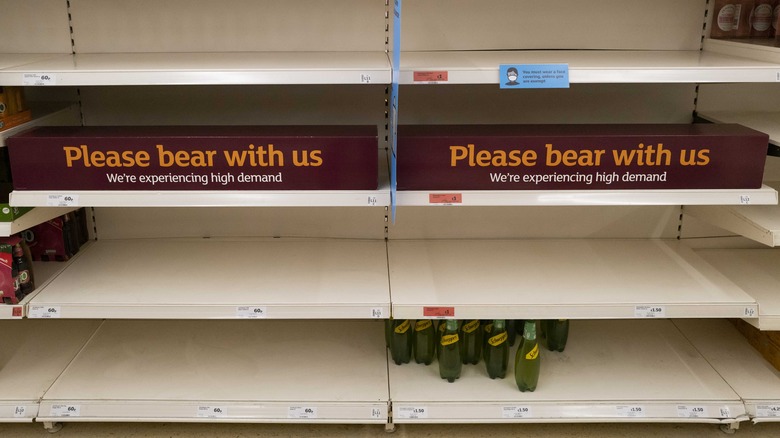 Matthew Horwood/Getty Images
The Italians have good reason to be worried. Food and beverage industry executives say Britain's decision to leave the European Union has had a detrimental impact on the country's food supplies (via The Times). Bureaucratic red tape has eaten into Italy's food exports to the UK, making it more expensive to transport ingredients across the English channel. As a result, Coldiretti says pasta exports declined by 28% between January to May, extra virgin olive oil sales dropped by 13%, canned and sauced tomatoes declined 16%, and cheese exports fell 9%.
Britain's food and beverage industry has also been hit by labor problems. After Brexit, a number of workers that once drove trucks that could move supplies around left the UK, and changes to the taxation laws also made it expensive for drivers in other parts of Europe to live and work in Britain (via BBC). 
Gaps in the food supply are allowing Italian counterfeit ingredients into the UK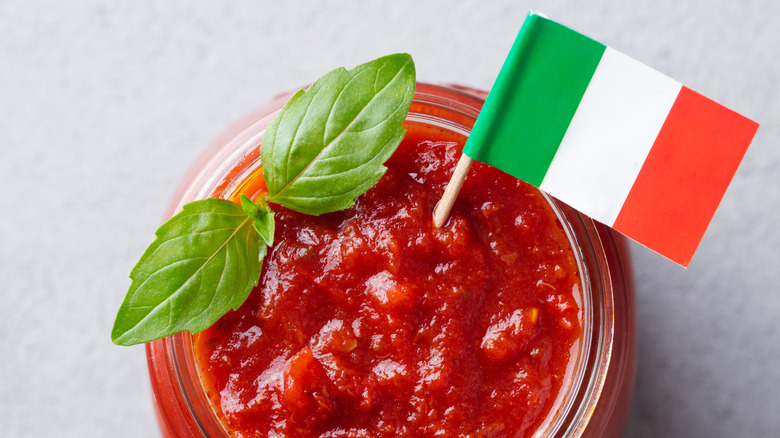 Anna_Pustynnikova/Shutterstock
The Food and Drink Federation estimates that the industry is lacking about half a million workers at the moment, and as a result, the federation's head, Ian Wright, is warning that permanent food shortages could be just around the corner (via BBC). He explained that "the UK shopper and consumer could have previously expected just about any product they want to be on the [supermarket] shelf or in the restaurant all the time. That's over. And I don't think it's coming back."
Britain's need to feed its people is also causing gaps in the supply chain, which allow counterfeit ingredients to get through, per The Times. "Before Brexit we could ask the UK to crack down on fake Italian foods but now it is out of the EU we cannot, hence our fear things could turn for the worse there," Coldiretti's Bazzana said. "We have already seen it happen in Russia, where the moment sanctions stopped Italian food arriving, Russian parmesan, complete with the Italian flag, appeared in stores."