Trader Joe's New Butternut Squash Mac And Cheese Bites Are Turning Heads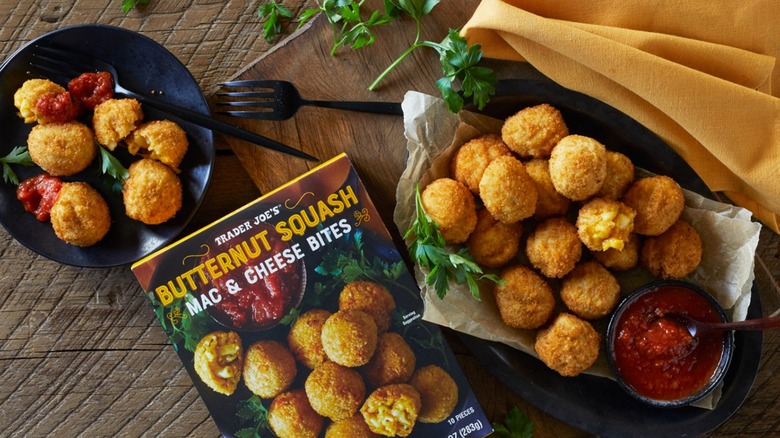 Now that fall-flavored everything is in full swing — from coffees and cold drinks to doughnuts and yogurt — Trader Joe's has revealed a new product. While many gourd-flavored classics have already returned to Trader Joe's shelves, the beloved budget grocery store just rolled out new butternut squash mac and cheese bites, according to a fan Instagram account, @TraderJoesList. The account posted a photo of the new product on September 11th, and within just two days, it had received nearly 21,000 likes. The caption read, "NEW BUTTERNUT SQUASH MAC & CHEESE BITES • $3.99 • everyone's favorite mac & cheese is now in ball form! They have a sweeter taste and would make such a good appetizer!" And for just $3.99, it's hard not to pick up a box to try.
According to Trader Joe's, the new take on their classic mac and cheese bites is made with roasted butternut squash, macaroni pasta, cheddar and gouda cheeses, a béchamel sauce, and a blend of spices including sage, nutmeg, and thyme among others. The creamy mac and cheese interior is rolled into a ball big enough for two to three bites, coated in batter, then topped with seasoned breadcrumbs before they are fried.
Everyone wants to try these new mac and cheese bites
If that isn't enough to make you want to try these delicious new fall-themed mac and cheese bites, then not much else probably will. Fans and Trader Joe's shoppers were quick to respond to the new product on Instagram. Tons of people can't wait to give the new bites a try. One person said, "might need these!" Another commented, "I just got these and can't wait to try them!" Someone else said, "eeek just got these! Can't wait to try." But other people were not sold right away.
One comment read, "I need to know how these are omg." Another Trader Joe's shopper who had already tried the new butternut squash mac and cheese bites wrote, "these are sooooo goood." However, one person was less than impressed. They said, "I tried them last night, not sure about them ... too much nutmeg or cinnamon.. going to give it another try." Perhaps going into it knowing these are on the sweeter side due to the squash will help. Otherwise, you might want to try pairing them with a savory sauce to balance out the flavor.