Creamy Homestyle Mac And Cheese Recipe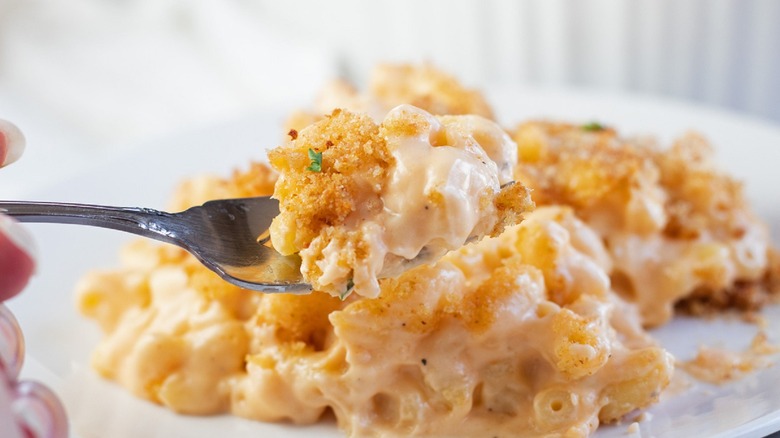 Angela Latimer/Mashed
If there were a side dish Hall of Fame, homestyle mac and cheese would land at the top of the inductee list. This easy recipe is arguably going to be the best macaroni and cheese you or your guests have ever eaten — the perfect comfort food to round out any meal. The key, of course, is a perfect gooey sauce, filled with enough butter and cheese to bring a smile to anybody's face.
Recipe developer and food blogger Angela Latimer of Bake it With Love has created a savory masterpiece with only a few ingredients. The best baked goods are made with love, and this dish is simply oozing with adoration. It's hard to find anybody, regardless of age, who doesn't have a special place in their heart for mac and cheese, and this recipe hits all the right spots — especially the stomach.
If you're thinking you don't need another more mac and cheese recipe to add to your collection, think again. This quick and easy recipe for homestyle mac and cheese, that only takes minutes to prep, is the dish you've been looking for.
Gather the ingredients to prepare homestyle mac and cheese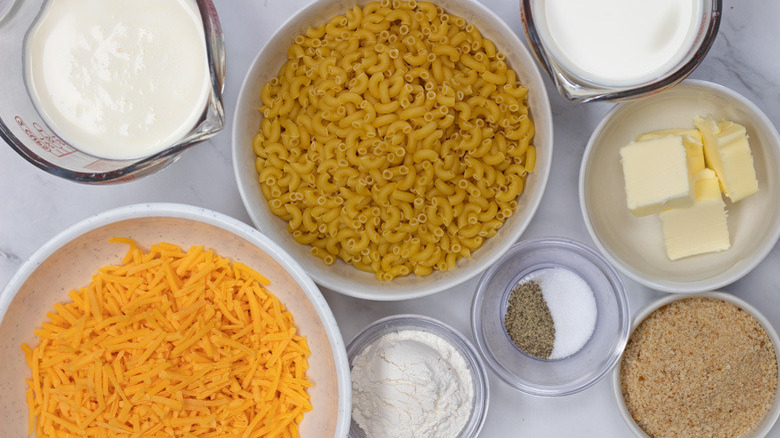 Angela Latimer/Mashed
It goes without saying that you'll want to start this recipe with macaroni and cheddar cheese. The rest of the ingredients will largely be used to make the sauce, including butter. Milk, heavy cream, and all-purpose flour are also needed, along with salt and pepper.
Finally, a key to this recipe is a nice baked crust — that's achieved with plain bread crumbs. It may be hard to tell just by looking at this ingredients list, but all combined, this simple and easy-to-make recipe will be one of the best versions of mac and cheese you've ever had.
Cook the macaroni till al dente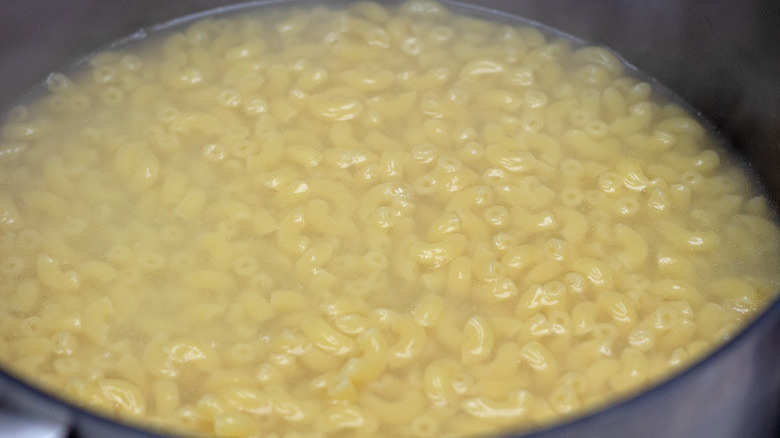 Angela Latimer/Mashed
Start by cooking your macaroni. The package will have instructions, but a basic rule of thumb is using a three-to-one water-to-noodle ratio. So, for your (approximately) 2 cups of macaroni, you want to use 6 cups of water — with a pinch of salt added. Bring it to a boil, and cook until the pasta is firm to the bite, also known as al dente. Once cooked, remove the pot from the heat, and pour the macaroni and water into a strainer. Latimer also reminds you to rise it in "cool water [as] this stops the cooking process." Then, set aside the strainer with the cooked macaroni.
If you haven't already, now would be a good time to grate your cheese. Fortunately, block cheese is quick and easy to grate and preferable to pre-shredded or grated cheese, since those types of cheeses are coated in preservatives, which prohibits that creamy, melty quality we want in our mac and cheese.
Use butter and flour to create a roux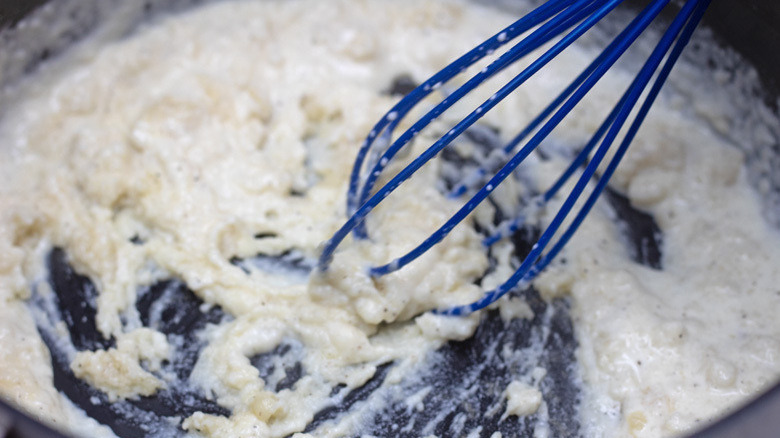 Angela Latimer/Mashed
Preheat your oven to 350 F. While the oven heats, lightly butter or grease your baking dish. "I use butter in my 9x13-inch baking pan (or a 2 to 2.5-quart baking/casserole dish) because I want the buttery richness that is part of this mac recipe," Latimer explains. "Oil or non-stick cooking spray can also be used, but I like the butter flavor." For this, you can melt the butter in the microwave if you want to coat the dish more thoroughly.
Add the butter to the pot you used to cook your macaroni, then return it to the stove over medium heat to melt. As Latimer explains, "It's part of making a roux that is the base of the sauce." Just make sure not to burn the butter. Once melted, whisk in the all-purpose flour, salt, and pepper. Make sure to whisk it well enough so that it forms a paste.
Add the milk and heavy cream to the roux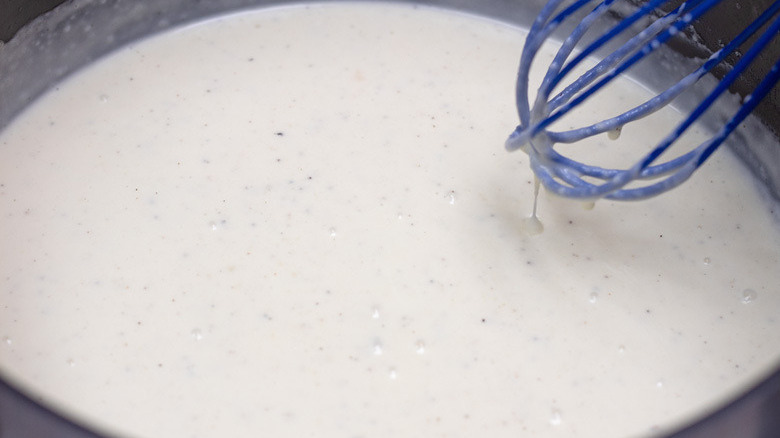 Angela Latimer/Mashed
Gradually add the milk and the heavy cream into the butter and flour paste (roux), whisking as you go. Keep whisking until it thickens into a sauce. Even after all the milk and heavy cream have been added and the sauce has thickened, keep whisking, and cooking over medium until it begins to bubble.
Once bubbling, you're ready to move on to the next step. You want to make sure you have your grated cheese ready and available for this next one.
Whisk the cheese into the cream sauce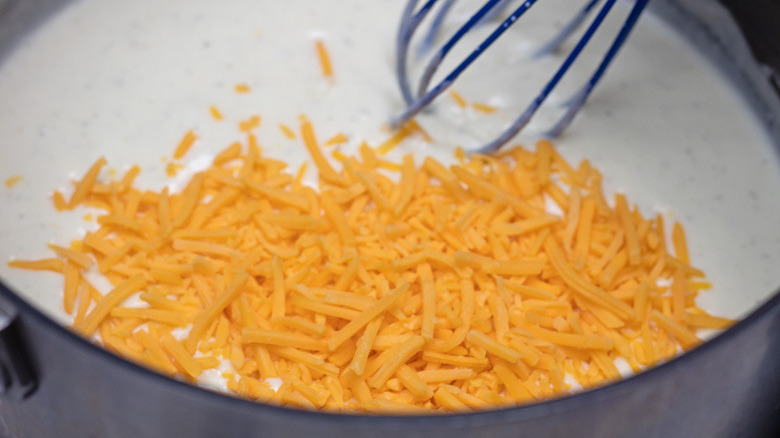 Angela Latimer/Mashed
Once your milk and heavy cream sauce is bubbling, drop the heat back to low. This is when the magic happens, because now you add the cheese. Latimer advises dividing your cheese into three portions to help with the melting process, and adds, "There is no need to be exact here."
Stir in the first portion of cheese until it melts, and repeat this for the second and third portions until all of the cheese has been melted into the cream mixture. Once it's all mixed in and ready, remove from the heat, and mix in the cooked elbow macaroni you've already prepared.
Sprinkle the mac and cheese with bread crumbs to get that crave-able crust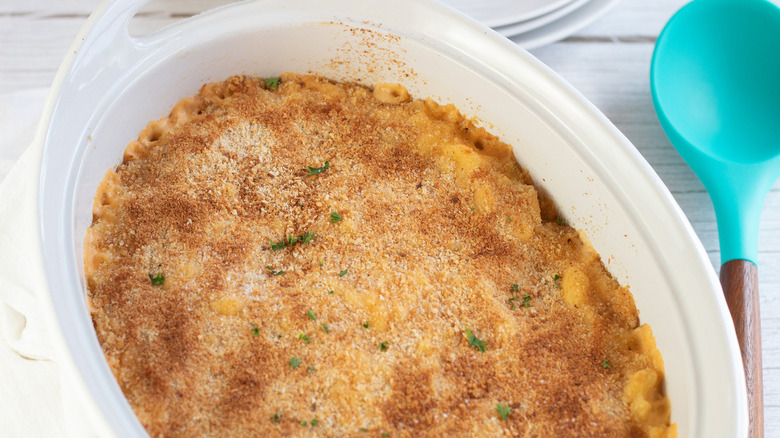 Angela Latimer/Mashed
Once the cheese sauce and cooked elbow macaroni have been mixed together enough to coat the noodles, most of the work is done. Transfer this mixture into your prepared baking dish. The oven should be pre-heated by this point. Sprinkle the top of the macaroni and cheese mixture with the bread crumbs to create a solid crust.
Place in the oven and cook for 20 minutes. To make sure the mac and cheese is finished, bake until it's bubbling around the edges and the crust is a light golden brown color. To make it extra crispy and brown, Latimer suggests turning the broiler on, "onto the low setting, if available, and watch closely until browned slightly." Once it's ready, pull your mac and cheese out of the oven, let it rest, and dig in.
Creamy Homestyle Mac And Cheese Recipe
This easy recipe is arguably going to be the best mac and cheese you have ever eaten. The key is a perfect gooey sauce and a golden crust on top.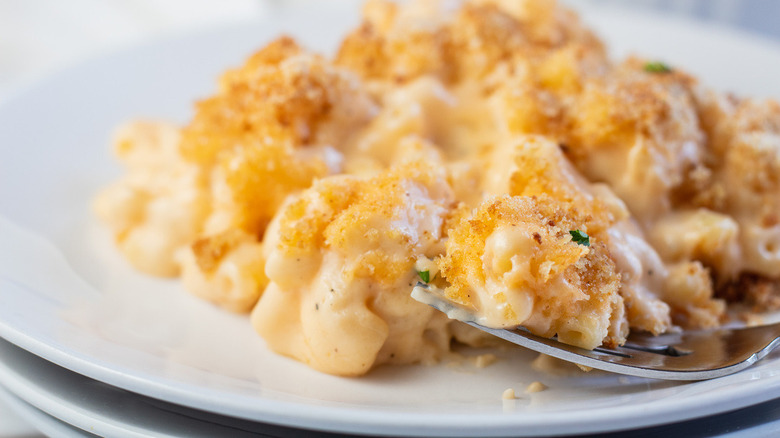 Ingredients
6 cups salted water
8 ounces elbow macaroni (about 2 cups)
4 tablespoons butter
4 tablespoons all-purpose flour
½ teaspoon salt
½ teaspoon pepper
1 cup milk
1 cup heavy cream
2 cups cheddar cheese, grated
½ cup plain bread crumbs
Directions
Bring 6 cups of salted water to a boil. Add the macaroni, and cook until firm to the bite.
Remove from the heat, drain, and rinse under cool water to stop the cooking process. Set aside.
Preheat your oven to 350 F.
Lightly butter or grease your baking dish.
Return your pot to medium heat, and melt the butter. Once melted, whisk in the all-purpose flour, salt, and pepper until the mixture forms a paste.
Gradually add the milk and heavy cream, whisking the paste as you go to make a thickened sauce. Once all of the milk and cream has been added, whisk until the sauce begins to bubble.
Reduce to low heat, and gradually add the cheese in batches to ensure it all melts.
Remove from the heat, and add the cooked pasta. Stir to coat.
Transfer the cooked macaroni and sauce to your prepared baking dish, and sprinkle with bread crumbs.
Bake for 20 minutes, or until bubbling around the edges and lightly golden brown on top.
Remove from the oven, and let rest for 10 to 15 minutes.
Scoop into your chosen serving dish, and dig in.
Nutrition
| | |
| --- | --- |
| Calories per Serving | 890 |
| Total Fat | 59.4 g |
| Saturated Fat | 35.2 g |
| Trans Fat | 1.2 g |
| Cholesterol | 185.5 mg |
| | |
| --- | --- |
| Total Carbohydrates | 60.6 g |
| Dietary Fiber | 2.6 g |
| Total Sugars | 7.2 g |
| Sodium | 882.5 mg |
| Protein | 28.6 g |