Why Norm Macdonald Thought KFC Made A Mistake Casting Him As Colonel Sanders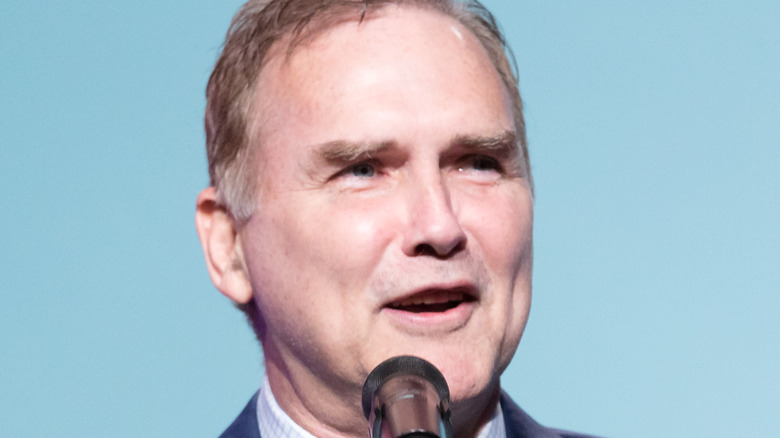 Greg Doherty/Getty Images
What would fast-food establishments be without their iconic mascots? Can anyone really imagine a McDonald's without Ronald McDonald, Burger King without the King, or the Taco Bell commercials with the chihuahua of the late 1990s? Probably the most famous of all mascots, per Thrillist, is none other than good ol' Colonel Harland Sanders. 
Prior to establishing what would one day become KFC, the Colonel first experimented cooking up fried chicken with his signature 11 herbs and spices back in 1939. While he no longer owned the restaurant chain at the time of his passing in 1980, the Colonel was able to establish such a popular persona through the company's commercials that he was forever cemented as its ambassador and spokesperson. Entertainment Weekly notes that it wasn't until 30 years later that KFC felt it was time to metaphorically bring back the Colonel and enlisted the help of not just one but several celebs to help with the daunting task. On their list? Several "Saturday Night Live" alums, including Darrell Hammond, Norm Macdonald, and Rob Riggle, as well as actors like Rob Lowe, Mario Lopez, and country music diva Reba McEntire.
Macdonald asserted that KFC should have never let Darrell Hammond's Colonel go
In total, Entertainment Weekly details that KFC's campaign enlisted about 13 different celebrities to help promote their different products and specials. But in a tweet, Norm Macdonald revealed that KFC "made a big mistake replacing Darrell Hammond" as Colonel Sanders. The Canadian stand-up comedian believed that Hammond truly and authentically embodied the role of Colonel Sanders and was "perfect."
Unfortunately, Hammond admitted in an interview with Opie Radio that he wasn't informed about KFC's overall plan to use different people when he agreed to portray the iconic persona. Hammond, along with fellow comedian Jim Gaffigan, began discussing the campaign when the show's hosts joked about there being "beef" between them due to their respective portrayals of the Colonel. Hammond explains that KFC pulled out all the stops, having him spend time with the Sanders family and sending him books and memorabilia on the Colonel to help him prepare for the role. 
On the other hand, Gaffigan admitted that he went into it fully aware that he would be replaced by someone else. The whole situation left Hammond with a sour taste and he openly admitted that it was the last time he'd get emotionally invested in a job, citing that he "felt like a fool" because of KFC's lack of honesty.