The Cheesecake Factory Has Good News For Fans Of Its Pumpkin Cheesecakes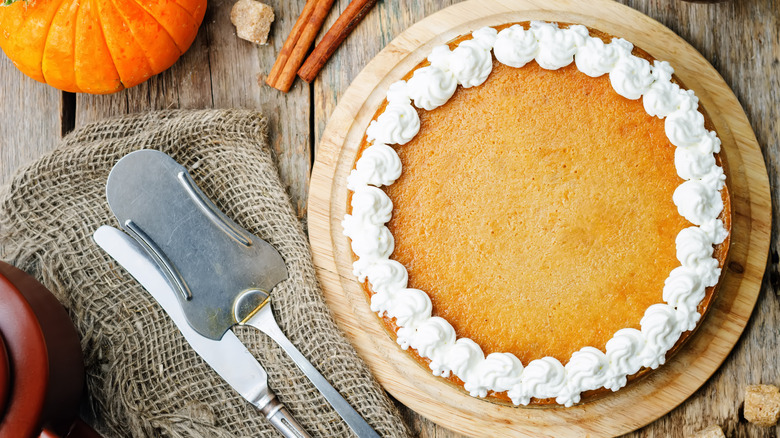 Nataliya Arzamasova/Shutterstock
The origin story behind The Cheesecake Factory is a tale as old as time. In an interview with VICE, CEO and founder David Overton shares how it began with his mother Evelyn Overton finding a cheesecake recipe in a newspaper. "Then for 25 years she made cheesecakes in Detroit out of her basement," Overton shares. Officially founded in Los Angeles, California in the late 1970s, this popular chain is now a global phenomenon, with over 200 locations around the world and restaurants in international cities such as Hong Kong and Dubai (via Insider). Known for its superior brown bread and extensive menu, this family-friendly eatery has also been included on Fortune's list of the "100 Best Companies to Work For" for multiple consecutive years (per Mental Floss).
With over 250 items on the oversized menu, The Cheesecake Factory is still perhaps best known for its namesake, its delicious cheesecakes. There are more than 30 types sold at The Cheesecake Factory, from classic flavors like fresh strawberry and vanilla bean, to more indulgent creations like the Oreo Dream Extreme and the White Chocolate Raspberry Truffle. Over the last four decades, The Cheesecake Factory still hasn't diverged from its original cheesecake recipe, though. "We haven't changed the recipe of my mother. We just make new ones with new things inside," Overton shared with VICE. New cheesecake flavors always come as good news, and the chain just rolled out their fall-flavored cheesecakes that we can't wait to sink our teeth into this season.
The Pumpkin Cheesecake and Pumpkin Pecan Cheesecake are officially back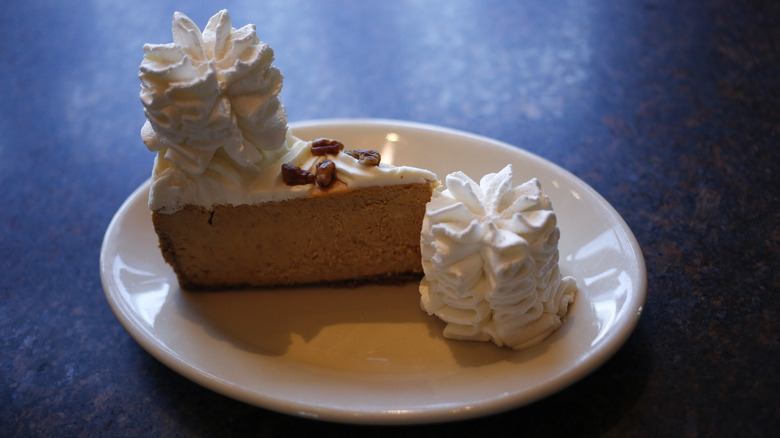 Dave Benett/Getty Images
When autumn rolls around every year, it's hard not to get excited about all of the classic fall flavors that come with it. From apple to hazelnut, maple to salted caramel, there are so many specialty flavors to savor this harvest season. However, nothing screams fall quite like all-things pumpkin. Pumpkin spice lattes are back, and so are The Cheesecake Factory's two world-famous fall favorite cheesecakes: the Pumpkin Cheesecake and Pumpkin Pecan Cheesecake.
The iconic Pumpkin Cheesecake offers a rich seasonal filling baked in a graham cracker crust and finished with fresh whipped cream on top, according to Chew Boom. If you didn't think it could get any better than that, pumpkin enthusiasts can also opt for the Pumpkin Pecan Cheesecake, which is a little sweeter. This specialty dessert consists of a pastry crust, a layer of pecan pie, a second layer of pumpkin cheesecake, topped with caramel and chopped pecans. Sounds like a slice of fall heaven to us!
Customers of this popular chain can enjoy these two special flavors at participating locations through Thanksgiving. Remember it's for a limited time only, so go ahead and indulge in one of these two desserts either whole or by the slice– you won't regret it.